Nature ranks U of T among top three institutions in the world for health sciences research output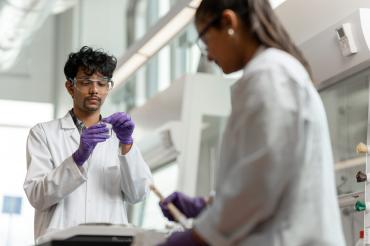 The University of Toronto is the third-most prolific institution in the world – and second among universities – for health sciences research, according to new rankings by the publisher of Nature.
U of T's ranking in the Nature Index Annual Tables for health sciences research output placed it just behind Harvard University and the National Institutes of Health, the U.S. government's primary agency for health research.
The Nature Index Annual Tables 2023 evaluates the research contributions of countries and institutions to top-tier scientific journals across a variety of disciplines.
Across all subjects – health sciences, physical sciences, chemistry, Earth and environmental sciences and biological sciences – U of T was the only Canadian university to score among the top 25 institutions across the globe.
For its first health sciences ranking, the Nature Index tracked the author affiliations of 9,200 articles in 64 medical journals.
U of T stood out on a top-10 list dominated by U.S. institutions.
Leah Cowen, U of T's vice-president of research, innovation, and strategic initiatives, told Nature that U of T's top-three ranking reflects its commitment to collaboration in the health sphere.
Through its unique relationships with the 14 research hospitals in the Toronto Academic Health Science Network (TAHSN), interdisciplinary Institutional Strategic Initiatives and industry partnerships, U of T has brought together researchers, clinicians and entrepreneurs to take medical innovations from theory, to testing to treatment, said Cowen.
That includes world-leading research on cancers, heart failure, regenerative medicine, aging and personalized medicine.
"We're really committed to engaging on the full spectrum of research, all the way from state-of-the-art pioneering fundamental research through to clinical research, knowledge translation, clinical trials, drug discovery and bio-innovation," Cowen said.
U of T has benefitted from government support. That includes a recent $200-million grant from the Canada First Research Excellence Fund to support the Acceleration Consortium, which is using AI and robotics to discover new sustainable materials and drugs with a strong plan for equity, diversity and inclusion guiding project implementation and research design. Yet, Cowen told Nature that "there is plenty of advocacy" for improving Canadian funding of health science research, which has lagged behind the pace of inflation.
"Despite limited investment, we're really punching above our weight," she said. "We're achieving exceptional impact, so further investment would yield extraordinary additional reward."
UTC