U of T 13th in the world in psychology, excels in health and life sciences: THE rankings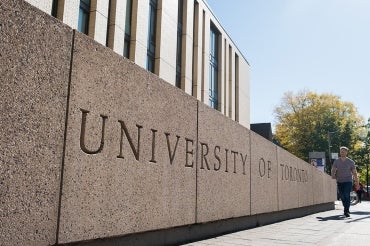 Times Higher Education (THE) ranks universities in 11 subject areas, but the company is only releasing a few subject results at a time. Rankings for psychology, life sciences, and clinical health were released today.
In psychology, U of T ranked ahead of Columbia University and New York University but three spots below the University of British Columbia – the other Canadian institution in the top 20. Stanford University took the top spot. In comparison to other public universities, U of T's results are even more impressive: The university placed 7th in psychology worldwide.
In the life sciences category, which covers agriculture, forestry, biological sciences, veterinary science and sport science, the university held steady at 22 – although the number of schools ranked by THE this year grew to 500 from 100. U of T is in the top 10 in this category when excluding private universities. 
And in "clinical, pre-clinical and health," which includes medicine and dentistry, U of T was once again the only Canadian university among the top 20, along with top international universities like Oxford, Cambridge and Harvard. U of T was 19th, down five spots since the rankings were expanded.
Nicholas Rule, acting chair of the psychology department in the Faculty of Arts & Science, wasn't surprised to see U of T recognized as a world leader in the field, based on quality of teaching, research and other criteria across many departments. Psychology encompasses a range of sub-specialties, including educational, sport and clinical psychology.
"U of T was the capital on the map for decades in terms of understanding human memory – and that's still an area where we have tremendous strengths," he says. 
In his undergraduate studies in the U.S., Rule was introduced to the ideas of
University Professor
 Emeritus 
Fergus Craik
and Professor Emeritus 
Endel Tulving
, who did seminal work on different types of memory, including episodic memory (remembering particular events) and semantic memory (remembering generally what things are or do).
Their work is so fundamental "that we almost take it for granted now because it's so basic to what's developed since," Rule says.
In recent years, the department has built on its strengths and expanded into computational cognitive neuroscience – applying mathematical models to understanding how the brain works, especially in perception and memory. 
At Amy Finn's lab in Sidney Smith Hall, researchers look at how brain development affects learning.
"Brain structures don't develop at the same rate, with some developing earlier than others," explains Finn, an assistant professor in the department of psychology. "The two neural systems that I focus heavily on underlie what we call procedural memory (or implicit memory, "knowing how") and declarative memory (explicit or verbalizable memory "knowing what")," she says. "The procedural form appears to mature earlier.
"Current studies are looking at what this means for the ways in which children learn all kinds of information differently."
Some of her research may help answer the perplexing question: Why do children have an easier time than adults learning a new language? In one study, she and her co-authors found that the harder adults tried to learn an artificial language, the worse they were at understanding its structure. She suggests that adults' more developed cognitive skills may actually impede learning language, especially when it comes to picking up on nuances and exceptions.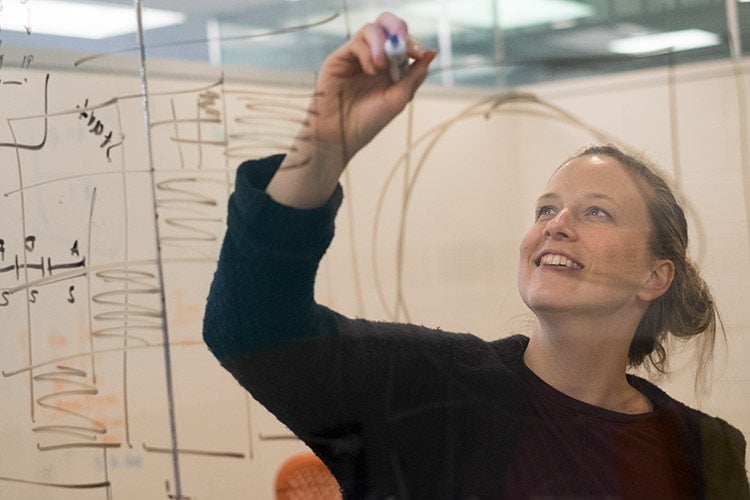 At Amy Finn's lab in Sidney Smith Hall, researchers examine how cognitive and brain development affect learning outcomes (photo by Geoffrey Vendeville)
In recent weeks THE has released rankings for ten subjects. The 11th and final subject, physical sciences, will be published later this year. 
U of T is one of just three universities in the world to be ranked by THE in the top 50 of all ten subjects – along with Stanford and Columbia. And U of T is ranked the top university in Canada for seven of the ten subjects. 
U of T continues to be the highest-ranked Canadian university and one of the top-ranked public universities in the five most prestigious international rankings: Times Higher Education World University Rankings (22), QS World University Rankings (31), Shanghai Ranking Consultancy's ARWU (23), U.S. News Best Global Universities (20) and National Taiwan University Ranking (4).
UTC