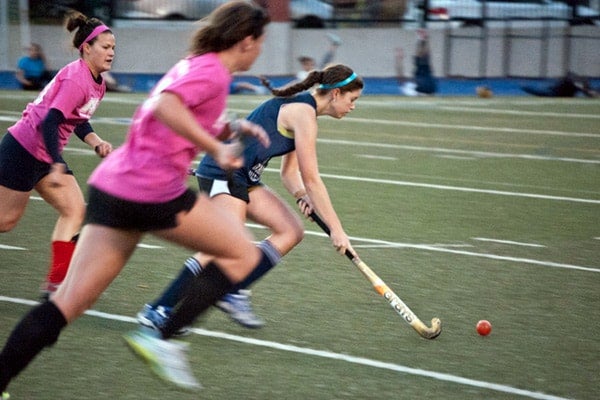 Tracking athletes with a GPS
Researcher studies movements of U of T field hockey players to improve training regimes
Opponents know that Kaelen Watson, U of T's most recent female athlete of the year, is a force to be reckoned with on the field hockey turf.  What few would know is that Watson and her 2010 CIS championship-winning team are playing with an unprecedented, hidden edge: a tiny GPS tracking system tucked between their shoulder blades that's tracking their game to enhance the team's training strategy.
Jason Vescovi, a former post-doctoral fellow in the Faculty of Phyiscal Education and Health and one-time research associate with Dean Ira Jacobs, recently chose the University of Toronto team to broaden his research using GPS technology.  Currently an applied sport scientist at the Canadian Sport Centre Ontario (CSCO) and the physiologist for the women's national field hockey team, Vescovi is one of the only experts in North America to use a GPS system for studying female athletes.
Monitoring Demands of the Game
Much like the systems in many cars today, Vescovi's GPS units track where athletes go, how far they travel and at what speed. "Just as endurance athletes train in certain heart rate zones, we're able to track distances covered in different speed zones," said Vescovi.  "So instead of monitoring heart rate ranges, we're looking at speed zones from zero to six kilometres an hour, being walking, all the way up to above 18 kilometres an hour, which is considered sprinting, and then everywhere in between." 
The technology sheds new light on the demands of the game, giving Vescovi more detailed information to make targeted recommendations for training and developing players from one level to the next. 
"If one of these players is identified as a contender for the national team, I would be able to use this information to determine whether she'd be able to handle the demands in a game, or if not, what we need to do to get her physiologically prepared to play at the next level."
Tool to Improve Player Preparedness
The U of T study is part of Vescovi's continuing work as a research associate at York University, but it's also an extension of his work with Field Hockey Canada. 
"One of the assistant coaches on the women's national team is [Blues head coach] John DeSouza," said Vescovi.  "I told John that we need to get a broader perspective of what the demands are at every level so [we need to look at the university level].  John was so open and willing; he understands the benefits of this and saw it with the national team, so he welcomed the idea with open arms." 
The unit fits into the pocket of a vest and sits between the shoulder blades.  It is specifically designed for team sports, when an armband or wristband would interfere with play.  The Blues field hockey players have worn the systems in both practices and competition this season.
Vescovi acquired the GPS system with funds from two grants: a young investigator award from the National Strength and Conditioning Association in the United States, and funding from the Research Program in Applied Sport Sciences – a joint program through the Ministry of Health Promotion, U of T and CSCO.  His system debuted in both Canada and United States, with the single largest study dedicated to women's soccer using GPS technology.  Vescovi continues to explore all levels of the sport, including youth, college, pro and elite women soccer players on both sides of the border.
Differences Between Sports Come to Light
Vescovi originally assumed he would find a lot of similarities between field hockey and soccer in terms of the demands of the game, but he quickly discovered he was wrong.  "Field hockey players are typically covering less total distance but at a surprisingly higher intensity.  The relative proportion of high intensity work they're doing is 10 percentage points higher.  They're covering more ground, more quickly:  shorter and harder, so to speak."
The differences between the two sports also extend to peak speeds, where soccer wins out.  "In field hockey, we see the average player achieve about 20 to 22 km per hour, whereas in soccer we're at 24 to 27; I've even tracked some players at 29-30 km an hour in a game.  The demands of the game are different, and we're able to quantify what those precise differences are with this system." Vescovi says this makes a big difference for training field hockey players versus soccer players.    
The Blues are the first intercollegiate field hockey team to be studied in this way. 
"From a scientific perspective, there's not much literature out there on field hockey in general, let alone women's field hockey, let alone women's field hockey at the intercollegiate level," said Vescovi.  "The knowledge and information we're getting is brand new."