Toronto hosts Collision tech conference amid growing global acclaim for U of T startups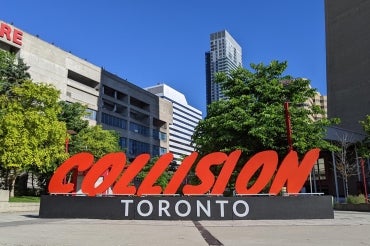 A biomedical firm whose drug discovery platform is used by 16 of top 20 pharmaceutical companies. A quantum computing startup whose machine recently outperformed the world's most powerful supercomputers. A genomics company whose cloud-based software enabled better data-sharing and analysis during the pandemic – and earned plaudits from the World Economic Forum.
BenchSci, Xanadu Quantum Technologies and DNAstack are just three local tech companies that have helped solidify the University of Toronto's reputation as Canada's top engine for research-based startups while contributing to a tech boom that has attracted talent and investment to the Toronto region.
The spotlight on Toronto's tech scene will shine especially brightly this week as the city hosts Collision, North America's fastest-growing tech conference. More than 35,000 attendees – including startup founders, business leaders, investors, scientists, journalists and celebrities – are expected to participate in the in-person gathering, which was held virtually for the past two years due to COVID-19. That's up 40 per cent from the last time the event was held in-person in Toronto.
"There is more than two years of pent-up energy for Collision, and we are seeing strong interest across the entire U of T community as well as international delegations that are keen to re-engage with our city and our university in person," says Jon French, director of U of T Entrepreneurship.
"Our innovation ecosystem continues to enjoy incredible growth, and Collision is an excellent opportunity to shine a light on this momentum and the impact our entrepreneurial ecosystem is having globally."
Several U of T founders are scheduled to speak at the conference. They include Liran Belenzon, CEO of BenchSci, which Belenzon and three U of T alumni co-founded in 2015 with support from U of T's Entrepreneurship Hatchery, Health Innovation Hub (H2i) and the Creative Destruction Lab at Rotman.
The topic of his presentation? The importance of culture in hyper-growth startups – a subject Belenzon knows intimately. BenchSci raised $123 million in funding from a who's who of investors and expanded its team from 50 to 285 in the last three years (with plans to keep growing).
"When you navigate a completely white space with no blueprint, and you're doing something that no one has ever done in the past, culture is crucial," says Belenzon, who earned an MBA from U of T's Rotman School of Management.
He adds that BenchSci sought to nail down its culture early on by integrating it into every aspect of its operations – a task that is now being bolstered by Jessica Neal, former chief of talent at Netflix who recently joined BenchSci's advisory board.
The company even has a 55-page "culture deck" that lays out its values, rules of engagement and leadership manifesto. It includes innovative ideas such as paying a recent hire an extra month's salary if they quit within the first three months – a policy aimed at ensuring that employees who stay on feel that the job is right for them.
"Culture is how we do things around here," says Belenzon. "For us, success is not only what we accomplish but how we accomplish it – how you do things, how you communicate, how you make decisions, how you treat each other and how you move forward together."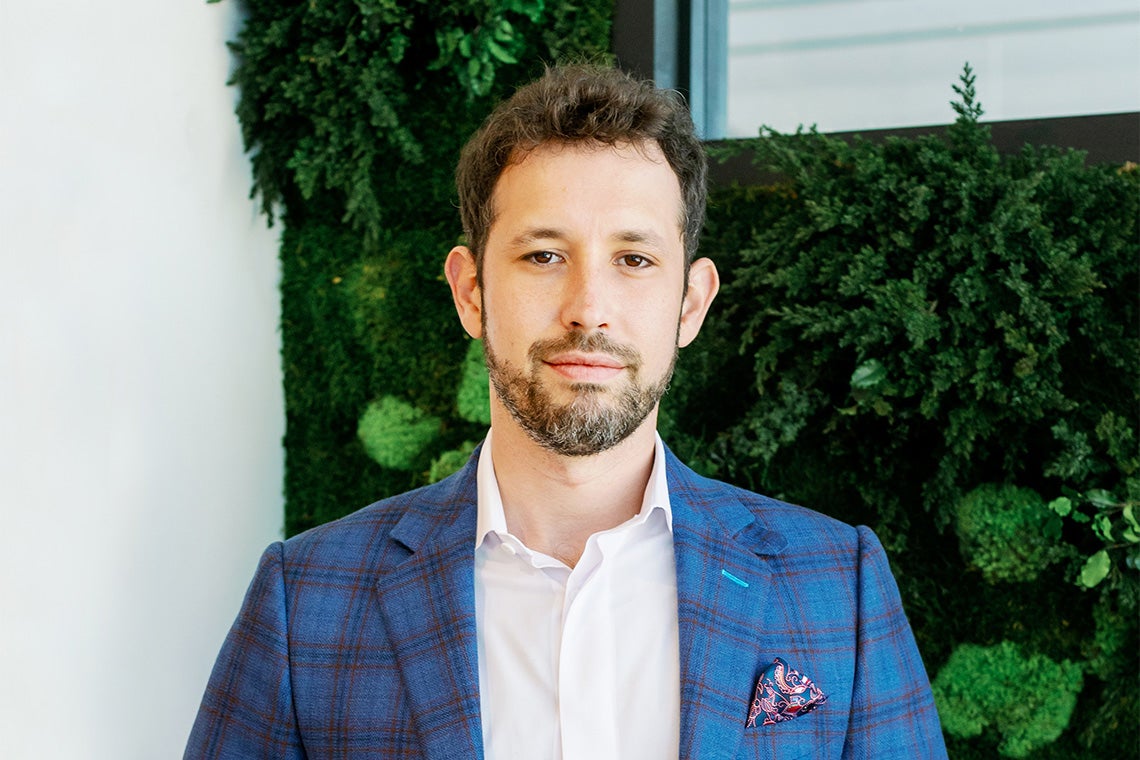 Liran Belenzon, CEO of BenchSci, plans to talk about importance of culture at hyper-growth startups like the one he co-founded in 2015 with three other U of T alumni (photo courtesy of BenchSci)
Belenzon will be joined at the conference by other founders with strong U of T links. Christian Weedbrook, CEO of Xanadu, will talk about emerging applications of quantum computing, while Nick Frosst, chief technology officer of AI language processing startup Cohere, will discuss how to take action in times of chaos and uncertainty. Toronto Mayor John Tory and celebrated author Margaret Atwood, both U of T alumni, are also scheduled to speak (see U of T's schedule at Collision 2022 here).
This year's in-person conference will also feature a large U of T booth that will feature representatives of several campus-linked accelerators and entrepreneurship groups, including the Creative Destruction Lab, UTEST (U of T Early-Stage Technology) incubator, H2i and the Black Founders Network. Other U of T bodies that plan to have a presence at Collision include: U of T's Innovations and Partnerships Office, Climate Positive Energy institutional strategic initiative (ISI) and the Faculty of Arts & Science.
U of T Entrepreneurship, meanwhile, plans to host presentations in the ONRamp co-working and event space, and will offer tours of the St. George campus in a bid to familiarize Collision attendees with U of T's thriving entrepreneurship ecosystem, which has spawned over 600 companies, created more than 9,000 jobs and generated more than $2 billion in investment over the past decade.
The return of the Collision conference to Toronto as an in-person event comes at a time when U of T startups and their founders are garnering acclaim around the world.
In April, the Silicon Valley-based C100 network for Canadian tech entrepreneurs named the 20 startup founders admitted to its annual C100 Fellows program – 40 per cent of whom are either U of T alumni or lead startups that graduated from the Creative Destruction Lab. They include several women: New College alumna Christina Cai, chief operations officer of AI health insurance tech firm Lydia.ai; U of T Scarborough alumna Kathleen Chan, CEO of fashion supply chain platform Calico; and Faculty of Law graduate Laura Zizzo, CEO of climate intelligence platform Manifest Climate.
And, last month, DNAstack, a startup that develops software and standards to help scientists and health leaders access and analyze genomics data, was named one of the World Economic Forum's 100 Technology Pioneers of 2022 for its work in establishing federated data networks and powering insights in COVID-19 pandemic surveillance, neuroscience, rare disease and oncology.
Marc Fiume, DNAstack's co-founder and CEO, says he hopes to leverage the recognition to promote promotion of equitable data sharing through Viral AI, its federated network for genomic variant surveillance and infectious disease research.
"Viral AI can help by setting up a real-time data sharing network so that as soon as a new variant of concern is identified, for example, we get alerted," said Fiume, who earned his bachelor's, master's and doctoral degrees in computer science at U of T. "So, what we're doing with the World Economic Forum and other partners is finding a way to get this in the hands of as many countries as possible so that we can support them in setting up genomic surveillance infrastructure.
"We're excited about the opportunity to bring made-in-Canada technology to the global stage, and to really have an active role in shaping the future of how genetics and precision medicine pan out for really important global issues."
The company is also a member of CanDETECT, a project that aims to use AI to develop precision oncology software. Other members include University Health Network (UHN) and Microsoft.
Fiume describes DNAstack's role in CanDETECT as "the data integrator" since it works to examine how genomics interfaces with other data and leverages AI to learn which individuals, on a genetic basis, would respond best to therapies.
"So, it's sort of the same approach we're applying to COVID, but in the context of cancer," Fiume says.
Fiume says DNAstack's growing contributions on the national and international stage wouldn't have been possible without the resources, supports and expertise on offer at U of T and in Toronto more generally.
"This is a very collaborative field," he says. "If you're not working with a policy adviser, a cloud provider, a pharma company, an AI expert and a genome scientist, you don't have all the ingredients you need.
"That's what's been really great about Toronto's ecosystem. A lot of other startups and collaborators are growing with us, and that network effect has been really powerful for us to forge. The network of the ecosystem around U of T and Toronto has been a real catalyst for our growth."
UTC