Three U of T scholars receive Killam awards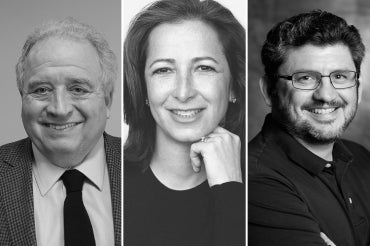 A world-renowned philosopher, a regenerative medicine leader and an astrophysicist are the three U of T scholars recognized by the Canada Council for the Arts' prestigious Killam Program this year.
University Professors Thomas Hurka and Molly Shoichet are each receiving the $100,000 Killam Prize for their leading research in the fields of philosophy and engineering.
This is the second year in a row that a female U of T researcher has won the Killam Prize in engineering. Last year, bioremediation pioneer Professor Elizabeth Edwards won.
Hurka, the Chancellor Henry N. R. Jackman Distinguished Professor of Philosophical Studies at U of T, is the author of many works in moral and political philosophy, including Perfectionism, his groundbreaking book Virtue, Vice, and Value and his 2011 book, The Best Things in Life: A Guide to What Really Matters. Much of his research has concerned the human good or which states and activities make our lives most desirable.
"The Killam Prize is an immense honour, especially since it's for the whole body of one's scholarly work," said Hurka. "We all try to contribute to our disciplines, and the prize is a gratifying validation that, to at least some extent, I've done that."
Shoichet, the Tier 1 Canada Research Chair in Tissue Engineering and senior advisor on science & engineering engagement to U of T President Meric Gertler, has published more than 500 papers, patents and abstracts, and given more than 350 lectures worldwide in regenerative medicine, tissue engineering and drug delivery. 
"It is a great honour to be in the company of so many distinguished Canadian researchers, both past and present," said Shoichet. "This award will accelerate our research and our efforts to improve the lives of people everywhere who are living with the effects of cancer, stroke, blindness and other currently irreversible conditions."
In addition, Astronomy & Astrophysics Professor Roberto Abraham is receiving a two-year Killam Research Fellowship, worth $70,000 a year, to continue his work probing the low surface universe with the Dragonfly Telephoto Array, the world's biggest all-refracting telescope.
"This is a total godsend, coming at exactly the right time," said Abraham of the award that will allow him to focus on improving Dragonfly with his research partners at Yale and Harvard, and staying ahead of the competition.
Abraham wants Dragonfly, which is stationed in New Mexico and operated remotely by a team of students located at U of T, to illuminate the universe's secrets, to show what can't be seen – the "cosmic web" where invisible dark matter collects floating baryons, the ordinary material that acts as the building blocks of stars (and ultimately, human beings). With the Killam, he'll be able to tackle whether it's best to scale up Dragonfly to handle 10 times as many lenses or just be more clever about how to use the current 48-lens arrangement. 
"The universe is way more interesting than we can imagine," said Abraham, who is also president of the Canadian Astronomical Society. "We're finding all sorts of bizarre things. Galaxies are twice as big as we thought. There are new classes of galaxies that have dark matter but don't have any stars. Dragonfly is revealing all sorts of unexpected and wonderful new phenomena just waiting to be discovered."
This year's Killam recipients are "outstanding scholars" who are "on a quest for excellence and innovation, taking risks, imagining better futures and turning their insatiable curiosity into discoveries that benefit us all," said Simon Brault, director and CEO of the Canada Council.
"Congratulations to Professors Hurka, Shoichet and Abraham for this important recognition of their significant research," said Vivek Goel, U of T's vice-president of research and innovation. "I'd also like to thank the Canada Council for the Arts and the Killam Trusts for their continuing support of our scholars."
In total, the Killam Program is providing $340,000 to U of T researchers this year. U of T affiliated researchers have won 33 Killam Prizes since the prize was created in 1981 and a further 128 research fellowships – the most awarded to any Canadian university.
The Killam winners from across Canada will be honoured at Rideau Hall in Ottawa on May 30.
Alumni interested in hearing Abraham speak on Discovering Ghostly Galaxies with Dragonfly, can sign up for his 60-minute talk on Saturday, June 3 during Spring Reunion.
UTC