U of T researchers win prestigious Killam Prizes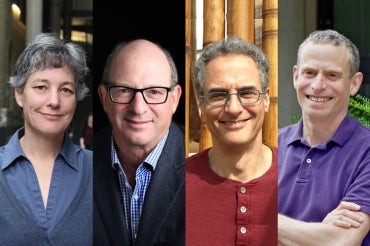 There's a lot going on under the surface of Elizabeth Edwards's work.
Using an army of ancient bacteria with a serious case of the munchies, this bioremediation pioneer and her team are neutralizing toxic chemicals left behind in soil and well water by decades of dry cleaning and computer manufacturing.
On April 18, the Canada Council for the Arts named Edwards, Steven Narod and Daniel Trefler the winners of one of the most prestigious awards in Canada – the Killam Prize – for their leading research in the fields of engineering, medicine and economics.
Narod is a world-leader in the field of breast and ovarian cancer genetics.
Trefler is regularly called upon for his international trade research. Last week, Trefler also received a Bank of Canada Fellowship Award.
In addition to the Killam Prizes, U of T philosophy and law professor Arthur Ripstein is receiving a two-year Killam Research Fellowship. In total, the Killam Program is providing $440,000 to U of T researchers.
"Congratulations to Professors Edwards, Narod, Trefler and Ripstein for this important recognition of their significant work that has tremendous benefits to people all around the globe," said Vivek Goel, U of T's vice-president of research and innovation. "I'd also like to thank the Canada Council for their continuing support of our scholars."
U of T affiliated researchers have won 31 Killam Prizes since the prize was created in 1981 and a further 127 research fellowships since 1968 – the most awarded to any Canadian university.
The Killam recipients "are renowned specialists in their fields. But their impact goes far beyond academia," explained Simon Brault, Canada Council director and CEO.
"Their creative insights and innovation help us to better understand the world around us – and lead us on a path to resolving the pressing environmental, economic, health and social problems of the day."
The Killam Prize is "recognition of a really wonderful story that I just happened to be part of," said Edwards after hearing she'd won. "There were so many people helping, collaborating and working with me along the way."
She and her team saw the potential of dehalococcoides – microorganisms that love noshing on chlorine-based solvents but die off in oxygen – and spent time in the lab culturing them before turning them into a commercially available product through SiREM Laboratories in Guelph, ON.
Over time, the bacteria, cheekily labelled KB-1 (as in kick butt), transform synthetic chemicals into benign substances, using nature to fix humanity's toxic environmental mistakes.
Next up for Edwards is a soil remediation project in Brazil.
But first, she and her fellow winners will travel to Ottawa for the Killam award ceremony and, in a unique twist this year, they'll also be special guests at a private luncheon hosted by the Swedish ambassador in honour of Canadian Nobel Prize winner Art McDonald.