Three U of T researchers win Polanyi Prize for work in astronomy, English and medicine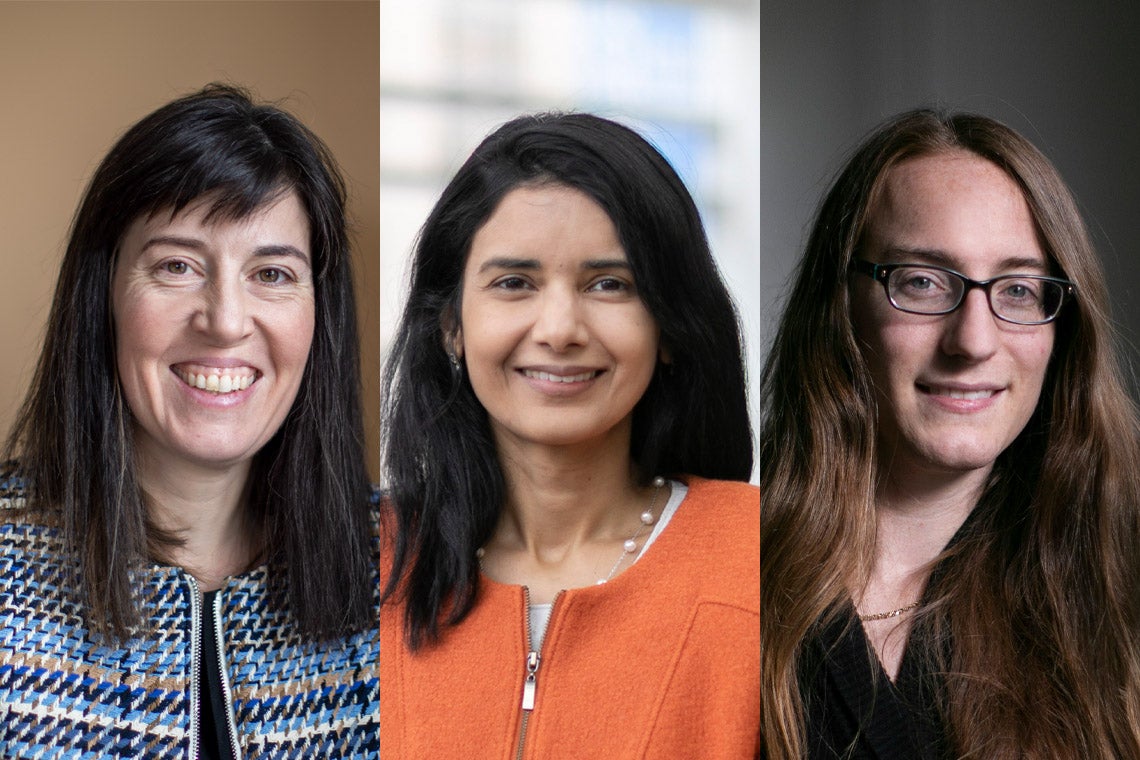 Three University of Toronto researchers, all rising stars in their respective fields, have been awarded the prestigious John Charles Polanyi Prize. 
The U of T winners are Mamatha Bhat of the Faculty of Medicine and the University Health Network (UHN), Maria Drout of the David A. Dunlap Department of Astronomy & Astrophysics and Audrey Walton of the department of English – both in the Faculty of Arts & Science.
"To receive this prize is an enormous achievement," says Vivek Goel, U of T's vice-president, research and innovation, and strategic initiatives. 
"The Polanyi prize is an important honour and a clear sign that an early-career researcher's work is having an impact."
The $20,000 annual prizes, funded by the Ontario government and awarded by the Council of Ontario Universities, are given to five outstanding researchers in the early stages of their career who are pursuing post-doctoral studies or who have recently been appointed faculty at an Ontario university. The prizes are distributed among five fields: chemistry, physics, economic science, physiology/medicine and literature.
Bhat, an assistant professor in the department of medicine and a staff hepatologist and clinician-scientist at UHN, was recognized for her research into the long-term health outcomes of patients after a liver transplant. Drout, an assistant professor of astronomy and astrophysics, was honoured for her work in the new field of "multi-messenger" astronomy. Walton, an assistant professor of English who is also at the Centre for Medieval Studies, received the prize for her research showing that medieval England produced a large body of literature in the vernacular as opposed to Latin.
The award is named after John Polanyi, a U of T University Professor of chemistry and joint winner of the 1986 Nobel Prize in Chemistry for "contributions concerning the dynamics of chemical elementary processes."
---
Mamatha Bhat: Improving long-term outcomes for liver-transplant patients 

(photo by Nick Iwanyshyn)
Mamatha Bhat became fascinated with the liver as a resident in gastroenterology at McGill University during her hepatology rotation. 
"It performs hundreds of functions that most people aren't even aware of," she says.
She went on to complete a fellowship in transplant hepatology at the Mayo Clinic in Rochester, Minn., followed by a PhD in medical biophysics with a focus on molecular and computational biology. 
Today, her research focuses on how to ensure the long-term health of patients after they undergo a liver transplant. 
"When you look at the short-term health outcomes of liver transplant patients – within the first year following the transplant, success rates have increased substantially over the last 30 years. But when you look at long-term survival and outcomes beyond one year, there has been very little improvement," she says. 
A lot of the focus of clinical research has been on ensuring the organ isn't rejected by the patient's immune system. However, Bhat says long-term considerations, including an increased risk of cancer and metabolic disease, have not been as thoroughly investigated. 
It's a problem that is becoming more pronounced as more Ontarians receive a liver transplant and as higher success rates mean transplant patients live longer.
Based in UHN's Multi-Organ Transplant Program, the largest adult transplant program in North America, Bhat is well positioned to tackle the challenge. Last year, UHN performed more than 700 transplants, including more than 200 liver transplants.
Emphasizing the need for translational research, Bhat is leading a team that includes both lab-based and clinical trainees at different stages of training.
"I find the best research emerges from the exchanges between trainees and researchers," she says. "Each brings their own perspective – whether it's a focus on clinical care or lab-based knowledge. The back-and-forth of new ideas leads to some exciting outcomes."
Winning the Polanyi Prize in Physiology/Medicine is a great honour, says Bhat, adding that it speaks to larger research goals. 
"It's a wonderful sign of support for the importance of this translational research that will provide improved long-term outcomes for our patients," she says. "That's what means the most."
Maria Drout: Ushering in a new era of astronomical research 

(photo by Nick Iwanyshyn)
In August 2017, Drout and her collaborators witnessed an event that had never been seen before: a kilonova – an explosion resulting from the collision of two neutron stars. But what made the observation truly historic was the fact that the stellar merger that created the explosion in a galaxy 130 million light-years away also generated gravitational waves that were detected here on Earth.
It was the first time a single cosmic phenomenon was observed in both visible light and gravitational waves, ushering in the "multi-messenger" era in astronomy.
For her research in this new field, as well as the study of short-lived events like supernovas and the evolution of massive stars, Maria Drout was awarded the Polanyi Prize in Physics. 
"I'm incredibly honoured to receive the prize," says Drout. "John Polanyi is an inspiration not only because of his dedication to groundbreaking research, but because of his ability to effect real change that benefits the world.
"I hope to honour this legacy by continuing my work and by building new initiatives to promote effective science communication across Canada."
Drout's research is providing insight into multiple areas of investigation: the fundamental physics of matter in extreme conditions; the origin of the heaviest elements on the periodic table; and new and unusual types of explosions that challenge our theoretical understanding of stellar death. For example, Drout led the analysis of observations of the kilonova that proved heavy elements like gold and platinum were created in neutron star mergers and not – as had been proposed for decades – in supernovas.
"The Polyani Prize is wonderful recognition of Maria's highly innovative research, which has seen her rise to international prominence within a few years of receiving her PhD," says Professor Ray Carlberg, chair of the astronomy and astrophysics department.
Audrey Walton: Understanding medieval England's role in popularizing the vernacular

(photo by Nick Iwanyshyn)
Audrey Walton's award-winning scholarship focuses on sacred language, literary cultures, vernacularity and world religions – with particular focus on the early medieval period in England. 
Walton was awarded the Polanyi Prize in Literature for her ongoing work on how and why medieval England was a European leader in developing a large body of literature in the vernacular, meaning a local native language rather than Latin.
While established scholarship has focused on the notion that medieval authors viewed Latin as sacred, Walton's work challenges this assumption and shows that English authors often blurred the boundary between local speech and standardized sacred language. Her research aims to revise the conventional understanding of the historical development of European literature.
More generally, Walton's work is concerned with multilingualism, linguistic divides and the exchange of ideas across regions in medieval Europe, with particular focus on social, political and religious developments concurrent with these phenomena.
"We are all immensely proud of Audrey," says Professor Paul Stevens, chair of U of T's English department. 
"Audrey joins five other members of the department in winning this prestigious award – Angela Esterhammer, Andrea Most, Katie Larson, Andrea Charise and most recently Danny Wright," Stevens said.
"It's an outstanding group, remarkable for the rigour, originality and diversity of their research. Audrey's work on the complex constitution of Anglo-Saxon textual culture is a revelation."
UTC/Arts & Science/Medicine