Three graduate students win U of T Libraries research exhibition awards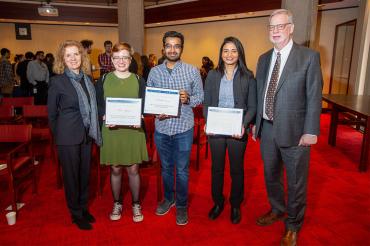 Students Rahul Arora, Alina Bykova and Amanda Khan were recently recognized by University of Toronto Libraries for research that ranged from computer graphics to laparoscopic surgery and a Russian ghost town in the Arctic.
The three winners of this year's U of T Libraries Graduate Student Exhibition Competition Awards each received a $1,000 prize and the opportunity to create exhibits based on their work.
"It is wonderful to see the research students produce supported by the wealth of information that we have available here at the libraries," said Larry Alford, U of T's chief librarian, during the competition prize ceremony held earlier this month at the Thomas Fisher Rare Book Library.
To enter the annual competition, graduate students must base their exhibits on research projects that they have completed and submit a signed letter of support from their supervisor or instructor. Among the criteria for judging submissions is the student's ability to demonstrate effective use of library resources and services.
U of T Vice-President and Provost Cheryl Regehr spoke at the ceremony about how the award recognizes those who take complex work and make it accessible to other community members.
"Events like this bring people together to connect, collaborate, and create," Regehr said.
Arora, a PhD candidate in the department of computer science in the Faculty of Arts & Science, presented an exhibit that addressed the need to simplify digital structural modeling methods by creating a technique that enables architects or industrial engineers to better understand the constraints and requirements that they are using in their programs.
A researcher in computer graphics and interaction at the Dynamic Graphics Project lab, Arora was excited about the opportunity to share his research. "This is a great avenue for exposing my work to a diverse audience," he said.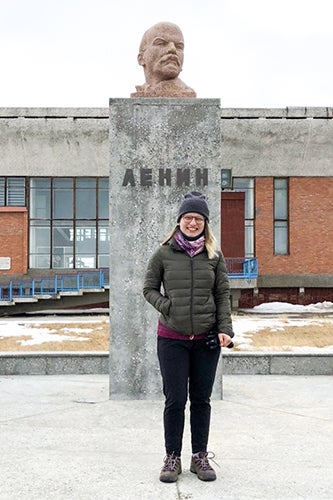 Bykova (left)  studied the geopolitical and historical significance of Pyramiden, a Russian coal mining ghost town in the Arctic. She recently received her master's degree from the Centre for European, Russian, and Eurasian Studies (CERES) at the Munk School of Global Affairs & Public Policy in the Faculty of Arts & Science.
"From the availability of thousands of books and online documents to opportunities to work with librarians at the Petro Jacyk (Central & East Resource) Center … my Master's thesis would simply have been lackluster without these things," said Elizabeth Haig on behalf of Bykova, who couldn't attend the ceremony.
As for Khan, an MD/PhD candidate at the Institute of Biomaterials and Biomedical Engineering and the Faculty of Medicine, she dedicated her exhibition to her colleague, Mohammad Asadi Lari, who was aboard Ukraine International Airlines Flight PS752 when it crashed on Jan. 8 outside of Tehran, Iran. 
Khan's display showed her research investigating how life-threatening complications can be avoided by surgeons conducting laparoscopic intestinal surgery. In collaboration with Faculty of Applied Science & Engineering alumnus Matthew MacDonald, Khan sought an answer to the vexing question of how much force to use with laparoscopic tools.
All three exhibits are on display on the first floor of Robarts Library until the end of February.
U of T Libraries