Thousands support campaign to create chair of Tamil studies at U of T Scarborough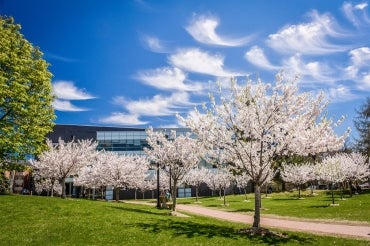 A campaign to establish a chair in Tamil studies at the University of Toronto Scarborough – the first of its kind in Canada – has reached its $3-million philanthropic goal. 
More than 3,800 donors gave to the grassroots campaign, which was spearheaded by the Canadian Tamil Congress and Tamil Chair Inc. in 2018. Since then, individuals, businesses, governments and community organizations have pitched in with support. While most of the donors are local to Scarborough and the eastern Greater Toronto Area, the campaign also generated support from as far away as France, Australia and Malaysia.
For fourth year student Kanitha Uthayakuma, who has been actively involved in the Tamil Students Association at U of T Scarborough, establishing a Tamil chair represents a significant achievement.
"There are a large number of Tamil students at UTSC," says Uthayakuma. "A lot of Tamil students want to learn their history. Having the opportunity to study Tamil at the university level would be great."
Tamil is among the world's seven classical languages, with a continuous linguistic and literary history stretching back more than 2,000 years. With 80 million-plus speakers, Tamil is one of the most frequently spoken languages in the world. And Canada – particularly eastern Toronto – is home to the largest Tamil community outside of the Indian subcontinent.
Welcomed by U of T Scarborough's large and active Tamil-heritage student population, the chair in Tamil studies will help enable the preservation and memorialization of Tamil culture and language through scholarship, and establish a focal point for Tamil scholars from all over the world to collaborate or pursue higher Tamil studies.
For organizers and many campaign supporters, bringing the chair to U of T was a priority since it's one of the top-ranked schools in the world – and a school that values inclusive excellence.
"We are proud to establish a Tamil Chair at Canada's most prestigious university – the University of Toronto – and in particular to its Scarborough Campus, a part of our great city that is home to a large Tamil population," said Sivan Ilangko, head of the committee for the chair in Tamil studies, president of the Canadian Tamil Congress and a director of Tamil Chair Inc. "On behalf of the Canadian Tamil Congress and Tamil Chair Inc., we would like to thank each and every donor, volunteer and community group who contributed to this historical initiative,"
"I offer my heartfelt congratulations and gratitude to the campaign organizers, volunteers and the countless donors from around the world, whose commitment, determination, perseverance, passion, and belief in the cause enabled us to realize this goal," said Wisdom Tettey, vice-president and principal of U of T Scarborough, in a statement. "They have brought to fruition the collective aspiration of the global Tamil community to preserve, grow, and sustain its cultural heritage for the enrichment of the common good.
"Together with our community partners, we proudly celebrate what has been accomplished through this truly unique exemplar of innovative, inclusive, and participatory university-community mobilization for common purpose." 
UTSC