'They all moved to Canada to do something bigger': Remembering the victims of Flight PS752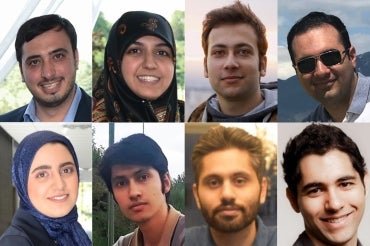 For Amin Kamaleddin, grieving the loss of his friends who were killed aboard Ukraine International Airlines Flight PS752 has been a difficult and frustrating process, with many unanswered questions two years on.
Three of his friends – Mohammad Amin Jebelli, Mohammad Amin Beiruti and Mojtaba Abbasnezhad – were among the eight University of Toronto community members on the flight when it was shot down by Iranian armed forces on Jan. 8, 2020, killing all 176 aboard.
He says they were some of the brightest people he knew.
"They were not just good friends, but also good students," said Kamaleddin, a PhD candidate in biomedical engineering at U of T.
The university will join the country on Jan. 8 in remembering the victims of Flight PS752, which also included U of T community members: Mohammad Salehe and his wife Zahra Hasani, siblings Zeynab Asadi Lari and Mohammad Asadi Lari, and alumnus Mohammad Mahdi Elyasi.
"The University of Toronto will never forget this tragedy and the eight members of our community whose loss continues to be deeply felt across our campuses and the country," President Meric Gertler said.
"We join with universities across Canada and around the world in remembering those gifted scholars and students whose lives held so much promise, and we extend our heartfelt condolences to their families, friends and colleagues."
The Association of Families of Flight PS752 Victims is running an online campaign called #IWillLightACandleToo, encouraging the public to show their support by posting a picture of candles. On Saturday, the non-profit is hosting a virtual ceremony with Prime Minister Justin Trudeau and other delegates. A physically distanced and masked candlelight vigil will be held at Mel Lastman Square in North York at 5 p.m.
Kamaleddin says it's hard to believe that it's been two years since the tragedy.
"I think family and friends are far from getting justice and they deserve to know the truth, even if it is a very sad and miserable truth," he says.
An Ontario court earlier this week awarded $107 million, plus interest, to the families of six people who died on the plane, but questions remain whether the money can be collected because Iran has refused to participate in the process. Iran has also refused to negotiate with Canada and four other countries about reparations, missing a key deadline earlier this week.
In the weeks after the tragedy, U of T established the Iranian Student Memorial Scholarship fund to honour the victims and support international students from Iran or current students from any background taking Iranian studies.
The fund was the brainchild of David Palmer, U of T's vice-president, advancement, and alumni Rahim Rezaie and Mehrdad Hariri, CEO and president of the Canadian Science Policy Centre.
The memorial scholarship has so far provided support to four U of T students. One recipient is aerospace engineering student Javad Siahkamari, a member of U of T's aerospace team and a founding member of its hyperloop team. 
"I came to Canada three years ago with the dream of building a future that I have been dreaming of since I was 14 years old," Siahkamari said in a letter thanking donors. "This journey has had as many ups as it has had downs and this scholarship has been an unbelievable help for me through one of its most challenging downs.
"I now see myself closer than ever to fulfilling the dream I have worked very hard for and for that I am eternally grateful."
On Friday, the Ontario government announced it was renewing funding for scholarships established in memory of the 57 Canadians killed. "We can never replace the loss of so many bright and promising scholars, educators – and above all – loved ones, but we hope to honour their memories through the continuation of this scholarship fund," Minister of Colleges and Universities Jill Dunlop said in a statement.
On Saturday, Kamaleddin says he will light a candle in honour of the victims and his friends who he misses dearly.
The memories he has will stay with him for life. He'll remember Amin Beiruti, a PhD student in computer science in the Faculty of Arts & Science, for his ambition; Abbasnezhad, a PhD student and teaching assistant in the Faculty of Applied Science & Engineering, for his calmness; and Amin Jebelli, a member of the Temerty Faculty of Medicine's Translational Research Program, for his passion in helping others – and the happiness that brought him.
"They all moved to Canada to do something bigger," Kamaleddin says. "Every time I think about the families of the victims, I can feel heartache. It will take a long time to heal.
"My hope is that those responsible for the tragedy will be identified and brought to justice."
UTC