These student entrepreneurs are one of more than 100 teams applying to The Hatchery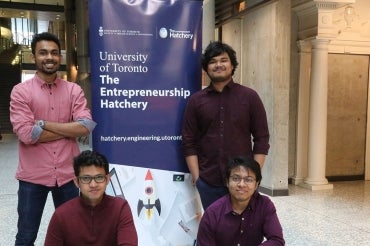 Point 37 was born late at night in a pizza shop.
It was there that first-year students Tanvir Shahriar, Sadman Hasan and Mubtaseem Zaman, all from the University of Toronto's Faculty of Applied Science & Engineering, and actuarial science student Farhad Siddique started tossing around ideas for how big data can improve daily life.
The team decided to pursue a startup aimed at leveraging business intelligence techniques for educational institutions.
"Business intelligence, including data analysis and prediction, is already widely used to make companies more resourceful and productive," says Shahriar, director of communications for point 37. "We want to make business intelligence into something that is truly for everyone."
One early application the team is considering involves using data to improve access to existing mental health services in schools. By analyzing academic performance information, point 37 would enable counsellors to identify students who would benefit from these services, and reach out early. In order to ensure that the software is accessible, the team plans to design a user interface that is both minimalist and welcoming, and keep the number-crunching in the background.
Team point 37 is one of more than 100 groups to apply to The Entrepreneurship Hatchery this year. Founded in 2012, The Hatchery provides a comprehensive suite of programs and services designed to help students with entrepreneurial ambitions form teams, develop new competencies and launch their companies. Over the last five years, The Hatchery has helped to launch more than 65 new startups, which collectively have raised about $10 million in seed funding.
Students start by attending events – the Hatchery offers Idea Markets, Speaker Series, Coffee Days, Cofounder Day, Hatchery Circle, Accelerator Weekend – that nurture a strong culture of entrepreneurship on campus. From there, teams apply to one of The Hatchery's two processes: Hatchery NEST, designed for all students such as those involved with in point 37, and Hatchery LaunchLab, which focuses on graduate-level, research-driven startups.
Hatchery NEST is an intensive four-month program running from May to August each year. Teams are matched with advisory boards that include dedicated mentors,and have access to professional services, including lawyers to help secure intellectual property protection, and marketing experts to help refine branding.
Through biweekly pitch sessions, the teams also receive detailed feedback on how to hone their message and build the confidence that will enable them to attract their first investors. The process culminates in Demo Day, held early each September, where the remaining teams compete for a share of more than $42,500 in seed funding.
"Participation in The Hatchery is a unique experience for us," says Shahriar. "Not only do we get to build a service from scratch and learn from all the hurdles involved, but we also get expert institutional assistance and advice to navigate those hurdles in the best possible way."
The Hatchery is one of nine accelerators at U of T, including Start @ UTIAS, the Creative Destruction Lab and the Health Innovation Hub (H2i). Some focus on preparing early-stage companies for launch, while others target enterprises at a later stage of development, or in a specific industry. Many teams go through two or more of these incubators on their way to becoming self-sustaining.
During U of T Entrepreneurship Week this week, The Hatchery is hosting an Idea Market, as well as promoting its Virtual Idea Market and Build-A-Team tool, two online platforms designed to serve the same purpose as point 37's late-night pizza shop meeting; bringing together students with entrepreneurial ideas and passion.
Shahriar says the startup world is not for the faint-of-heart: He knows the vast majority of teams don't make it to Demo Day. Still, he and his teammates are excited by the potential of their new company.
"All of us share a mindset to drive meaningful change and we feel that this is best accomplished on our own terms," he says. "Being an entrepreneur means we get the opportunity to innovate and build. It gives us our best shot at turning our ideas into reality."
Engineering