Ted Sargent named U of T's vice-president, research and innovation, and strategic initiatives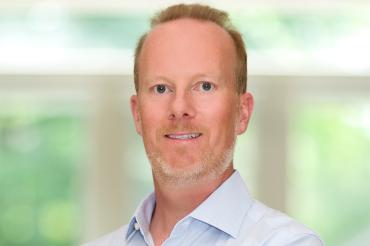 University Professor Ted Sargent has been named the University of Toronto's vice-president, research and innovation, and strategic initiatives for a four-year term, effective July 1.
Sargent, an internationally renowned nanotechnology researcher, moves into the role after serving as U of T's inaugural vice-president, international since 2016, overseeing an expansion of the university's global footprint.
He will succeed Professor Vivek Goel at the helm of the university's vast research enterprise after Goel indicated earlier this month that he was stepping down from the position to focus on the university's pandemic response, as well as that of the wider community.
"The research of our scholars – and the translation of this work into societal impact – is of vital importance, even more now than ever before," Sargent said, referring to the COVID-19 pandemic.
"This is true in the life sciences and just as true in the humanities, social sciences, and physical sciences, and in cross-cutting interdisciplinary fields including our professional disciplines."
Sargent said he aims to build on the progress made by Goel and his team in areas such as promoting equity and diversity in research and innovation, and building partnerships with government, industry and NGOs.
"We want to ensure that all of U of T's researchers see themselves and their remarkable work reflected and valued at U of T," he said. "This is particularly true at a time when equity, diversity and community engagement represent critical topics facing society.
"Robust and respectful community partnerships will continue to be a crucial element of what we do."
President Meric Gertler announced Sargent's appointment on Thursday after it was approved by Governing Council. He reiterated that the COVID-19 pandemic required the expeditious appointment of a proven leader.
"Given the urgent external pressures and abbreviated timelines, an experienced senior leader would serve the university's needs especially well at this time," he said. "The individual whose name surfaced most consistently in my consultations was Professor Ted Sargent."
Gertler praised Sargent's work on U of T's international strategic plan, which helped deepen global engagement, build partnerships with universities and the private sector, increase the number of students benefiting from global engagement in study and research, engage alumni across the globe and further enhance U of T's international reputation.
As vice-president, international, Sargent helped U of T secure a number of key agreements to facilitate the flow of talent and ideas across borders. For example, U of T two years ago signed agreements with Mexico's National Council of Science and Technology to bring graduate researchers to U of T.
Last year, 19,000 international students studied on U of T's campuses – with international media reporting that U of T is now a premier destination for students from several countries, including France and India.
Sargent, a researcher in the Edward S. Rogers Sr. department of electrical and computer engineering in the Faculty of Applied Science & Engineering, first joined U of T as a faculty member in 1998. He holds a tier one Canada Research Chair in nanotechnology and was appointed a University Professor in 2015, the highest rank for faculty at the university. This year, he received the prestigious Killam Prize for Engineering.
His research unites expertise in chemistry, physics and engineering across eight experimental labs. His work is focused on advanced materials such as quantum dots, perovskite crystals and multi-metal catalysts. Applications include light sensing, solar energy harvesting and carbon capture and storage. His work has been cited more than 49,000 times, according to the Scopus database.
"In my research group, I have the privilege of working with brilliant students and post-docs from around the world," Sargent said.
"Doing so only deepens curiosity even more with every day about how we can further deepen our understanding of the physical laws that govern our world; and how we can apply insights from basic science in order to make practical systems that enable us to act on big global challenges, such as the need to provide sustainable solutions for energy, and develop new technologies that bring us closer together."
Sargent is founder and chief technology officer of InVisage Technologies, as well as a co-founder of QD Solar, which aims to produce high-performing and low-cost solar photovoltaic technology, and Xagenic, a molecular diagnostics company developing a range of infectious disease tests.
He is a fellow of the Royal Society of Canada, the American Association for the Advancement of Science and the Canadian Academy of Engineering.
In his new role, Sargent plans to continue to work with colleagues from across the university's three campuses to expand the university's impact globally, and to further deepen the focus on research and innovation.
"We want to celebrate the remarkable influence U of T's great minds continue to have on their colleagues – on thinkers and doers – around the globe," he said.
"We will continue to ensure that U of T's remarkable resources set our researchers up for success."
UTC