'Superstar' pharmacists play critical role at vaccine clinic hosted on U of T's St. George campus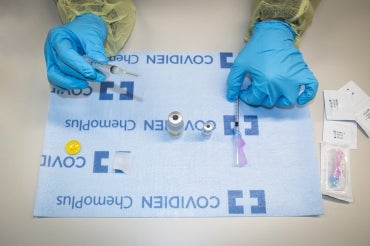 Two hours before the COVID-19 vaccine clinic hosted on the University of Toronto's St. George campus opens, pharmacists show up to receive the vaccines from the university's hospital partners.
Linda Dresser, the pharmacy director of the clinic and an assistant professor at the Leslie Dan Faculty of Pharmacy, leads the 20-person team whose responsibilities include ensuring the cold chain is maintained throughout the vaccine's transport. 
The team stores and monitors the vaccine vials inside the clinic's fridges, then prepares the supply using a careful aseptic technique. Each vial must be handled cautiously – no shaking, swirling or dropping. 
"Considerable finesse and technique are required to reliably draw multiple doses out of each vial, so we trained a group of pharmacists to repeat these steps multiple times," said Dresser, who is also on staff at University Health Network (UHN).
Pharmacists at the Toronto Public Health-approved clinic – a satellite site of UHN's network of vaccination centres that's managed and operated in collaboration with U of T and Sinai Health – are also responsible for managing the process to ensure empty vials are recorded as empty, and then safely destroyed.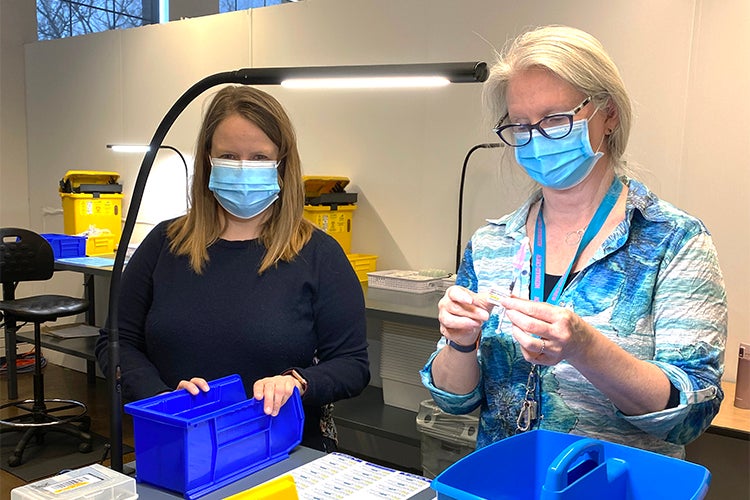 Natalie Crown and Linda Dresser, both assistant professors in the Leslie Dan Faculty of Pharmacy, prepare for a training session at the U of T St. George vaccine clinic (photo by David Dubins)
The steps form part of the careful and critical process led by pharmacists to prepare and manage doses at the vaccination clinic near McCaul and College Streets, one of three planned vaccine sites across U of T's three campuses.
The St. George clinic welcomed its first patients earlier this month. By the end of March, it is expected to deliver more than 1,000 doses per day. 
"We've essentially opened a pop-up pharmacy in a short period of time," Dresser said. 
"If these behind-the-scenes processes to prepare the vaccine don't work really well, it could lead to downstream issues such as long waits or delays in vaccine administration." 
Dresser and her colleagues issued a call to pharmacists across the Toronto Academic Health Sciences Network (TAHSN) to work at the new clinic. The network includes a large number of pharmacy faculty, alumni and preceptors.
Dresser worked with a large group of pharmacy faculty, staff and students to train clinic staff, develop training materials and work on operations and logistics. The team included: Associate Professor David Dubins, Assistant Professor Natalie Crown, Assistant Professor Sandra Bjelajac Mejia, Assistant Professor Marcia McLean and Peter Zhang, a combined PharmD/MBA student.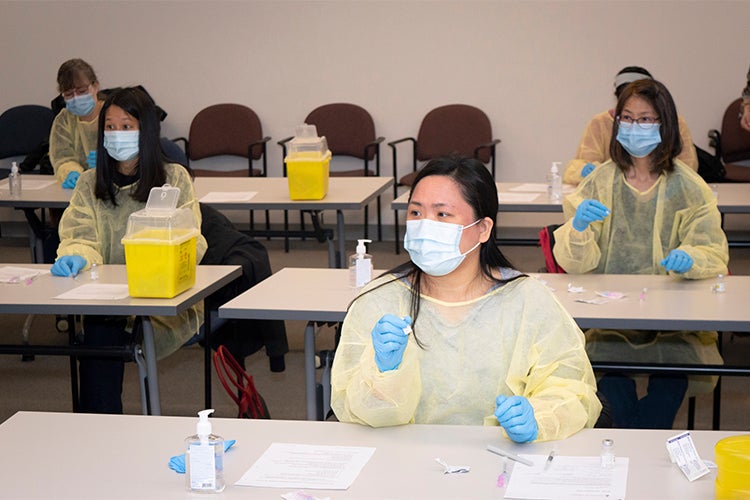 The clinic hosted by U of T on the St. George campus expects to vaccinate over 1,000 people per day by the end of March (photo by David Dubins) 
During each in-person session, a pharmacy technician provided a refresher on aseptic technique, demonstrated the vaccine preparation steps, coached the pharmacists as they practised doing these steps themselves and built confidence in handling the delicate vials. 
While using aseptic technique is part of every pharmacists' scope of practice, for many it is not a routine part of their practice.
"You can imagine the pressure to meet the demand while working with a temperamental product," Dresser said. 
Lisa Dolovich, dean of the Leslie Dan Faculty of Pharmacy, praised the collaboration between the faculty and pharmacists across the university and TAHSN. "The speed with which we have come together to effectively open the clinic has been truly impressive," she said. 
Lynn Wilson, professor and vice-dean of clinical and faculty affairs at the Temerty Faculty of Medicine, added: "The U of T health sciences community is committed to helping with the vaccine effort – one of the most important public health initiatives of this century – and pharmacy is essential to our collective success."
As the vaccine clinic scales up its operations, Dresser anticipates opportunities for pharmacy technicians, pharmacy students and other health-profession learners to help. 
Pharmacists may also participate in injections and follow up with vaccine recipients. 
"We know there are many students waiting to lend their support," said Jamie Kellar, an associate professor and associate dean, academic at the pharmacy faculty. "We aim to bring students from across the health disciplines into the space, both to contribute to their learning as well as to build capacity to support the province-wide vaccine rollout."
Erin Bearss, the medical director of the St. George COVID-19 vaccine clinic and assistant professor in the Faculty of Medicine's department of family and community medicine, also saluted the pharmacists working on site. 
"The role of pharmacy as part of the interdisciplinary team is absolutely critical," she said. "Our pharmacists are superstars."
Pharmacy