PhD students Ernest Tan (left), of the National University of Singapore, and Hsern Ern Tan (centre) of the University of Western Australia perform lab work under the guidance of U of T researcher Margot Karlikow (right) in a lab (photo by Ann Perry)
When Aileen Gracias wanted to learn more about creating stem cell therapies and building companies connected to discoveries in regenerative medicine, returning to the University of Toronto was an easy choice. 
Gracias, who graduated with a bachelor's degree in biochemistry and biomedical toxicology from U of T in 2011, is one of 12 emerging researchers from universities around the world who have converged in Toronto for Summer by Design, a month-long pilot program hosted by Medicine by Design in collaboration with the Rotman School of Management and Centre for Commercialization of Regenerative Medicine (CCRM). 
"Summer by Design presented the perfect platform to build on my interests in translational research and commercialization in regenerative medicine," said Gracias, who grew up in India and recently completed a PhD in neuroscience at Sweden's Karolinska Institutet. "Having been away from Toronto for almost six years, I was particularly impressed by the increasing focus on those areas in recent years through initiatives like Medicine by Design and CCRM."
Regenerative medicine seeks to repair tissues and organs that have been damaged by disease, injury and aging, most often by harnessing the ability of stem cells to turn into any other cells in the body. U of T has a long record of discoveries in the field, starting with the identification of blood stem cells in the early 1960s by biophysicist James Till and hematologist Ernest McCulloch.
Medicine by Design was established two years ago to build on this legacy and accelerate breakthroughs in regenerative medicine by bringing together experts from across U of T and its affiliated hospitals in life and physical sciences, engineering, computational and synthetic biology, and medicine. The initiative invests in a robust pipeline of projects from early stage "new ideas" and large collaborative team research to projects that are closer to clinical translation and commercialization. Another key part of its mandate is strengthening U of T's international partnerships in regenerative medicine, which is a key goal of Summer by Design.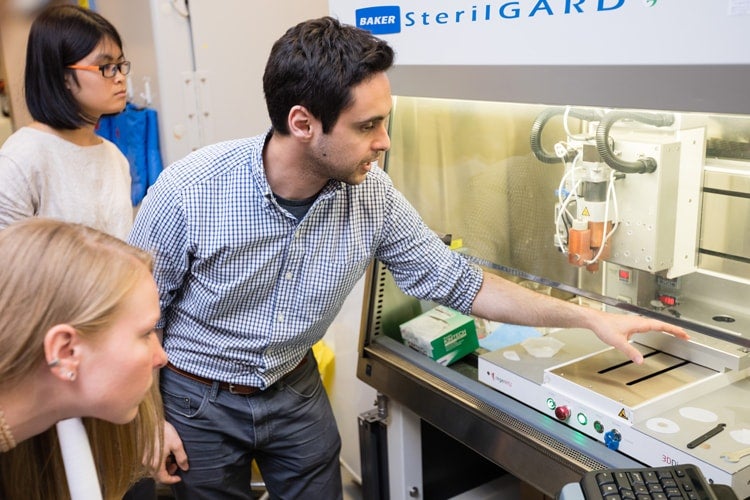 Mónika Szepes (foreground), a PhD candidate at the Hannover Medical School in Germany, and Yeshi Liang (centre), a PhD candidate at the National University of Singapore, look on as Nima Vaezzadeh (right), a post-doctoral researcher, demonstrates aspects of 3D bioprinting (photo by Neil Ta)
The international participants are PhD students, post-doctoral fellows and early-career researchers from universities in Australia, Singapore, Japan, Germany, the Netherlands, Sweden and the U.K.
They are taking part in a series of workshops, lab sessions, tours and conferences on advanced research techniques, clinical trials, regulatory and intellectual property issues, and commercialization. Increasing expertise in these areas is key to building a robust global regenerative medicine sector that promises to improve treatments for diseases such as stroke, diabetes and heart failure. 
"For regenerative medicine to reach the next stage, we need to foster not just research excellence, but also the skills and knowledge to translate discoveries into safe and effective therapies and manufacture them on a large scale," said University Professor Michael Sefton, executive director of Medicine by Design. "Through Summer by Design, we are sharing with these outstanding young researchers the expertise we and our partners are developing in Toronto, and forging relationships that will deepen collaborations with top institutions around the world."  
On a recent Friday morning, Keith Pardee, an assistant professor at the Leslie Dan Faculty of Pharmacy, led a workshop on synthetic biology, an interdisciplinary branch of biology and engineering.
After a lecture and group discussion, Summer by Design participants spent the rest of the day in Pardee's lab reproducing a rapid, low-cost, easy-to-use test for the Zika virus that Pardee has developed with colleagues at Harvard University's Wyss Institute for Biologically Inspired Engineering by placing synthetic gene networks on paper. 
"It was a thrill to meet upcoming researchers from around the world and learn about their work," said Pardee, who is a co-investigator on two Medicine by Design team projects: one that is working to create a new probiotic bacterium that can sense and repair inflammation in the gut, and another that is developing new technologies for high-performance stem cell culture.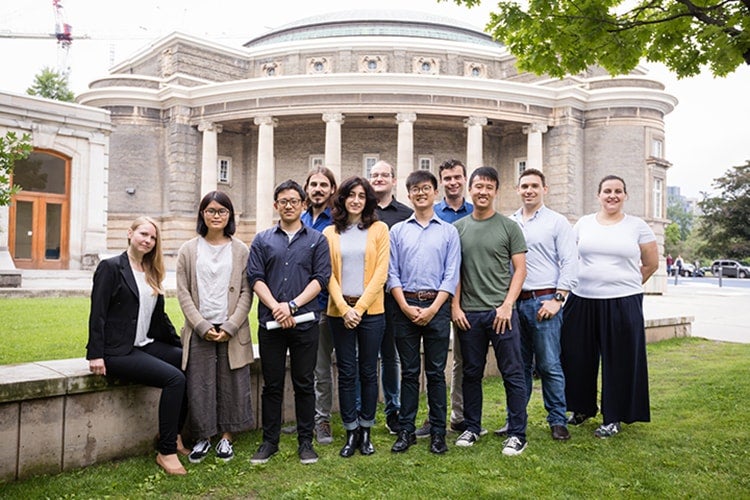 Summer by Design participants are spending a month in Toronto, participating in a series of workshops, lab sessions, tours and conferences on regenerative medicine research, clinical translation and commercialization (photo by Neil Ta)
For Hsern Ern Tan, a physician who is completing his PhD at the University of Western Australia in Perth, Summer by Design provided an opportunity to learn more about commercializing regenerative medicine and meet other emerging researchers. 
"The international nature of Summer by Design has enabled me to make some great contacts with emerging researchers around the world, which will be instrumental to furthering both the clinical and research aspects of my career," said Tan, whose research focuses on regenerating chronic eardrum perforations through 3D printing and tissue engineering.
Tan also praised the "progressive and energetic vibe" in the area surrounding College Street and University Avenue, home to U of T, major teaching hospitals and the MaRS Discovery District. 
Zohreh Izadifar, one of the Toronto-based participants, said the program exposed her to aspects of clinical translation and commercialization that graduate programs often don't address, yet are crucial for researchers who want to impact health care. 
"The opportunity to experience bench-side research to market translation, although on a tiny scale, was very valuable," said Izadifar, a post-doctoral fellow in the laboratory of U of T Professor Andras Nagy, who is also affiliated with the Lunenfeld-Tanenbaum Research Institute at Sinai Health System. 
The program was bookended by two major conferences. It began in mid-June in Boston, where about half of the participants attended the 2017 meeting of the International Society for Stem Cell Research. They also spent a day in nearby Cambridge, Mass., a global hub for biotechnology, meeting with startups, venture capitalists and the technology transfer office at the Massachusetts Institute of Technology. 
After four weeks of workshops in Toronto, participants will finish the program this week with the Business of Regenerative Medicine: Leadership, Innovation & Entrepreneurship, an international conference co-hosted by CCRM and Rotman. 
Will Mitchell, who accompanied Summer by Design participants during the Cambridge, Mass., site visit and led a workshop in Toronto on global strategy, said understanding the business of regenerative medicine is central to achieving its health benefits. 
"The world is awash with great science that never makes it out of the lab because we lack the business skills needed to bring it to market," said Mitchell, the Anthony S. Fell Chair in New Technologies and Commercialization and a professor of strategic management at Rotman. "The skills we teach at Rotman are central to the objectives of Medicine by Design and the Summer by Design program. The students who are here for the program will be leaders in both scientific advance and commercial success, here in Canada and globally."
For Gracias, Summer by Design has been more than a temporary homecoming. This fall, she will start a post-doctoral position with University Professor Molly Shoichet, an expert in tissue engineering. 
"I have always been impressed with the level of research here in Toronto, which is why it was one of my top choices when considering a post-doc," Gracias said.