Three teams awarded U of T's first-ever sustainability innovation prize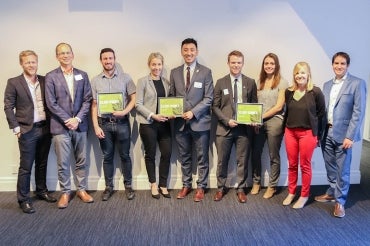 In front of a packed room of their peers, 10 groups of students recently had three minutes each to pitch a new sustainability-focused product or startup with the potential to make a signficant impact. 
In the end, three were named winners of the first-ever University of Toronto Sustainability Innovation Prize, a $5,000 award created to recognize, reward and accelerate U of T's most innovative sustainability ideas. The winners included: SoluSave, a startup that seeks to recycle solvents used in undergraduate laboratories; STP Sports, which aims to reduce the environmental footprint of professional sporting events; and Circular Toys, a company that asks families, schools and individuals to subscribe to eco-friendly toy packages.
The competition, held on June 12 at U of T's ONRamp co-working space for startups, is an initiative of the President's Advisory Committee on the Environment, Climate Change, and Sustainability, which laid out a plan last year to incorporate sustainable ideas and practices into U of T's operations.
"The committee was tasked with finding ways to advance U of T's contribution to meet the challenges of climate change and sustainability – with a particular focus on research and innovation, on teaching and on operations," said John Robinson, the committee's chair and the president's adviser on environment, climate change and sustainability, in remarks before the competition began.
Robinson, who is also a professor in the department of geography and planning with cross appointments at the Munk School of Global Affairs, the School of the Environment and the John H. Daniels Faculty of Landscape, Architecture, and Design, added that the committee wants to make sustainability innovation a key component of the university's identity, to achieve international leadership in this field and promote more sustainability activities on campus.
"This prize competition is an important part of that overall strategy," he said. "It's aimed at supporting, engaging and rewarding U of T students – you – who have sustainability ideas and are interested in finding a way of bringing them to the world."
The finalists were judged by Kenneth Corts, the vice-dean of faculty and research at the Rotman School of Management, Tyler Hamilton, a senior manager of partnerships at MaRS Cleantech, Ron Saporta, U of T's chief operations officer of facilities and services and Joerg Wittenbrinck, a senior policy advisor at the Ontario Ministry of Energy.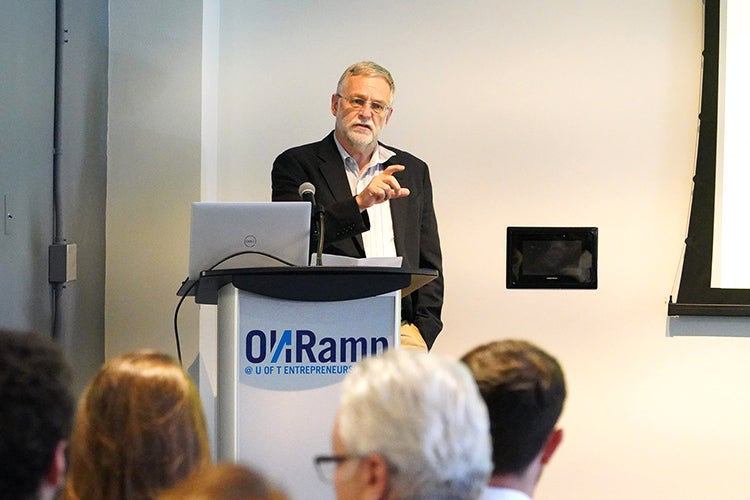 John Robinson is chair of the President's Advisory Committee on the Environment, Climate Change, and Sustainability (photo courtesy of U of T Entrepreneurship)
Laboratory recyling startup SoluSave, led by third-year undergraduates John Russell and Leanna Smid, took part in their first-ever pitch competition and were nervous throughout their presentation.
They were even more surprised to hear that they won.
"We saw the competition – a lot of graduate and PhD students – so it was very intense but it was really rewarding to get this," said Russell. After developing the idea several months ago, the duo "wanted to get a feel" for how pitch competitions work, Russell said.
SoluSave seeks to build a waste disposal device that could be marketed to undergraduate labs as a cost-effective alternative to conventional waste disposal. The recycler device would be optimized for easy use and scaled for use for different kinds of washing solvents.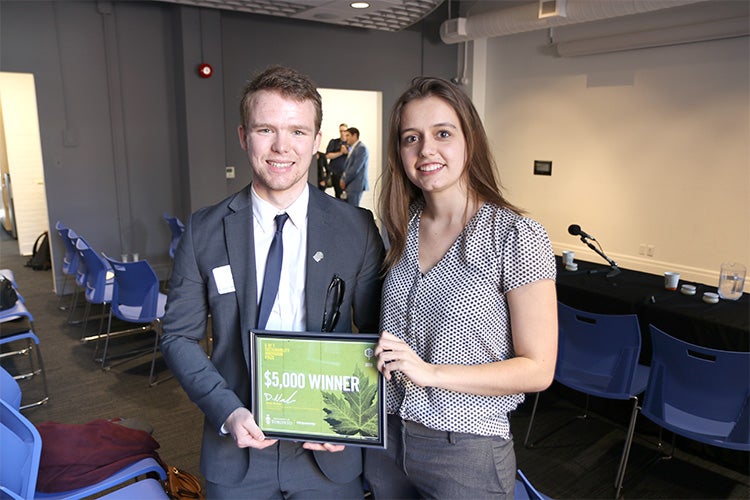 John Russell and Leanna Smid of SoluSave took part in their first-ever pitch competition (photo by Perry King)
With the prize money, the team plans to develop a prototype using acetone this summer. "We want to run our test trials in the labs at U of T and broaden our range from here to see what universities are interested in sustainable chemistry," Russell said.
"Chemistry is being done all over the place," he added, "and one thing that some universities don't take note of is the sustainable aspect of the work.
"That's something that definitely we should move towards."
STP Sports, led by U of T Mississauga graduate students Tom Chen, Samantha DiIorio and Paulina Szlachta, is primarily focused on helping sports teams and leagues create easy waste management processes, procurement policies – including assessing stadium vendors and suppliers – and undertaking employee training and education.
The idea for this startup came primarily from Chen, who wanted to blend his interests with his graduate work in sustainability management. "I said 'You know what? Am I going to spend that much time on something I don't really enjoy?'" said Chen, who grew up in "sports crazy" Boston. "How can I combine those two aspects – sports and sustainability?"
Working on their sustainability capstone project, the team found that the NFL, MLB, NHL and NBA produced about 165 million pounds of waste, but only a 25 per cent waste diversion rate.
They reached out to all the leagues and teams on creating better waste diversion solutions and developed a working relationship with the NFL's Atlanta Falcons. In their first case study, they found that Mercedes-Benz Stadium in Atlanta had a 45 per cent waste diversion rate, solar power installation and a stormwater management strategy. They built STP Sports around that case study.
Paulina Szlachta and Tom Chen of STP Sports, which is focused on making sports teams and leagues more environmentally sustainable (photo by Perry King)
Chen sees STP as being at "ground zero" of an environmental movement in pro sports. Their prize win will give them more resources to help major sports franchises become more environmentally sustainable – something that they are interested in pursuing, according to Chen.
Szlachta is excited about the potential benefits of the project. "There's just so much we can do and so much waste we can optimize in these kinds of facilities – and not just stadiums, but concert halls, and all kinds of venues. There's so much to be done there and so little being done right now."
Circular Toys, led by Daniel McKee and Lisa Pooley, provides subscribers with eco-friendly toy packages every three months. But, they will also have a chance to send used toys back, reducing waste and the amount of plastic products in the environment.
"There's such a short lifespan of toys that aren't environmentally friendly and recyclable, and it isn't reasonable to refurbish them," said McKee, a nursing student who says the toys will be targeted to children aged one to seven.
The average family has 71 toys per household and about 90 per cent of them are plastic – nearly 10 per cent of which can't be recycled, according to McKee. Circular Toys, by contrast, proposes to create an avenue for families looking to reduce waste and provide safer toy options for their children.
"It's better for the parents because there isn't clutter, it's better for the students because it's safer for them and it's better for the planet," says McKee, who added the toys themselves are meant to stimulate the child's mind and encourage teamwork.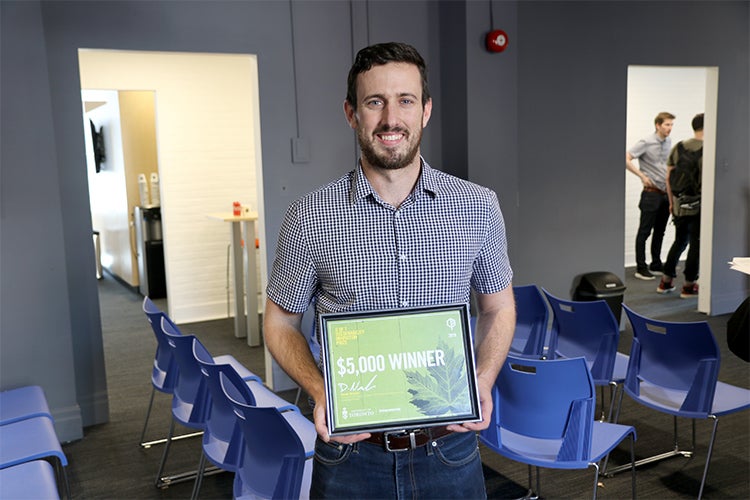 Daniel McKee of Circular Toys, provides subscribers with eco-friendly toy packages every three months, but also allows them to be returned (photo by Perry King)
Circular Toys plans to boost its marketing resources as the startup launches in August. The goal is to amass 100 subscribers in the near term – the equivalent to 3.5 tons of plastic that would otherwise reach oceans and landfills.
It was a nervous pitch competition for McKee, but the win is the next step in an ongoing journey. "In the three minutes, you've said all the necessary pieces, but I would have liked to answer more questions and explained a little bit more in detail," he said. 
"Hopefully there will be other pitches for that."
UTC