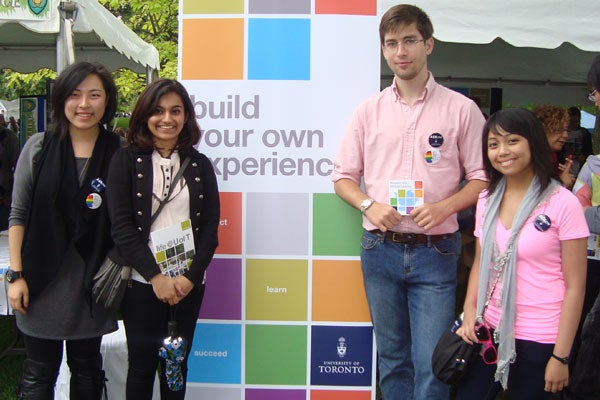 Student Life Ambassadors share secrets of school success
Use Twitter as communications medium
There's nothing like knowing someone who's been there to make the adjustment to university living just that much easier. So five upper-year St. George undergrads have taken to Twitter to share their own experiences and show some of the secrets to their student success.
These five Student Life Ambassadors are featured in Life @ U of T, an introductory guide to involvement and support opportunities for students new to the university.
"Each of our ambassadors has carved a unique path at U of T," said Tricia Kenderdine, communications co-ordinator for the Office of Student Life. "And each of them has shown that it's possible be active and involved inside and outside of the classroom."
Throughout the school year, the ambassadors will be tweeting daily about what they're doing and how they're handling their busy lives.
 
Shoaib is a fourth-year English major who's heavily involved in his home college at Victoria, especially with the drama society. He hopes newer students will be able to benefit from the ambassadors' experience by getting involved early.
"I didn't start until second year, and I wish I'd started earlier," said Shoaib. "I'm involved in a variety of things now, and my university experience is far more rewarding because of that."
For Matthew, being an ambassador is an opportunity to give back. The History and Political Science student has been deeply involved in several campus organizations, and founded Urbane Magazine, a student-run publication about fashion, design, politics and culture.
"By providing some insight into my own experience as a student at U of T, I hope to help new students to become a part of this campus's vibrant culture and history," said Matthew. "Much of the culture of the university is driven by student groups, and students are empowered to start their own initiatives, or to take charge of ones that already exist."
The other Student Life Ambassadors are ethics, society and law student Sarah, who writes for BlogUT and is a senior mentor with the first-year Learning Community Program; Catherine, an engineering science student who is involved in Nocturne, the talent show for engsci students, and is active in engineeering F!rosh activities; and psychology major Cynthia, who has written for the UpbeaT Student Life blog and has worked with Students for International Development and the Blue Sky Solar Car team. To read more about the whole team, visit their web page at Student Life Programs & Services.