Staying engaged: U of T Faculty of Dentistry student makes community volunteer work a priority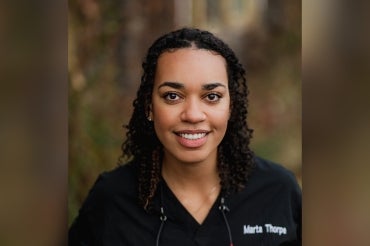 Despite her hectic schedule, University of Toronto student Marta Thorpe makes time to stay connected to the community through volunteering – and says she wouldn't have it any other way.
"It's easy to get caught up in the idea of having limited time, but I've found if something is really important to you, you find a way to prioritize it," says Thorpe, who is in her final year of the Faculty of Dentistry's Doctor of Dental Surgery (DDS) program. "Volunteering helps me stay grounded. It reminds me of what I value."
Thorpe has many volunteer commitments both inside and outside of the university. Last summer, she worked with U of T's Black Medical Students' Association to organize presentations and meetings with Toronto high school students. The goal was to encourage young, disadvantaged students to pursue careers in health care.
"I think it's really important to plant the seed early and show young students that they can have a career in health care," Thorpe says. "I also think representation in dentistry is valuable so students can see themselves in the person they want to become.
"We are serving a diverse population so ideally we'd have diversity in the profession. It helps students see their place in the dental office as a patient, as an assistant and as a dentist."
That mentality carries through with Thorpe's work on the Faculty of Dentistry's equity, diversity and inclusion (EDI) committee. She was nominated by Dean Daniel Haas to be a committee member in her second year and has served ever since. The EDI committee is composed of staff, faculty and students, and is currently putting together an action plan on how to improve equity, diversity and inclusion efforts at the Faculty of Dentistry.
Thorpe is also involved in the Association of Canadian Faculties of Dentistry EDI working group as a student representative, thanks to the nomination by Haas. The group's aim is to collect data and identify shortcomings of both individual schools and dentistry as a profession overall. The findings will be used to determine the best way to affect change related to EDI. 
Thorpe also volunteers with the Out of the Cold program in downtown Toronto to provide lunches and other donations to those who struggle with housing insecurity or who have low incomes. She spends a few hours every Sunday assisting with food preparation. Some of her other volunteer engagements, including being a guide for the visually impaired runners who are training for races, have been put on hold due to the COVID-19 pandemic.
"It's very important to me to stay engaged in the community weekly even in the busiest times of the school year," Thorpe says. "I do better when I have time to separate myself from my schoolwork and get to know my community. Prioritizing these types of involvement may come at cost, but it's such a worthy one to me."
Dentistry