Space doctor: U of T researcher co-chairs International Space University program in Brazil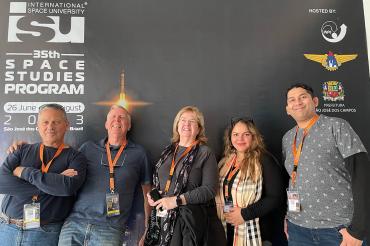 Space exploration is often viewed as the realm of astronauts and engineers, but the University of Toronto's Farhan Asrar is using his expertise in public health to chart an extraterrestrial path in medicine.  
Asrar, an associate professor in the department of family and community medicine in the Temerty Faculty of Medicine with a cross-appointment with the Dalla Lana School of Public Health, researches the physical and psychological effects of space travel on the human body, the challenges astronauts face during prolonged space missions and the potential implications for human health back here on Earth.
As a member of the International Space University, he recently travelled to Brazil to co-chair the department of human performance in space of the Space Studies Program, an annual nine-week program hosted in different locations around the world that provides participants professional development experience covering all aspects of space. As a co-chair, Asrar played a key role in developing curriculum for the program, organizing talks with astronauts and educational opportunities – including a trip to Brazil's Paralympic training site to explore similarities between astronauts and elite athletes – and providing mentorship to attendees.
"I really appreciate that space brings everyone together – regardless of your background, culture or country," the Mississauga-based physician and researcher says.  
U of T News caught up with Asrar before he left for South America to ask him about his journey into space medicine, the challenges astronauts face and his role with the International Space University.
---
What is space medicine?
We are looking at what happens to astronauts and their health in space – we know that the microgravity has impacts on the body including bone and heart health. The space medicine side would introduce countermeasures that can maintain health and bone health in space, especially for someone who is staying for longer periods.
It also involves the preventive side because it is looking at individuals who might have medical conditions that would put them in a high-risk situation, and it examines whether their bodies would be able to withstand the strains of this extreme space environment.
What are some of the challenges astronauts encounter in space?
The distance and extreme environment can be stressful for anyone. When you are in space, you are away from your loved ones. You are in this really confined space with a select number of individuals for the next six months or so. Even simple tasks like going to the bathroom become more complex.
In order to prevent issues related to bone and heart health, astronauts have to exercise for two hours on a daily basis. They also have their regular schedule like keeping their premises clean and research projects – and working to meet all those tasks and needs in an extreme environment can be quite challenging.
With further distances away from Earth, the time delay creates challenges in communication. If someone has a medical emergency or needs mental health support, it can be difficult to communicate in a timely manner. These are the sorts of things we're examining in space medicine: how do we train people to be better prepared for these challenges?

As a member of the Temerty Centre for AI Research and Education in Medicine (T-CAIREM), I know that there are developments in machine learning and artificial intelligence that are being explored for use in every aspect of medicine. This also has a role in space medicine and improving the response time from Earth to astronauts.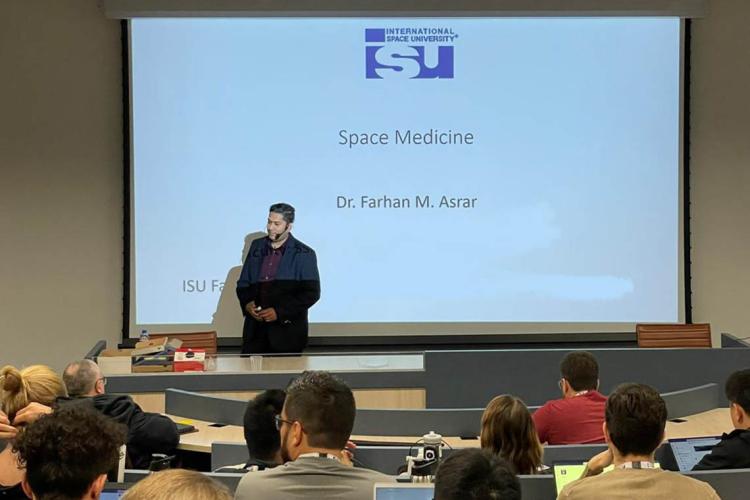 What sort of work will you be doing with the International Space University's Space Studies Program?
This year, the space studies program is being held in Brazil and I was invited to co-chair the department of human performance and space along with Judith Hayes, NASA's chief science officer under the human health and performance directorate.
We helped develop curriculum for the program along with other chairs, directors and academics. We've organized talks, educational activities and different sessions that are related to human performance and health and medicine in space. We'll be there to support and mentor the participants when necessary.
We've invited CSA's flight surgeon and NASA's Space psychologist to share their expertise on the health of astronauts, the training they do to prepare for missions and the challenges they face. We've also invited NASA astronaut Jessica Meir and Canadian astronaut David Saint-Jacques to talk about his experience in space. He has worked as a family doctor in the Arctic, so it'll be interesting to hear about his experiences with extreme environments and challenges he's had here on Earth, too.
I've also been researching the link between sports and space medicine – so we organized a visit to Brazil's Paralympic training site. There are a lot of similarities between athletes and astronauts: they both have to be physically fit, train every day, and their training and professions put a physical strain on their bodies. In this session, we'll also educate participants about Paralympic training and then get into physical barriers in space.
What excites you most about space?
I really appreciate that space brings everyone together, regardless of your background, culture or country. It's great to have so many individuals working together – even the crew missions are now more diverse.
There's also a lot of technology like GPS and infrared thermometers that originated from space programs before they became part of our everyday lives. Infrared thermometers, for example, were invented to measure the temperature of distant celestial objects and become very popular during the pandemic to check a person's temperature.
Similarly, the isolation and extreme environments that astronauts feel on their missions is something we felt during COVID-19. And we used telemedicine during the pandemic, which originated from space and taking care of astronauts at a distance. With the pandemic, we were put in many situations we weren't used to – but you could often look to the space world and say, "Yes, we've been doing this for decades and we can share our expertise."
There's so much that space introduced to our lives that we don't even realize.
UTC