South Korea's LG Electronics meets with U of T researchers to explore collaboration opportunities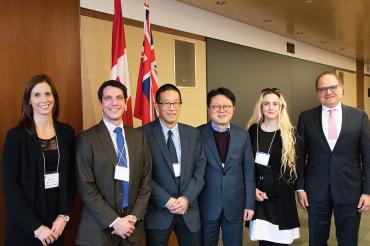 One of South Korea's biggest companies is exploring innovation-related collaboration opportunities with the University of Toronto, the latest in a long line of multinationals to be drawn to U of T's world-leading research.
A delegation representing LG Electronics, led by chief technology officer Skott Ahn, was at the Ontario Investment and Trade Centre in Toronto this week to meet U of T and Vector Institute researchers, and learn more about the university and its broad interdisciplinary expertise.
Among the topics discussed with LG, a leading global producer of flat panel TVs, mobile devices and appliances: robotics, advanced manufacturing, computer hardware design and artificial intelligence, or AI.
"The University of Toronto is a powerhouse in areas of artificial intelligence," said David Fleet, a professor in the department of computer and mathematical science at U of T Scarborough. 
"There have been a number of very high impact results that have come out of the department over the past several years."
Fleet, who recently joined Vector, went on to talk about some of that research, including a potentially new way of visually monitoring a city's power grid and his use of computational processing in molecular biology. 
"Innovation is the key word to describe what's going on," he said.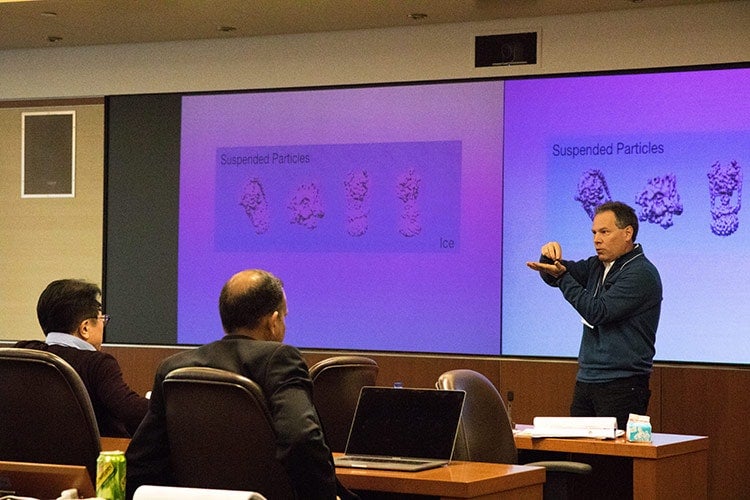 David Fleet, a professor of computer science, explains his research to LG's CTO Skott Ahn (left) and another LG representative (photo by Chris Sorensen)
Other researchers who delivered presentations about their cutting-edge work included: Goldie Nejat, an associate professor in the Faculty of Applied Science & Engineering and a Canada Research Chair in robots for society, and Professor Hani Naguib, a professor of mechanical engineering and director of the Toronto Institute for Advanced Manufacturing. 
The delegation also heard from Darin Graham, the industry innovation director at the Vector Institute, and Professor Christopher Yip, U of T's associate vice-president of international partnerships.
During an informal discussion, Yip explained how the close links between Vector and U of T give corporate partners access to a wide array of expertise across multiple disciplines that's difficult to find elsewhere.
While LG hasn't made any commitments, it isn't the first big multinational to realize the value of forging a close relationship with U of T and its partners. The university already boasts significant partnerships with Mississauga-based Hatch, a global engineering company, and Chinese telecom equipment giant Huawei, whose CEO recently visited U of T to look at ways of further expanding its relationship.
U of T also recently partnered with Fujitsu Laboratories, which plans to set up a quantum-inspired research and development centre in Toronto. 
Illan Kramer, U of T's director of international research partnerships, told the LG delegation that money invested in U of T delivers several times that amount in research value. 
It can also expose companies to important new innovations and technologies they may not have previously anticipated, potentially giving them a leg up on competitors.  
"We're academics," explained Andreas Moshovos, a professor in the Faculty of Applied Science & Engineering who spoke about his research designing computer hardware to optimize AI and other applications. 
"Our goal is not to build a product next year, but to take risks."
UTC