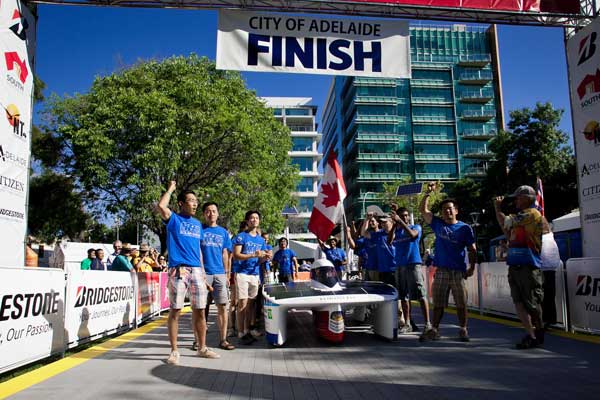 Solar Car team finishes in top 10 in international race
U of T's Blue Sky Solar racing team is heading home after a successful eighth-place finish in the 2013 Bridgestone World Solar Challenge, a gruelling 3,021-kilometre race for solar-powered cars across Australia from Darwin in the north to Adelaide in the south.
The Blue Sky team achieved its goal of finishing in the top 10 among the 23 teams. Blue Sky's car, B7, completed the race, which ran down the Stuart Highway through some of Australia's most isolated countryside, in 45 hours and 38 minutes, achieving an average speed of 65.71 km/hour.
Team members are on their way home from Australia and unable to comment on the experience, but according to their blog the race didn't always go smoothly. There were minor glitches such as steering wheel problems. And on day 4 of the 6-day race, Blue Sky Solar's support trailer jack-knifed and a crate containing crucial supplies fell off.
Blue Sky Solar was helped out by the University of Calgary team which stopped and lent a hand to their U of T competitors.
Blue Sky Solar has been building and racing solar cars since 1996, when a small group of Mechanical and Electrical & Computer engineering students formed the Advanced Solar Electrical Vehicle Program. The team includes students from different faculties, but is mostly composed of Engineering students. Built and driven entirely by students, B-7 features the latest advancements in photovoltaic technologies, a brand new aerodynamic design and improved vehicle dynamics systems, weighing about 20 per cent less than its predecessor, Azure, which placed 24th out of 37 teams in the 2011 World Solar Challenge.
"We are all very proud of Blue Sky Solar," said Professor Cristina Amon, dean, Faculty of Applied Science and Engineering. "To go against the best teams in the world and finish in the top 10 is a testament to their hard work, ingenuity and drive.
"I congratulate all the members of the team on this tremendous achievement."
Blue Sky Solar competed in the Challenger class race, won by a team from the Netherlands, which completed the race in just 33 hours. (See full race results.)
Terry Lavender is a writer with University Relations at the University of Toronto.