Social purpose real estate: U of T's Matti Siemiatycki on achieving development without displacement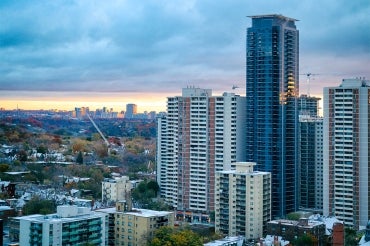 As Toronto real estate becomes increasingly unaffordable, finding new ways to deliver accessible housing and spaces for non-profit organizations to operate and provide quality public services has become a growing challenge across the city.
In an effort to help, the University of Toronto's School of Cities earlier this year hosted a series of training modules on what's known as Social Purpose Real Estate (SPRE) that brought together leading professionals and demonstrated creative city-building approaches that integrate non-profits and critical social services.
The sessions were designed to enhance the capacity of non-profit and mission-based organizations to engage in real estate development partnerships. Drawing more than 60 participants per session, the training focused on collaboration through partnerships, real estate development and financing, and tips for managing long-lasting operations and maintenance.
Participants included: Bernnitta Hawkins and Carol Latchford of the Red Door Family Shelter; Graeme Hussey and Jana Bawaba of not-for-profit affordable housing developer Cahdco; LoriAnn Girvan of LoriAnn Girvan Consulting; Abigail Moriah, founder of the Black Planning Group; and Jeanhy Shim, founder of Housing Lab Toronto and not-for-profit development company Crosswalk Communities.
Matti Siemiatycki, interim director of the School of Cities and a professor in the department of geography and planning in the Faculty of Arts & Science, recently spoke with the school's Sarah Chan about the training modules and the future of social purpose real estate.
---
What is Social Purpose Real Estate?
Coined by the west coast SPRE Collaborative, SPRE refers to property and facilities owned and operated by mission-based organizations and investors for the purpose of community benefit, and to achieve blended value returns. The goal is development in the service of public interest. We see many different models being used for SPRE – from community land trusts, co-ops and creative mixed-use partnerships as one model, to social housing and government-funded housing as another.
The key to SPRE is that it enables development to take place without displacement, and allows communities to change without losing the core aspects of the people or services that made them what they were. It really covers a wide range of real estate, including non-profits that operate their own space, churches providing social services and many forms of affordable housing or workspaces.
What are some examples?
Toronto, and the broader region, has many examples of social purpose real estate – we wanted to highlight those with innovative and creative mixed-use approaches. These were ones with successful partnerships that often co-locate unexpected partners in the same building while bringing forth numerous benefits.
For example, the Red Door Family Shelter in Toronto's east end is a homeless shelter co-located in a building with a condominium and retail shops. It's a dramatic example of a mixed-use development partnership pursued with public and private interests. The shelter – in a church on the site – was in danger of displacement when the original building was put up for sale, and the community rallied alongside the shelter and the local city councillor in a massive campaign to save the shelter. This campaign propelled a collaboration between the shelter, the city and the developer that bought the site to come up with an innovative building model that saved this vital piece of the urban social fabric.
Brampton is another example that's at the leading edge of designing buildings as places for place-making, and synergies for creating services for the public. Brampton envisions new ways to deliver social services through Transit-Oriented Communities in their uptown neighbourhoods. Recently receiving the Canadian Society of Landscape Architects Awards of Excellence for the plan, the Uptown Brampton model is aiming for high quality live-work-play communities along planned major transit routes. This is a collaborative city-building model that aligns public, private and local interests. The right policies, design and partnerships can unlock lands along subway and LRT networks, turning them into walkable, 20-minute communities.
Toronto is a global leader in developing creative mixed-use buildings – we've identified more than 75 examples at the School of Cities, including cultural hubs embedded in mixed income housing, church property redevelopment and collaborations between educational and private establishments – and they only continue to grow.
Why are partnerships important for SPRE?
Not-for-profit and mission-based organizations pursuing SPRE have faced significant challenges for decades. Common challenges include limited funding, access to land and affordable spaces, and knowing how to navigate complex development processes. Essentially, partnerships help overcome some of these challenges by providing new opportunities and reducing risk. In many cases, the choice to enter a partnership was not a deliberate effort, but was the only feasible route.
Our studies have also shown that partnerships result in buildings with more benefits than what each partner could have achieved alone. They are an increasingly important pathway in providing for critical social and community services, but they are only one model.
The key with social purpose real estate is that it thinks about real estate differently by bringing a wide group of stakeholders to the table and engages with them about how their neighbourhoods are shaped, and how the built form responds to community needs. It is a real estate trend that will be critical in post-pandemic city-building.
What is the School of Cities' role in all of this?
To encourage such collaborations, the School of Cities acts as a key place of exchange. We bring together research, expertise with training capacity, and experience with a broad network that we've developed. The School is positioned as a place to put knowledge in the service of action.
With support from Toronto's SPRE Reference Group, the School of Cities will continue supporting SPRE initiatives around the city. The training modules were part of this effort as a pilot program, bringing together the research, a network of interested organizations and resources to help empower not-for-profit and mission-based groups to become ready to undertake their own SPRE projects.
We're planning to build on the success of these modules, where we hope to see some of the SPRE ideas come to life.
What were some key takeaways from the modules?
The sessions provided tremendous insight to support attendees as they embark on their own initiatives across Toronto and southern Ontario. There were several key takeaways:
The key to SPRE is using real estate to maximize the value of sites, developing without displacement and reinvesting the value from development back into the surrounding community. Engaging with the local community is extremely important to the success of the project, including meaningful engagement with key stakeholders throughout the planning process.
Mixed-use buildings can deliver critical public services in facilities better than one organization could realize on their own. They are challenging to undertake, but innovative partnerships provide collaborative advantages worth pursuing, including shared risk, unlocking land and assets, and attracting new financing sources.
For the Red Door Family Shelter mixed-use project, the "Save the Red Door" Campaign made it clear to all parties that the shelter was a valued part of the community that could not be displaced, and ultimately the only option was to incorporate the family shelter into the for-profit condominium development. The project took many months to draft an agreement that met the needs of the City of Toronto, the Red Door Family Shelter, and Harhay Developments. Bernitta Hawkins and Carol Latchford, the former and current executive directors of the Red Door Family Shelter, mentioned perseverance, patience and flexibility as necessary qualities to move forward.
According to Graeme Hussey and Jana Bawaba from Cahdco, more than 90 per cent of affordable housing projects never get past the feasibility phase. To achieve feasibility, all development projects must first secure capital, land and capacity, as well as gauge their internal risk tolerance.
LoriAnn Girvan shared the importance of maintenance planning to ensure the success of these projects over their entire lifespan, for 50 to 100 years. The agreements and operations need to be rigorous, along with a clear understanding of who is responsible for asset management.
Abigail Moriah and Jeanhy Shim provided a deep dive into pre-development challenges, emphasizing that organizational preparation is key. It's critical for organizations to undertake their own internal audit to assess their internal capacity, expertise gaps, the development timeline and ensuring a decision-making processing structure is in place.
What's next?
Through the training modules, we have been exposed to many non-profits and government departments that own aging facilities and are interested in pursuing innovative mixed use redevelopment projects to build affordable housing and provide critical public services. While many organizations have great ideas for their sites, they are often challenged by a lack of experience, expertise and real estate networks to turn them into a bankable project that can be rapidly implemented.
To further support these organizations, there's a role for us to play by providing a rigorous a curriculum to expand this training, introducing mentors and working closely with partners towards creative solutions for our cities.
School of Cities