With smiles and stoles, student-run event celebrates U of T's Black graduates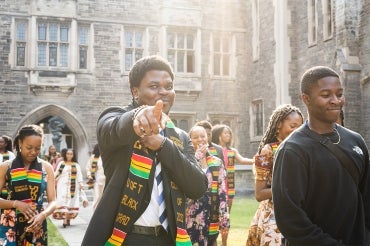 "Understand that your presence here, and what you achieved here, is monumental and that cannot be denied."
The words of Adriana Williams, president of the University of Toronto's Black Students' Association (BSA), echoed through Hart House's Great Hall, where dozens of Black U of T students who graduated earlier this spring gathered recently to celebrate their achievements.
Students at U of T began organizing Black Grad celebrations in 2017 and over the years the events have been held on the St. George and U of T Mississauga campuses, as well as virtually during the pandemic.
The theme of this year's student-run celebration was "trials and tribulations." It was meant to underscore challenges each student overcame to earn their degree – both as Black students and as students navigating university during a pandemic.
The event itself marked a triumph over difficulties since it was the first in-person celebration in two years due to COVID-19. "I feel the biggest thing about this entire ceremony is it's a really good example of overcoming adversity, which is something our community does all the time," Williams told U of T News.
"Post-secondary was never created with people of colour – let alone Black people – at all," said Williams, who graduated this spring with a degree in linguistics, history and African studies as a member of St. Michael's College. "I feel like the Black student experience in general is just very unique, so I think it's imperative that we highlight what we've done here."
U of T News senior reporter and associate editor Geoffrey Vendeville captured the following images of this year's event:
---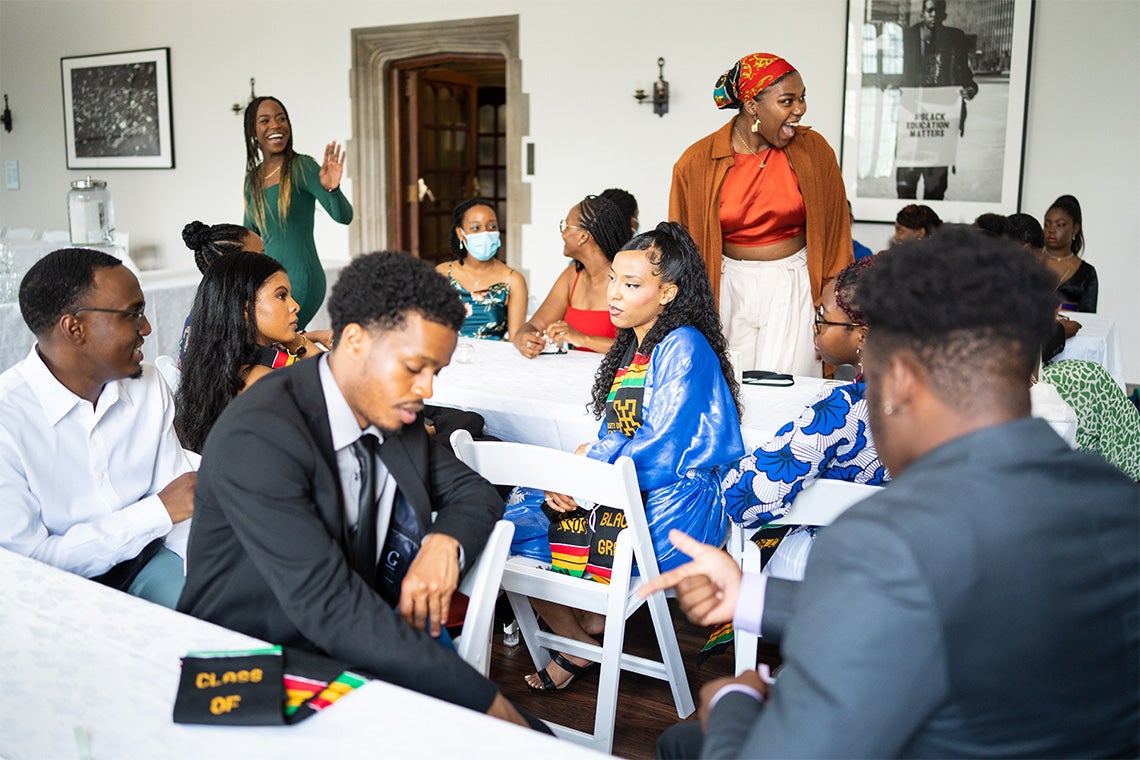 (Photo by Geoffrey Vendeville)
Students greet each other and chat in a room at Hart House before entering the Great Hall.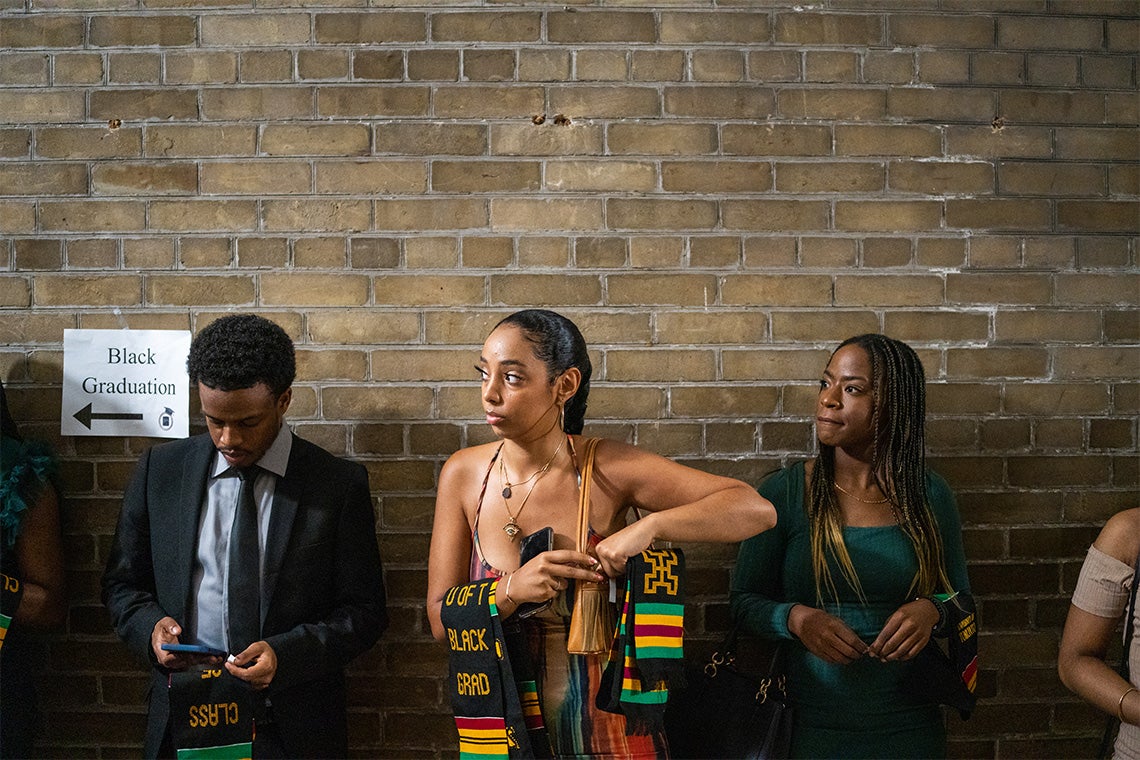 (Photo by Geoffrey Vendeville)
Ranie Ahmed, Marwa Al Waeal and D'Onna Alexander wait to enter the student-run celebration of Black graduates.
Asked how she coped with difficulties over the past two years, Alexander (right), a psychology, sociology and women and gender studies student at U of T Scarborough, answered with a single word: "Community."  She added: "I feel like I wouldn't have been able to do it alone."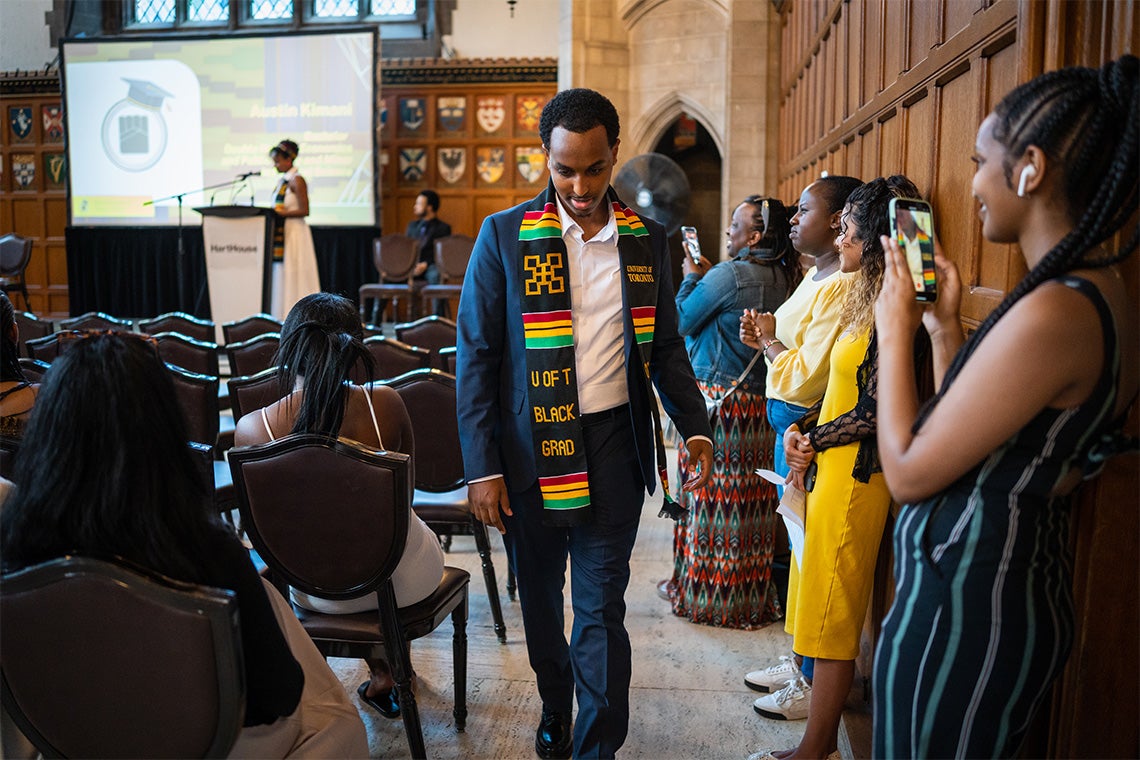 (Photo by Geoffrey Vendeville)
Graduate Isaiah Kidane walks off stage after being called for a moment of recognition.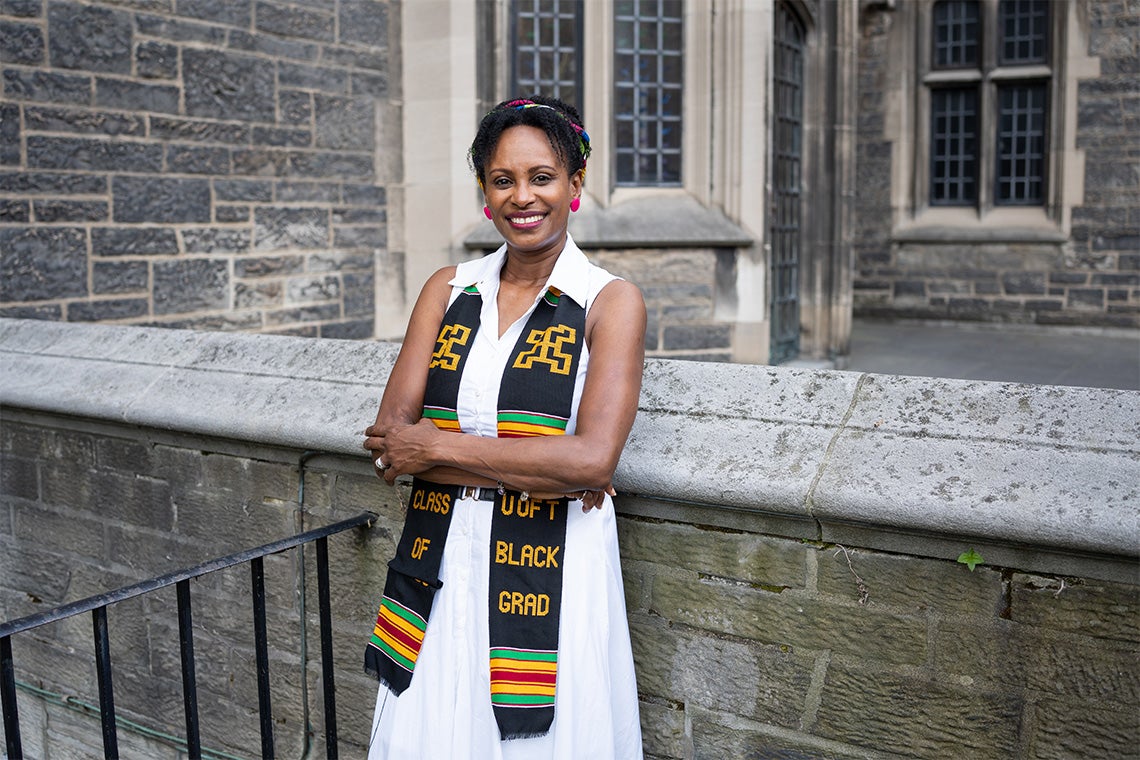 (Photo by Geoffrey Vendeville)
Professor Rhonda McEwen, who recently began her term as president and vice-chancellor of Victoria University in the University of Toronto, has attended every Black Grad since the event's inception at U of T in 2017. "There's something about seeing each other in person and being surrounded by others who maybe had a similar experience to you," she said. "For students who have been in the minority to feel a majority – and to feel surrounded by people who went through the same thing as you – is special."
At the event, McEwen draped stoles around students' necks along with Betty Walters, a program adviser in the department of management at U of T Scarborough, and Marieme Lo, an associate professor of women and gender studies and African studies in the Faculty of Arts & Science.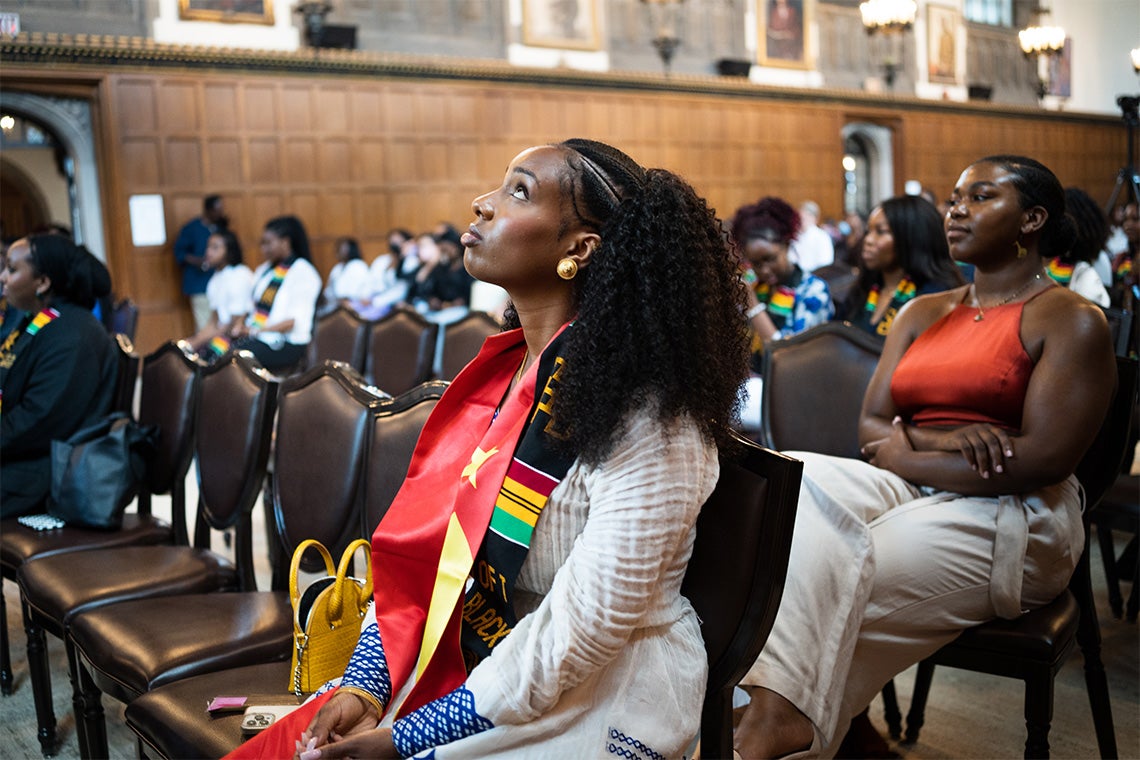 (Photo by Geoffrey Vendeville)
The event, which students watched in person and online, featured a keynote speech by Francis Atta, a social worker, motivational speaker and U of T alumnus, and performances by singers and U of T students Bijoux Mulali, Precious Umogbai and Petra Alfred.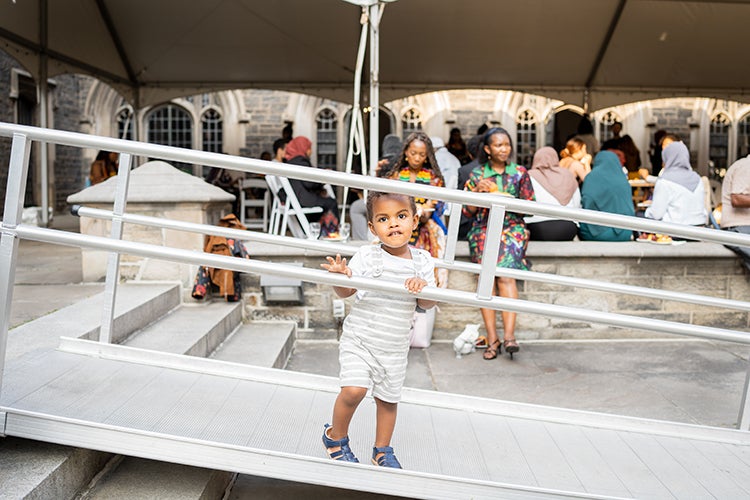 (Photo by Geoffrey Vendeville)
Musa Hersi, nephew of graduate Ranie Ahmed, plays on a ramp outside Hart House.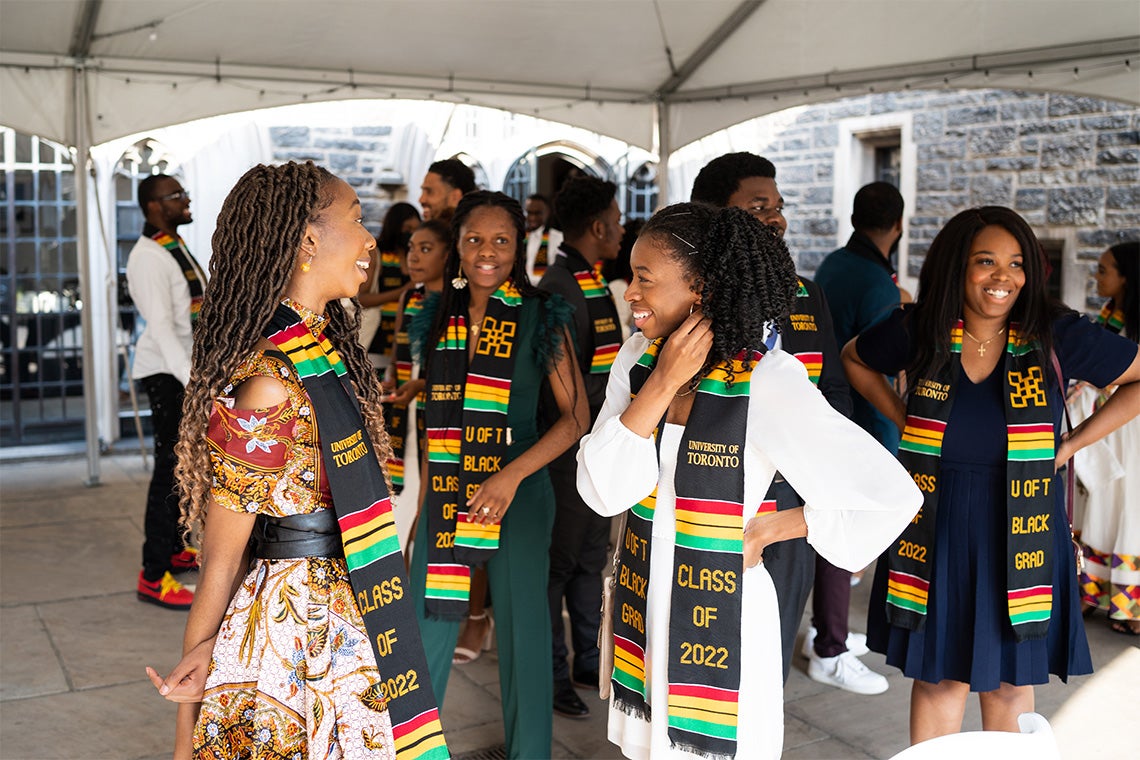 (Photo by Geoffrey Vendeville)
Elvin Kaunda, who graduated with a bachelor's degree in architecture, and Massoma Kisob, who majored in global health, chat in the Hart House quad.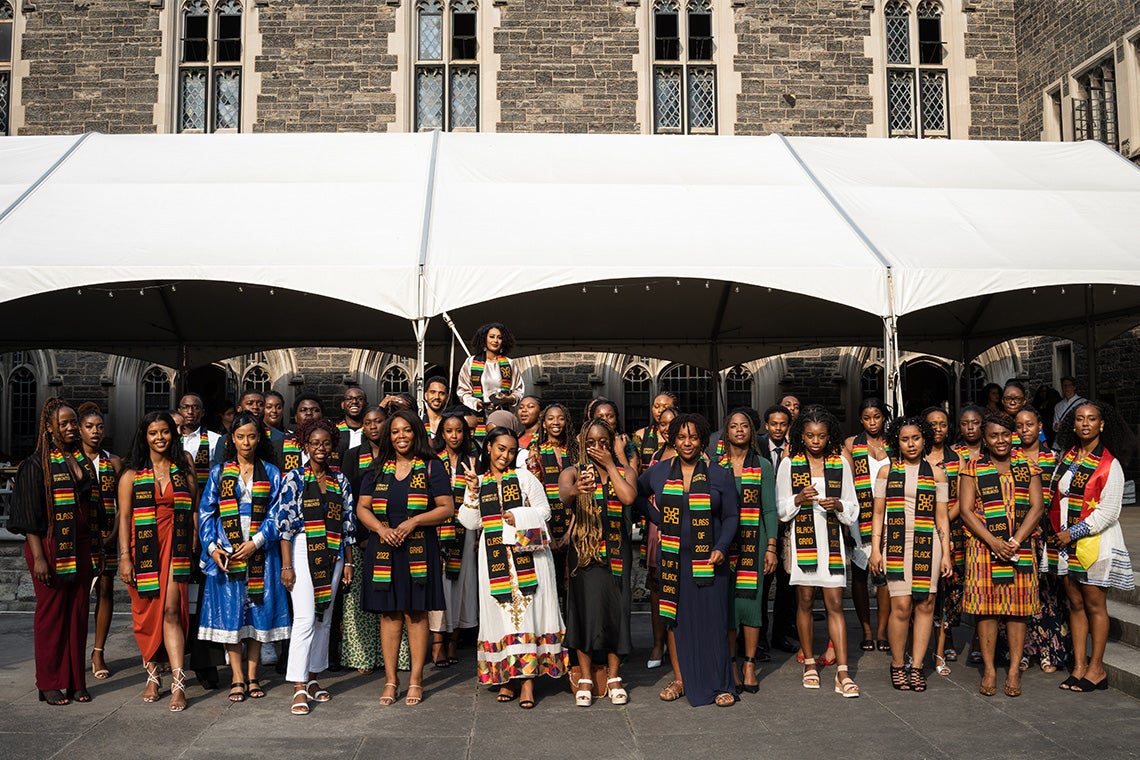 (Photo by Geoffrey Vendeville)
This was the sixth year in a row that Black students across the university's three campuses hosted Black Graduation, a tradition that got its start in the U.S. and appears to have caught on at other Canadian universities.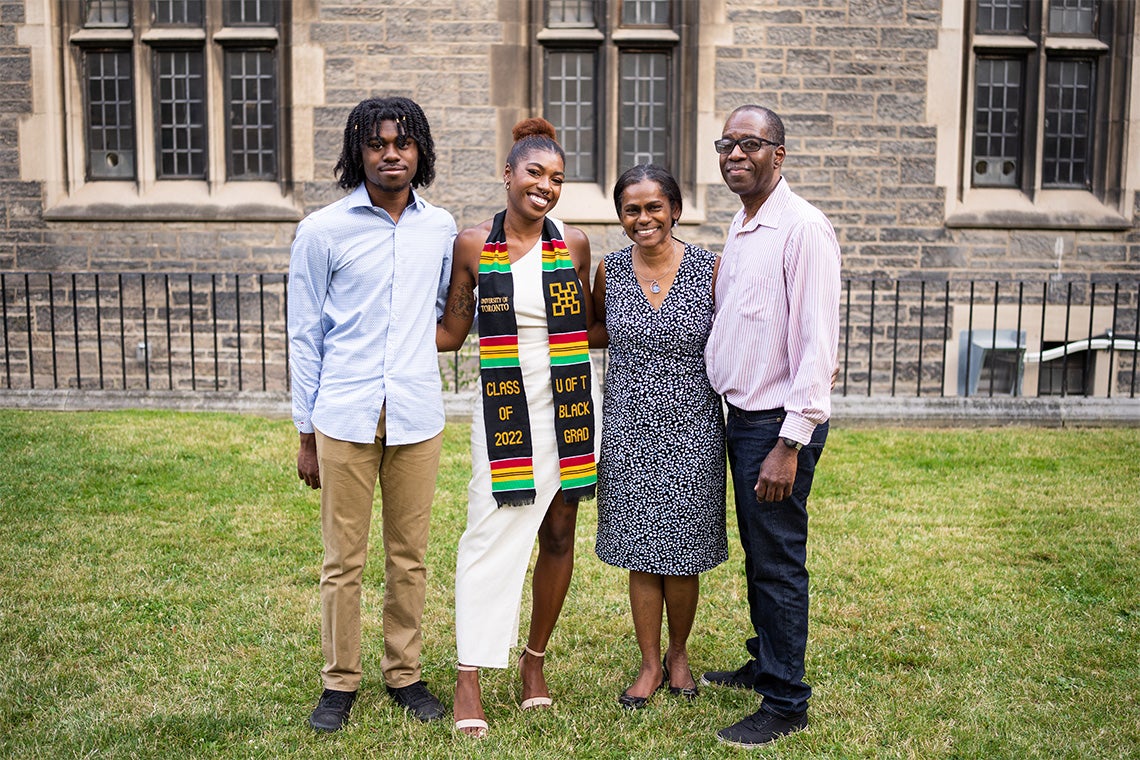 (Photo by Geoffrey Vendeville)
Carae Henry (second from left) graduated from U of T Mississauga with a degree in criminology, sociology and gender studies.
Her family – brother Daniel, mom Carol and dad Peter – celebrated two other graduations this summer. Daniel finished high school and her mom, Carol Henry, earned her PhD after earning an undergraduate degree at U of T in 1995. "It was wonderful to see," Carol said of the event, "because certainly when I came here, I felt a little out of place. It's great to see that Carae has taken her place and the university is celebrating Black students."
UTC