Skip the history mid-term: U of T students spend four days munching on 200-year-old diets from Southeast Asia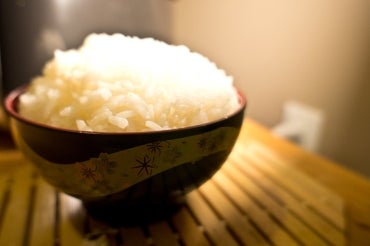 For four days, fast food, sugary snacks and caffeine gave way to rice, sweet potatoes and soggy fish as U of T history students took on the alter egos of 17th- to 19th-century Southeast Asians. 
The experiential learning project was part of a course called "Rice, Sugar and Spice in Southeast Asia: A Regional Food History" taught by Nhung Tuyet Tran, an associate professor of history at the Faculty of Arts & Science. Tran holds a Canada Research Chair in Southeast Asian History and is also affiliated with U of T's Munk School of Global Affairs. 
In lieu of a mid-term, the students were asked to choose people living in the region between the 17th and 19th centuries and construct a diet based on factors such as the person's socio-economic position. Students chose roles ranging from servants working on a plantation to Chinese mestizos in the Philippines and Javanese Muslims.
Amal Ismail-Ladak took on the persona of a 19th-century South Asian woman who was an indentured servant on a rubber plantation in colonial Malaya.
"You don't realize until you experience it how much your life changes just by taking on another person's diet for four days," said Ismail-Ladak, a second-year undergrad studying international relations, health studies and history.
"I've never experienced anything like this. It generated so much intellectual curiosity."
Some students were even able to pass the lessons on to their own families.
Eda Martinovic adopted the role of a mixed-race Chinese woman in 17th-century Spanish Philippines. Her husband and two young daughters joined in the rice-laden diet.
"I'm lucky to have done this with my family because I got to see their perspective," Martinovic said. "Actually living it makes you think much more deeply about not only the lives of the mestizos, but your own position in life today."
Caffeine jitters and sugar cravings sometimes got the best of the students, but the exercise allowed them to confess their dietary transgressions in a journal entry and to explain what they learned.
Fourth-year political science student Ben Murchison absent-mindedly gobbled down a candy bar during Halloween, then cursed himself for forgetting what life was like for the 19th-century Javanese sugar factory worker he was impersonating.
"My character was a person who woke up early every morning to a basic meal of rice and fish and then worked for 13 hours," said Murchison. "It's one thing to hear about that from a professor, and another to feel yourself hungry in the middle of the day."
Like some of his other classmates, Bryan Goh chose to experience the diet of a Chinese mestizo in the Philippines, and soon was drawing parallels between today's caviar and champagne-binging celebrities and his character, a relatively well-off person who was often forced to eat copious amounts of expensive white rice as a status symbol.
"Those celebrities today and the mestizos are both really boxed in by who they are and how they choose to portray themselves," said Goh, a fourth-year human biology and history student. "It brought new meaning to food that I had never thought of before."
The students said they came to realize that the project was not only about food, but also about identity – both aspirational and imposed – and they were profoundly affected by the experience.
Farhan Mahmood was able to reconnect with his heritage by adopting the character of a well-born Javanese Muslim in 19th-century Batavia (Jakarta) observing the fast during the holy month of Ramadan.
Mahmood, a third-year physiology and human biology student, said he began to understand that the tradition of fasting from sunrise to sunset during Ramadan made everybody's shared hunger a reminder they are all equal in God's eyes.
On the third day of fasting, he saw the same homeless man in his neighbourhood he'd been walking past for four years. This time he stopped and offered to buy him something to eat.
"For me, it was a few dollars. For him, it probably gave him hope," said Mahmood. "The feeling was so pure."