Six students win U of T Libraries Undergraduate Research Prize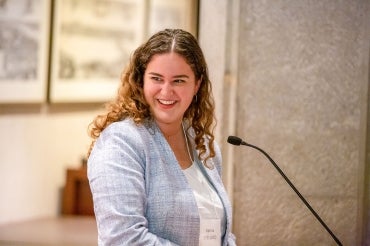 From an in-depth analysis of a 1950s mass-criticism campaign against a Chinese film to a search for forgotten women composers of the First World War, the winners of this year's University of Toronto Libraries Undergraduate Research Prize showed the power of library research.
Six undergraduate students – all from U of T's Faculty of Arts & Science – were awarded $1,000 prizes for research they conducted while completing course assignments.
Karina Stellato, a St. Michael's College student, used primary sources in her research on women composers in Ontario during the First World War that history has forgotten. She sifted through hundreds of war-related popular songs from the era and located over 100 compositions by women – more than has been identified in previous research on the subject.
"This topic is victim to both the underdeveloped history of Canadian popular music and female Canadian composers, resulting in this being ground-breaking research into a new aspect of the history of the Great War," Stellato said.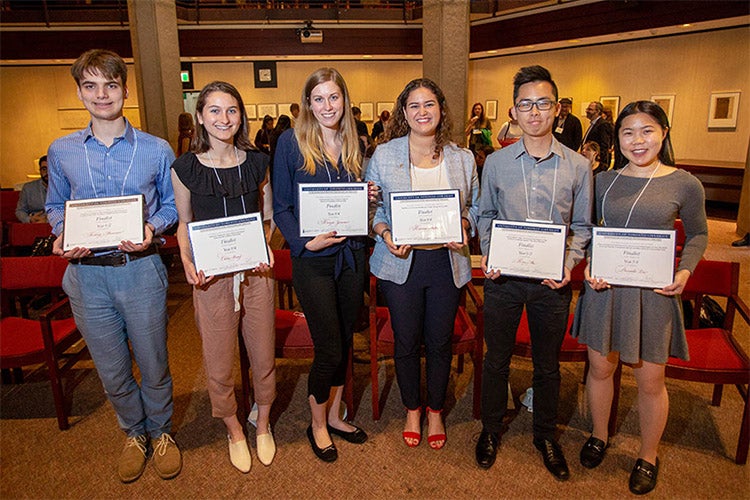 From left to right: Sterling Mancuso, Chloe Bray, Kenzie Zimmer, Karina Stellato, Ron Ma and Danielle Lee (photo by Paul Terefenko)
Each year, U of T Libraries invites undergraduate students from all disciplines to submit a research project that they have completed as part of their course work and that demonstrates innovative research techniques. This year's winners – which also included Chloe Bray, Danielle Lee, Ron Ma, Sterling Mancuso and Kenzie Zimmer – came from a range of fields, including international relations, film studies and nutrition sciences.
The winning papers are available to read through TSpace, U of T's open access digital research repository.
"It's wonderful to see the research students produce from the wealth of information that we have available here at the libraries," said U of T Libraries Chief Librarian Larry Alford at an event held earlier this month.
U of T Vice-President and Provost Cheryl Regehr said in her remarks that the event "highlights the importance of having such a wealth of resources for our students so they can access traditional scholarly materials and primary sources like letters, rare books, films and more.
"Often, information housed in our libraries is simply not found anywhere else."
U of T Vice-President and Provost Cheryl Regehr with winner Ron Ma and Associate Professor James Cahill (photo by Paul Terefenko)
Ma, a student at Trinity College, described the challenges – and rewards – of conducting in-depth research in the reflective statement he wrote as part of his winning submission. The second-year student's research paper, completed for his cinema studies class, explores the controversy over a 1950s Chinese film called The Life of Wu Xun.
While the film was initially praised, an anonymous article published by Mao Zedong led to a mass criticism campaign against it in 1951. Using microfilm stored in U of T's Cheng Yu Tung East Asian Library, Ma found Chinese-language newspaper articles from the 1950s that document criticism of the film.
"The most daunting part was getting started given that I had no experience handling microfilm," Ma said of the format that contain reproductions of documents, often from a newspaper or catalogue. "I was afraid that I would ruin something ...  [but] I was fortunate enough to have seasoned librarians at the East Asian library show me how to use the microfilm reader so that I could efficiently find the articles that I needed."
Librarians from the Cheng Yu Tung East Asian Library attended the prize reception to support Ma and the other winners.
"Discovering these hidden gems showed me the importance of conducting original research," said Ma. "Primary sources may be hard to find and tedious to examine, but they are irreplaceable components of any historical account, bringing the historian one step closer to retrieving the past."
U of T Libraries