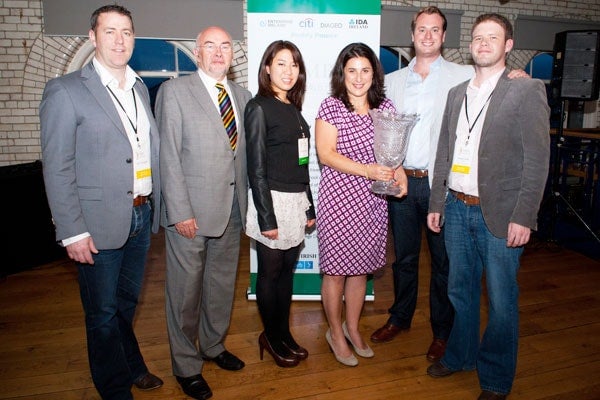 Rotman students bring home MBA world trophy
Winners of inaugural event in Dublin, Ireland
A team from the University of Toronto's Rotman School of Management has won the inaugural event of the MBA World Trophy held in Dublin over the past weekend.
The event brought entrepreneurs from seventeen different universities around the world to compete against each other with their start-up businesses in front of venture capitalists and other business leaders.
Jason Mitakidis, Kate Rootman and Elizabeth Chak, students in the Rotman School's Morning and Evening MBA programs, won the top prize for best business for Cyclica Inc., a life sciences technology company leveraging big data to develop new medicines more cheaply.
Mitakidis and Rootman are members of the MBA graduating class of 2014; Chak is a member of the class of 2015. Their start-up was selected to represent the Rotman School at the event by the Rotman Entrepreneurship & Venture Capital Association.
"We are very excited to have been chosen as the winners of the MBA World Trophy by such a distinguished judging panel from the global VC and entrepreneurship community," said Mitakidis, Cyclica's founder and chief executive officer. "We are also thankful to the Rotman School of Management and the University of Toronto for their generous support in developing Cyclica as a business. This support has included mentorship and angel investments from faculty members and Dean Roger Martin."
Further information on the MBA World Trophy is online at www.mbaworldtrophy.com.
Cyclica is a big data technology company that is developing indexed, multi-scale biological databases and software for the pharmaceutical and biotechnology industries. The company's core technology is an innovative and proprietary data integration and drug testing platform – The Ligand Explorer™ Computing Environment – that is addressing the rising cost of R&D in drug discovery and low regulatory approval rates of pre-market pharmaceutical and biopharmaceutical products. For more information, visit www.cyclicarx.com.
Ken McGuffin is a writer with the Rotman School of Management at the University of Toronto