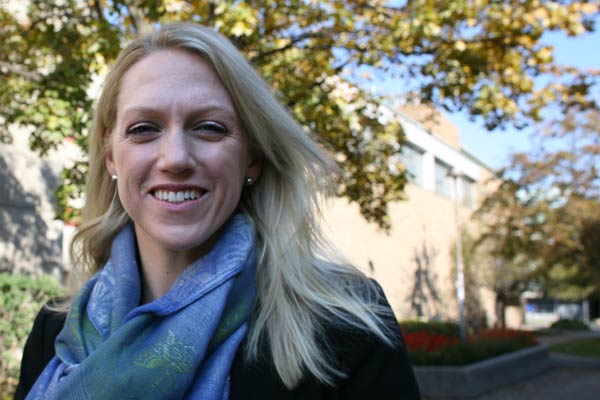 Right to a life free of violence
PhD student supports martial arts training for marginalized girls
A passion for sport and social justice took PhD student Lyndsay Hayhurst all the way to Uganda and back.
Hayhurst, who receives her degree from the Faculty of Physical Education and Health during 2011 fall convocation, worked with a non-governmental organization based in the war-ravaged country teaching girls martial arts as a way to defend themselves against gender-based sexual and domestic violence.
"There is an increasing focus on girls as the new panaceas of international development and the solutions to the social,political and economic challenges of our time that have been exacerbated by global poverty," said Hayhurst, noting that girls are a "resource" that generally has been ignored.
"At the same time, sport is increasingly being used as a tool for international development, and private sector involvement in funding and implementing girl-focused sport and physical activity programs is on the rise."
Hayhurst was the perfect person to combine these trends into a research project. Earlier in her career, she spent time working for Right to Play, an organization that uses sport to improve the lives of children in some of the most disadvantaged areas of the world. She also worked for the United Nations Development Program in New York between the time she completed her master's degree and her PhD and noticed increasing corporate interest and involvement in development work.
Through a graduate research exchange program at Utrecht University in the Netherlands, she worked with a professor who was on the advisory board for a corporate-funded international non-governmental organization involved in sub-Saharan Africa, supporting sport for development..
This connection led her to Uganda to conduct research on a sport for a non-governmental organization that used martial arts as a vehicle for social change. Hayhurst noted staff from this NGO felt that karate and taekwondo were the best ways to challenge gender norms and improve the status and wellbeing of girls in their community.
"The act of girls lifting their legs kicking was viewed by the community as culturally inappropriate," she said.
Not only did the girls – ages nine to 18 -- learn martial arts techniques; there were pedagogical and mental aspects to the training. They learned about discipline, building relationships with others in a non-violent way, dignity and self-respect. There were discussions of real-life situations the girls might encounter, such as boys who would profess their love and urge the girls to engage in sexual relationships.
"It was difficult for them to challenge gender norms, but you have to start somewhere," said Hayhurst. "The onus falls on the girls so the boys don't see them as sex objects because they have confidence and self-respect. The girls are positioned to become agents of change, but unfortunately many of them lack support from their families and communities. However, some argue that this is a key starting point to facilitating social change, and that once these girls are able to overcome resistance to the program, the ways girls and women are viewed by their families and communities will slowly start to shift."
Hayhurst says that so far, the program has appeared to make a difference.
"The girls definitely reported that they felt stronger and more confident, and had hopes of eventually finding jobs as martial arts coaches or trainers.
"They would travel and perform public sparring sessions in community centres. They showed other girls that it was acceptable to be involved in martial arts, and became role models.
Hayhurst hopes to do some follow-up research in Uganda, but first she will be putting her energies into a two-year post-doctoral fellowship at the University of Ottawa. Funded by the Social Science and Humanities Research Council of Canada and Sport Canada, the fellowship will allow her to focus on similar programs for aboriginal girls in Canada. Afterwards, she pictures herself in academia or returning to the United Nations.
"I really enjoy teaching, research, policy and communications so hopefully some opportunities will be available in one or all of these areas. I'm excited to continue working in the areas of corporate social responsibility, international development, gender and sport," she said.