Rhodes scholar Kofi Hope – a U of T alumnus – helps young black Torontonians find success
"We actually have to get off our butts and get engaged to build the future we want"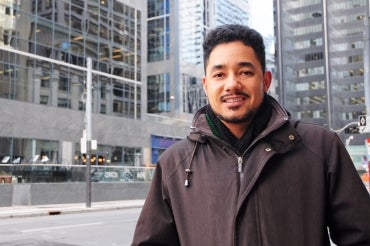 Kofi Hope has watched the lives of many young Torontonians change for the better, often in small but meaningful ways.
The University of Toronto alumnus and Rhodes scholar is the founder of the CEE Centre for Young Black Professionals, an organization that helps create economic opportunities for the city's black youth.
"Black youth in Toronto have the highest rate of unemployment of any group in the city. In a variety of areas, they're facing really depressing statistics that show that systemic anti-black racism still exists and manifests in different places from education to the legal system to children's aid," says Hope.
As political and racial tensions rise around the world, he wants to make sure Toronto continues to be a place where young people can find a way out of economic insecurity.
CEE offers six and nine month programs to young people from priority neighbourhoods, helping them with career development, community building, skills training and job placements in a wide range of industries from culinary to trades and social services.
"Within that we weave identity based stuff, health and wellness, and we have a team with social workers and case workers that help with all the different pieces to bring people forward in that journey," says Hope.
For Darren Brown, participating in a CEE program gave him the chance to perfect his entrepreneurial skills and brush shoulders with Toronto community leaders.
"I met a lot of great people who have great ideas. I was able to go into the program with zero network, and now I have people I built relationships with," he says.
These kinds of opportunities are hard to find if you don't know where to look, says Brown, who is currently a member of the CEE board of directors and runs a basketball program on the side.
"Knowing where to go, how to get there, who to talk to, is probably one of the hardest things to do," he says.
Hope says CEE is doing its part to provide the kind of access needed to black youth, but more large-scale initiatives are needed to really address unemployment in the community.
"We do amazing work at a very micro scale, and we're able to transform 35 to 40 young people a year. That costs quite a bit of money and takes a lot of time," he says. "We can all do part of it, but there's systemic change and macro change, especially dealing with the economy."
The dramatic shifts in the global political landscape in the past year have taught people that any kind of change has to be fought for, says Hope.
"It comes on the backs of struggle, of engagement, of hard work, of building community, of advocating, of sometimes radical action. But, it doesn't just happen through osmosis, and it doesn't just happen through tweeting," he says. "We actually have to get off our butts and get engaged to build the future we want."
Real change also means a serious long-term investment in Canada's black communities, says Hope.
"Even if you're spending $15,000 or $20,000 on that young person, to incarcerate someone provincially is $75,000 a year. Federally, it's over $100,000," he says. "If you do put the right investment upfront and engage folks, you can see tremendous transformation, and that has huge benefits for all of us from public safety to the innovation they add to the economy to all the government services that don't have to be accessed throughout that person's life."
While investing in young people has big societal benefits, it's the changes to individuals' lives that really inspire Hope. 
"Sometimes it's the simple everyday transformations we see, when somebody says, 'I never realized how important networking was until we did that session or did that trip,' or you travel with them downtown to an office space or university environment, and they say, 'I've never thought I could be in a space like this, but now I realize this could actually be a part of my future,'" he says.
Apart from his work at CEE, Hope is on the board of the Toronto Environment Alliance, an advocacy group that looks to find solutions to urban climate issues.
He also keeps close ties with U of T – working closely with Innis College and co-teaching the occasional lecture. Fellow U of T alumnus Anthony Morgan is also on the board of directors at CEE.
UTC