Reuters ranks U of T as most innovative university in Canada, 27th in the world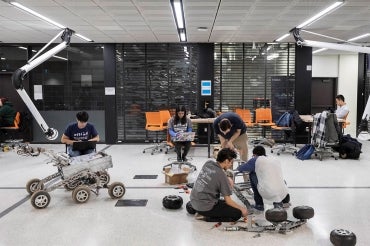 A new international ranking by Reuters places the University of Toronto first in Canada and among the world's top 30 universities for efforts to "advance science, invent new technologies and power new markets and industries."
The World's Most Innovative Universities 2019 ranking, released Wednesday, saw U of T move into 27th place globally. That's up eight spots from last year and 19 places from 2017.
"This ranking reflects the growing recognition of the University of Toronto as a major global hub of discovery and innovation across a wide range of fields," said U of T President Meric Gertler. "It is a tribute to the ingenuity of U of T researchers and their success in addressing pressing problems with practical solutions.
"It also affirms the university's efforts over many years to maximize the social and economic impact of the brilliant research produced on our three campuses."
The Reuters ranking, first launched five years ago, relies on 10 patent and research-related indicators to evaluate hundreds of universities around the world. That includes looking at metrics such as patent volume, patent success, global patents, patent citations and "patent citation impact."
U of T's climb up the Reuters ranking – moving to 27th place from 46th in just two years – coincides with ongoing efforts by the university to assist researchers who want to patent and commercialize their discoveries. With the support of the Innovations & Partnerships Office, over the past decade U of T has filed hundreds of patent applications on behalf of researchers – all in an effort to turn ideas and innovations into new products and services with socioeconomic benefits in Canada and around the world.
The top-ranked schools in Reuters' innovation 2019 ranking were Stanford University, the Massachusetts Institute of Technology and Harvard University, which have all held their positions since the ranking first launched in 2015.
The University of British Columbia was the only other Canadian university to make Reuters' list of most innovative universities. It ranked 53rd this year, up eight spots from 2018.
Overall, U of T continues to be the highest ranked Canadian university and one of the top ranked public universities in the five most closely watched international rankings: Times Higher Education, QS World University Rankings, Shanghai Ranking Consultancy, U.S. News & World Report's Best Global Universities and National Taiwan University World University Rankings.
UTC