Researchers to deploy AI to help predict – and prevent - diabetes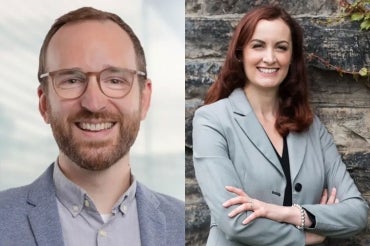 A team of researchers at the University of Toronto and its partner hospitals are working on a way to deploy artificial intelligence to predict diabetes risks in patients.
Jay Shaw, a scientist at Women's College Research Institute and an assistant professor in the department of physical therapy in U of T's Temerty Faculty of Medicine, co-leads a team that was recently awarded more than $900,000 in funding over three years from CIFAR (Canadian Institute for Advanced Research) to develop a novel framework for the responsible deployment of machine learning models to predict diabetes risk in Ontario's Peel region, one of the largest and most diverse communities in Canada. 
The project, co-directed by epidemiologist Laura Rosella, a professor at the Dalla Lana School of Public Health, has developed models that use routinely collected data in the health system to help predict diabetes onset up to five years before a diagnosis.
"Our team developed and validated models that can predict diabetes incidence and complications in advance," Shaw says. "These models have already been validated, meaning that their performance for accomplishing their goals of predicting diabetes onset and complications has already been established, allowing us to focus on how best to implement these models so that they are used effectively and responsibly." 
Shaw, Rosella, and their team will use these models to build a dashboard that can be used by health system decision-makers to plan health system interventions that address diabetes-related prevention needs and bridge gaps in health equity by identifying high-risk populations. 
Peel region was selected as a site to deploy the models because it's an area where the burden of diabetes is high, with a 2015 diabetes incidence rate of 1,192 per 100,000 – an increase of 182 per cent since 1996, according the region's 2019 health status report. Peel also has a diverse population where 51 per cent of residents are immigrants and 62 per cent identify as a visible minority. 
It is estimated that by 2030, nearly 14 million Canadians will have either diabetes or pre-diabetes. This is expected to cost health systems nearly $5 billion. The complexity of the disease progression and diagnostics, along with increasing health disparities based on socioeconomic factors, has led to worse rates and outcomes for marginalized populations. 
The researchers hope the framework they develop will help decision-makers better understand how they can responsibly use resources to improve prevention and diagnosis of the disease and, in turn, improve health outcomes. 
Medicine