'He did everything for everybody': Remembering U of T student Mohammad Amin Jebelli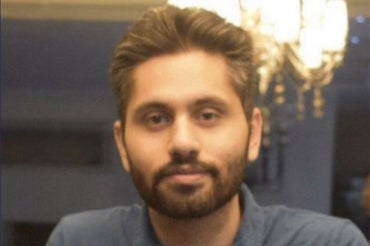 The University of Toronto community is remembering students who were passengers on Ukraine International Airlines Flight PS752, which crashed on Jan. 8 outside of Tehran, Iran. Over the coming days, U of T News will share stories about the students and their legacies. We will update the stories as new information becomes available.
---
Mohammad Amin Jebelli was one of two students who studied at U of T's Faculty of Medicine – both known for their curiosity and commitment to discovery. The other was Mohammad Asadi Lari. 
"On behalf of the Faculty of Medicine, I extend my deepest condolences to the family and friends of Mohammad Asadi Lari and Mohammad Amin Jebelli," said Professor Salvatore (Sal) Spadafora, acting dean of the Faculty of Medicine. 
"They made an indelible mark on the life of this faculty and the world has lost two remarkable individuals." 
Jebelli, 29, or Amin, as he was known to his classmates – was well-known in a tight-knit group of students for his humility, kindness and his dedicated work ethic.
He had practised medicine and served as a medic in Iran after graduating from the Tehran University of Medical Sciences with a doctorate in medicine.
In Iran, his work took him to places where he was needed, leading him to volunteer as a family and emergency care physician, and to shadow doctors who had expertise in areas like cardiology and radiology. He also volunteered in primary schools to help provide medical screening for diseases.
In 2018, Jebelli came to Toronto to pursue a Master of Health Science in translational research after doing a Skype interview from Tehran with the Translational Research Program's (TRP) director, Joseph Ferenbok.
The program is small – there were only 21 students in Jebelli's year – and Jebelli soon carved out a name for himself and built close friendships.

"This was a young man who was quiet, gentle, soft-spoken. He was bright and clever and asked good questions and was curious about the world," says Ferenbok, who served as a mentor to Jebelli.

"All of us are completely devastated about his death."

Jebelli embraced his life in Canada, and took to his studies with enthusiasm – at first commuting for classes from Waterloo, where he lived with an aunt and uncle.

His aspirations were expansive and he thrived in his studies, says Ferenbok. Through it, a passion for helping others shone through, according to colleagues.

If there was a class presentation that went into the evening, Jebelli was the person who would stay late to help clean up and do dishes with one of his close friends.

"He did everything for everybody, and didn't think of himself," says Ferenbok.

Jebelli was due to graduate from the U of T program later this year, and was studying for a Medical Council of Canada qualification exam this March so he could practice in Canada as a doctor.

He also had an interest in entrepreneurship and in helping people in his home country of Iran. He contemplated pursuing a PhD.
"He wanted to have impact on patients, so he was looking at how a biomaterial that he learned about in Canada could potentially be used to treat people in Iran with a specific type of medical condition," says Ferenbok.
"During his practice in Iran, he noticed that there were a lot of patients that were being treated but suffered afterwards. This was a population he identified that hadn't been addressed, this condition recurs and is very painful and uncomfortable, and he saw there might be an opportunity to use something that was built here to help in another domain to help patients."

In an online biography for the program, Jebelli indicated he was also interested in cardiac imaging, and how that imaging could be used to diagnose cardiovascular diseases. Jebelli was applying for permanent residency in Canada, and was working on his own leadership abilities.

"He was bright and sensitive and sweet and kind. I think he saw Canada as an opportunity – the land of dreams and possibilities," says Ferenbok.
Richard Foty, assistant professor at the TRP, says Jebelli attended U of T because of an intense love of learning.
"You always had the sense he was taking in everything you were saying. He was always listening because he always wanted to learn more," says Foty. "There was an incredible depth to him."
Jebelli had decided to carve his own path.

"Ultimately, in the big picture, he wanted to have a positive impact on people's health, but he wanted to do it in a way that wasn't the typical trajectory for a physician. That's why he came here," says Foty. "He was already a doctor, but he saw this as an opportunity to learn a different way to do it and approach it in a way where he might have the chance of having a larger impact.
"I think he would want to be remembered as a friend and as a brother, and someone who cared about the people around him and made the world a better place. His profession was a means of him doing that."
---
Feeling distressed? Find someone to talk to right now – and if there is an immediate risk, call 911.
Round-the-clock support:

Students can speak to a trained crisis worker at any hour of the day.
Other 24-7 supports available to students include:
The following services are available to students on all three campuses:
Faculty and staff have access to 24-7 support through:
Medicine