U of T cities experts say initiatives like the Regent Park redevelopment are a step toward building a more resilient Toronto (photo by City of Toronto via Flickr)
Toronto's rising housing prices are just one symptom of the city's struggles with rapid growth.
On Tuesday, a group of U of T cities experts explored Toronto's challenges and proposed solutions for making the city more resilient at The Inclusive and Sustainable City of the 21st Century, an RBC-sponsored conference organized by the Factor-Inwentash Faculty of Social Work and the Faculty of Arts & Science.
Toronto's growing inequality is undeniable, said Professor David Hulchanski, principal investigator of the Neighbourhood Change Research Partnership, which has documented the shrinking of middle-income neighbourhoods, greater disparity between high-income and low-income residents and released research showing that low-income families can no longer afford to live in the city.
"We've always had a gap between rich and poor, and we always will have it – only it is much larger today," Hulchanski said.
If Toronto continues on this trajectory, it could become a city like Chicago which has almost no middle-income neighbourhoods, Hulchanski warned.
"We're not Chicago, but we're going in that direction."
Speakers also included Daniyal Zuberi, RBC chair and associate professor of social policy, Shauna Brail, U of T's presidential advisor on urban engagement and director of the urban studies program, and Mark Kingwell, author and professor of philosophy.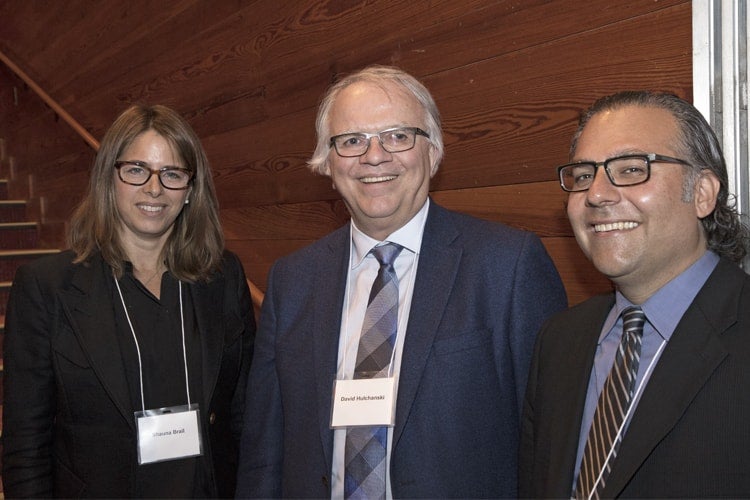 From left, conference speakers included Associate Professor Shauna Brail, Professor David Hulchanski and Associate Professor Daniyal Zuberi (photo by Romi Levine)
Zuberi has been studying how inequality plays out in different cities.
"For many people who don't have resources, they're increasingly left behind, socially isolated, simply pushed out into either the least desirable parts of these cities or into the suburbs, or they are forced to move to other cities," he said.
But it's not all bad news, said Zuberi.
"We do see a growing recognition that mixed-income zoning and development is probably better than single-family homes on farmers' fields two hours from downtown, and there's a growing push for these kinds of more inclusive communities to be built," he said
He commended the federal, provincial and municipal governments for supporting more affordable housing initiatives like in Regent Park and the proposed Rail Deck Park, which are opportunities to improve the lives of Torontonians living in highly dense neighbourhoods downtown.
But change can also take place in small ways in underserved neighbourhoods, said Zuberi.
"Doubling the number of buses that come to a neighbourhood can dramatically improve life in these communities but doesn't cost that much."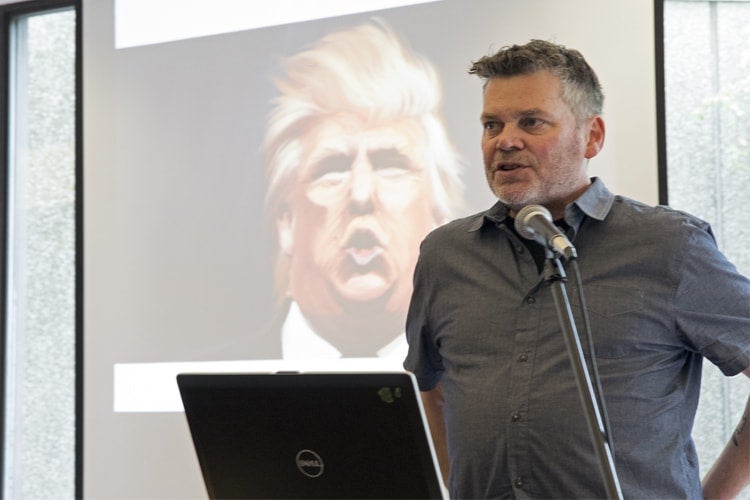 Kingwell emphasized the need for acceptance as cities and the people within them change (photo by Romi Levine)
For Brail, it's the research conducted by academics like Hulchanski and Zuberi, and the university's community partnerships that drive change in the city.
"We really need to think, not just about the university as a physical city builder…but also as an institution that creates a social infrastructure, that helps contribute to communities whether it's by working with particular groups, whether it's by identifying ways of developing infrastructure that actually supports groups outside, or whether it's about thinking how to connect and bring other groups into the university," she said.
This can also be done through service learning placements for students, joint programs in neighbourhoods like Regent Park and collaboration between the Toronto universities through initiatives like the StudentMoveTO survey of student transportation woes and a recent call for proposals addressing Toronto's affordable housing challenge, said Brail.
While Kingwell spoke of the need to embrace people's differences as the key to becoming an inclusive city, his final message was much more simple: "Don't be a jerk."