'A really pivotal player': President Meric Gertler on U of T's contribution to Toronto's booming tech scene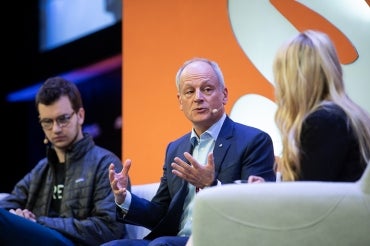 The University of Toronto is making significant contributions to the thriving Toronto tech industry and the region's innovation economy, U of T President Meric Gertler told the Collision tech conference Thursday during a panel discussion on how start-ups can prepare for success.
"The university is both a really pivotal player in generating talent, [while] attracting and retaining talent," said President Gertler.
"That makes a big difference in a city like this."
He added the university's goal is to create well-rounded graduates and entrepreneurs who understand customers' needs and deliver advanced solutions.  "We have focused on core competencies we want to develop in our students – things like being able to work well in teams, being able to communicate and collaborate effectively across cultural boundaries," President Gertler said.
"We are trying to take advantage of the fact that Toronto is such a global city, and our student body is so global, to make sure we develop those capacities in our students."
The three-day Collision conference wrapped up Thursday. It was the first of three years that the North American tech conference will be hosted in Toronto. Over 25,000 people from 120 countries, 800 investors and over 70 trade missions attended.
Almost 20 U of T start-ups participated in the event, including fintech firm Tenzor AI, and MedMe Health, which offers caregivers and patients help in adhering to medication regimes.
The schedule was packed with talks, seminars and day and evening networking events for investors and start-ups. New partnerships were also hatched, including an expanded collaboration between U of T and LG that will focus on AI applications for businesses.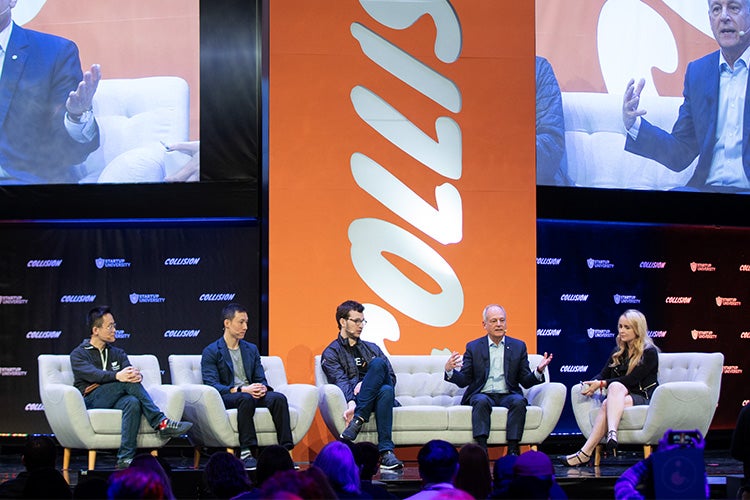 U of T is building a "highway" between its existing and aspiring entrepreneurship community, President Gertler said (photo by Nick Iwanyshyn)
Across various panels and speeches by the private sector and government, a consensus seemed to emerge: This is Canada's moment.
Prime Minister Justin Trudeau kicked off the event Monday telling the opening night crowd that education and immigration policies are ensuring next-generation companies have the talent they need.
The "Canadian advantage is in providing extraordinarily well educated, hardworking, forward thinking, creative, ambitious Canadians to be part of the global economy," Trudeau said.
Ontario Premier Doug Ford echoed those comments in remarks Tuesday.
"If you are considering investing in Ontario, the most important thing you should look at is the people," he said.
"Ontario has the best educated workforce in the world."
Over the past decade, U of T entrepreneurs have created more than 500 companies and generated more than $1 billion in investment. The university will continue to build on those successes and is now creating a "highway" between its existing and aspiring entrepreneurship community, according to President Gertler.
For example, U of T recently launched a new $5-million True Blue Fund for entrepreneurship that targets early-stage start-ups.
U of T entrepreneurs like Allen Lau, co-founder and CEO of story-sharing platform Wattpad, with more than 65 million users, said the quality and global experience of university graduates in Toronto, combined with the city's regional and national connections to other tech ecosystems, are keeping tech companies in Canada.
"Almost from day one we were able to build a workforce that can support our global ambitions," said Lau, a U of T alumnus.
He added that about half the company's workforce speaks another language, a crucial benefit for a company with an international customer base.
"I don't believe that many cities in the world can do that. I am not saying Toronto is the only one, but Toronto is probably the best one to do that," he told the audience.
Other speakers noted that Canada and Toronto will continue to be top destinations for the tech industry thanks in part to initiatives like the Vector Institute for Artificial Intelligence.
"Our AI ecosystem has done a really good job of putting Toronto on the map as a cluster of excellence," said Candice Faktor, a managing partner with Faktory Ventures, a Toronto-based early-stage tech fund.
"[University Professor Emeritus] Geoffrey Hinton and his lab and his descendants have become world recognized … So the corporate R&D labs are being set up here, global talent is really interested in working with the best here," she said of Vector's chief scientific advisor who is sometimes dubbed the "godfather of deep learning."
Twenty-five thousand jobs related to AI are anticipated in the Toronto region alone, according to Bianca Miller of the Vector Institute. To keep up, universities and companies will have to graduate new cohorts in the field while upskilling current employees, she said.
Failing to make those investments will lead to missed opportunities, Miller added, pointing to estimates that AI will add as much as US$15.7 trillion to the global economy by 2030.
GRO