LG expands research partnership with U of T, focuses on AI applications for businesses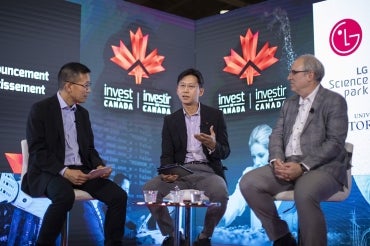 LG Corp. is expanding its investment in University of Toronto artificial intelligence research to focus on business-to-business applications.
Executives from Seoul-based LG and U of T's Christopher Yip, associate vice-president of international partnerships, made the announcement today in Toronto at the Collision tech conference, one of the world's largest and fastest growing tech conferences. 
"The extensive joint research with LG will secure research capacity, nurture top artificial intelligence experts and add practical values to the research done on campus," Yip said in a statement. 
"This will ultimately improve the experiences of end users, customers, and companies alike."
LG Electronics, the largest company under the LG umbrella, signed a multi-million dollar research agreement with U of T last summer to support AI research with the goal of improving the functionality of its products, from TVs to smartphones. At the same time, LG founded an AI research centre in Toronto, joining a host of other top Canadian and multinational companies that are investing in Toronto's vibrant AI ecosystem. 
LG Sciencepark, the global research-and-development arm of the LG group of companies, is leading the expanded partnership. It opens the door to collaboration in the field of "enterprise AI" for business-to-business applications, ranging from supply chain optimization to manufacturing.
"I expect that the expanded collaboration will secure the driving force for innovation and future preparation through open innovation in the field of artificial intelligence," said Seung-Kwon Ahn of LG Sciencepark.
U of T professor Chi-Guhn Lee, in the department of mechanical and industrial engineering, said the university was a natural research partner for LG because it combines expertise in deep learning and a long history of excellence in engineering. Faculty are not only developing new machine learning algorithms, he said, they have the know-how to understand how those algorithms work in the real world. 
Lee's field of expertise includes reinforcement learning, a branch of machine learning, and Markov decision process, a mathematical framework for optimizing decision-making amid uncertainty. His research has applications in finance, supply chain management and revenue management. 
LG is also interviewing other potential principal investigators at U of T – mainly in industrial engineering, electrical and computer engineering and at the University of Toronto Institute for Aerospace Studies (UTIAS).
Lee said LG isn't only interested in investing in applied research, but also fundamental research to break new ground in the crowded and competitive field of AI.
For U of T, meanwhile, the partnership creates opportunities for students at the master's, PhD and post-doctoral levels to get involved with research at one of the world's largest companies.
"This [collaboration] is ideal from the university's perspective," Lee said. "LG is not only interested in emphasizing the value of the technology from their own perspective, but they are also open to research and they are [investing] additional resources to fill in the gap between reality and the laboratory."
UTC