Radio U of T: Seven podcasts you should know about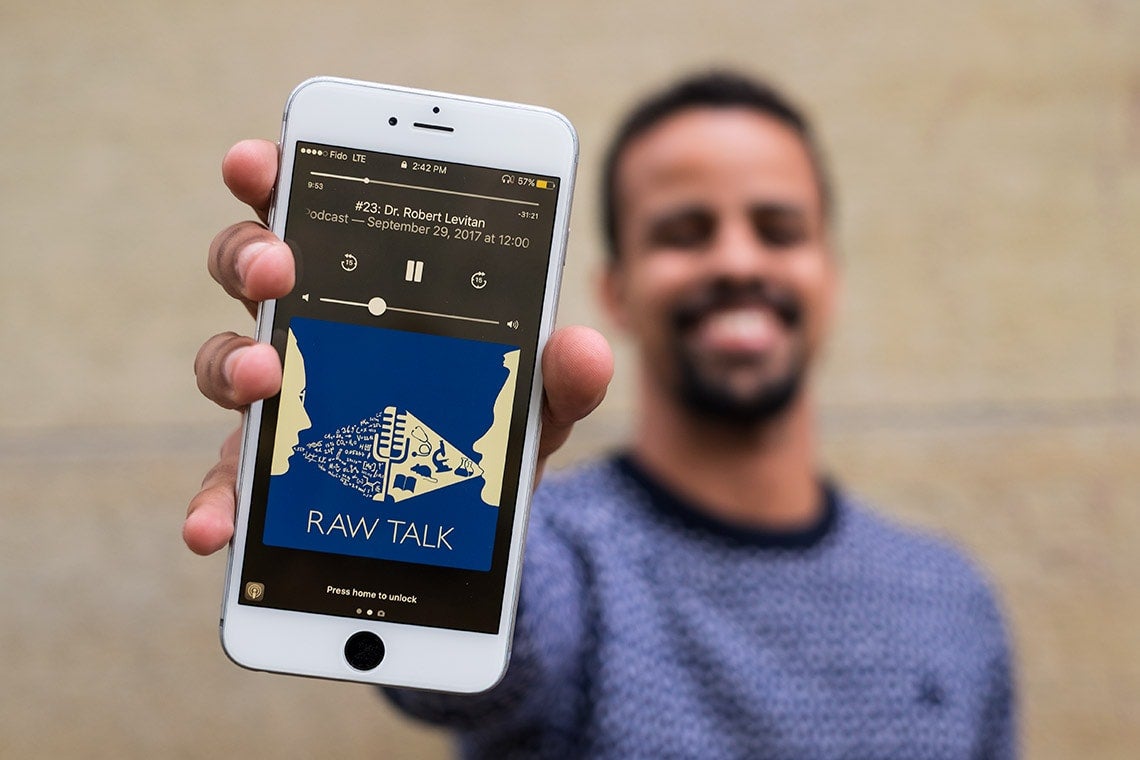 U of T students, faculty, staff and graduates are taking over the airwaves – or the virtual equivalent. Here's a roundup of podcasts by the university community (click the in-line player to listen to a clip or read a transcript of all clips here):
When you think of band music, squeaky clarinets and twirling batons may come to mind. Dylan Rook Maddix wants to shatter that stereotype.
On a whim this summer, the recent graduate of the master's program in trumpet performance started a podcast featuring contemporary band music like Jonathan Newman's Blow it Up, Start Again, a rollicking mix of wind instrumentation and dubstep.
The podcast also explores life as a musician and music teacher.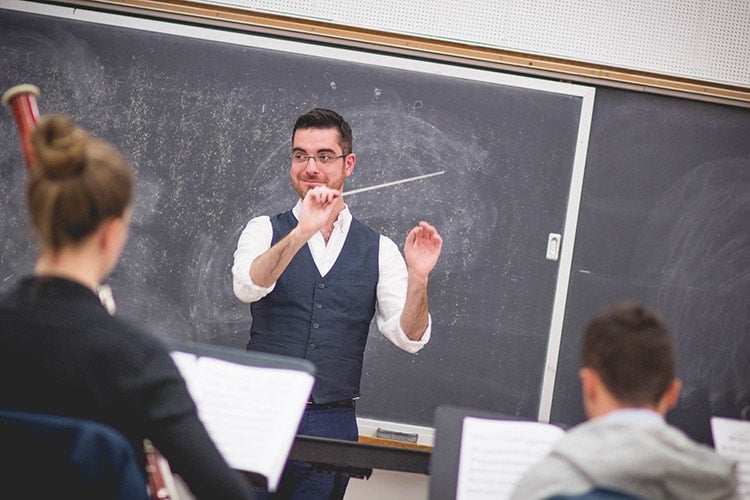 Maddix, host of The Band Room, graduated from U of T with a master's in trumpet performance (photo courtesy of Dylan Rook Maddix)
"Growing up, the band room was a place of safety for me," he says. "That's what I want the podcast to represent: somewhere for people to come learn and enjoy."
In a recent episode, he interviews Gillian Mackay, a professor in the Faculty of Music and wind ensemble conductor.
How do seasons affect one's mood? It's complicated, Dr. Robert Levitan says on the Raw Talk podcast. For patients with Seasonal Affective Disorder, it's sensitivity to light – not temperature – that is the cause, the professsor in the department of psychiatry explains.
The team behind Raw Talk, 14 grad students in the Institute of Medical Science in the Faculty of Medicine, interview a different expert each time from across the university's network of affiliated hospitals. Co-creators Jabir Mohamed and Richie Jeremian say listeners tune in from 41 countries (after Canada, most live in Japan). Past guests include Dr. Molly Shoichet, an expert in regenerative medicine and tissue engineering who has published more than 500 papers, and Dr. McIntyre Burnham, a behavioural pharmacologist, epilepsy researcher and amateur opera singer.
What qualifies as an achievement? Why does it matter if I run my first marathon? 
Those are some of the questions that preoccupied philosophy PhD students Jeremy Davis and Eric Mathison, founders of the Open Questions podcast. Produced through U of T's Centre for Ethics, the show is about discussing thorny ethical questions.
"The goal of the show isn't to offer definitive solutions or tell you what the right answer is, but to get clear about what the questions are and how we might go about answering them," Mathison says in the podcast. 
In their debut episode, they interview a professor at a university in Houston, Tex., and, in one moving segment, they appear to ask strangers about their biggest achievements.
Métis leader Louis Riel is cast in Canadian history as either a hero or villain for resisting the Canadian government's encroachment on Métis land, an act that led to his execution for treason in 1885. He is also the subject of an opera by Harry Sommers, composed for Canada's centennial in 1967.
The Canadian Opera Company revisited the work last spring to mark the 150th anniversary of Confederation. In eight episodes, graduate students in the Faculty of Music, Taryn Jackson and Sarah Koval, examine the operatic interpretation of Riel with the help of Métis scholars, musicologists and members of the Canadian Opera Company cast. In episode seven, the female leads discuss their mindset in their first rehearsal. 
 "In 2017, it's a different scenario than in 1967," Jackson told U of T News in March. "And, there are more voices at the table that need to be heard and acknowledged and a conversation started."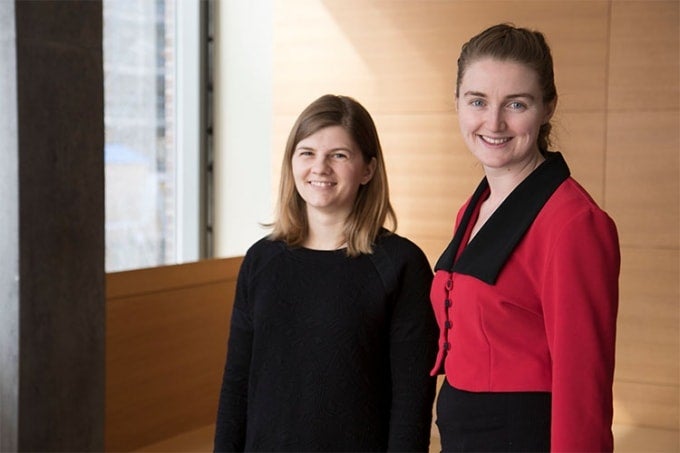 U of T students Koval and Jackson re-examined the Louis Riel opera of 1967 and a contemporary production by the Canadian Opera Company (photo by Hannah James)
Carla DeMarco, who had been writing about U of T Missisassauga research for 11 years, wished that people could hear what she was hearing when she interviewed professors. So she started a podcast, View to the U, which zooms in on research being done across the U of T Mississauga campus.
She has spoken with researchers with a wide range of interests, from the history of the book to analyzing the effect of visual complexity, like animation, on learning. In one show, Professor Alexandra Gillespie talks about the fate of the physical book as opposed to digital versions. 
After so many conversations with researchers, DeMarco says she has learned that curiosity is key. "Something that I learned early on is that it isn't all about the findings in research, but that asking the right questions is key because, yes, it leads to some of their findings, but also leads to further research questions and to shedding light on the broader picture of their respective research area."
What distinguishes the Canadian accent from the American, other than "aboot"? And how can you tell dialects apart within a single province?
Professor Sali Tagliamonte, a sociolinguist and Canada Research Chair in language variation and change, discusses these questions and more on Planet ArtSci, a podcast devoted to highlighting ideas, innovations and inventions stemming from U of T's Faculty of Arts and Science.
The breadth of research covered over the 16 episodes recorded so far is vast. Professor Michael Gervers takes listeners to Ethiopia, where he has explored rock-cut churches to learn about the ancient language of Ge'ez. And Professor A.W. Peet of the department of physics explains string theory – with references to Lego Batman and Monty Python.
Many computer science students are familiar with room 2250 in the Bahen Centre, the office and lounge of the computer science student union.
Undergraduates Chris McKerracher and Haider Nadeem, in computer science and Rotman commerce, thought the room number was a good fit for their podcast about U of T and its surroundings, from the perspective of computer science students.
"The U of T computer science program is world renowned," Nadeem says, "but we want to get into that feel of: What does it mean to be a computer science student? What differentiates U of T from other Canadian universities?"
UTC