Quercus? U of T's new learning hub and four other new things for the academic year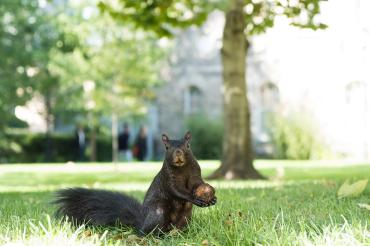 Change is in the air – and in cyberspace, too – at the University of Toronto with the dawn of the new academic year.
Without question, one of the biggest differences for U of T students this year will be the new Quercus online teaching and learning system, which replaces the old Blackboard portal. 
What do you need to know? Read on to learn more about Quercus and four other new and useful services for students, faculty and staff in 2018-2019.
---
A clever name for an important tool
It's apparently pronounced "qwhere-kis," not "qwer-kus," and it's the new hub of academic life for U of T students. 
As of Sept. 1, the Quercus online teaching and learning system will officially be in use across the university's three campuses. It replaces the old Blackboard (Portal) system, which has been officially phased out. Quercus can be accessed at 
q.utoronto.ca
.
Powered by the Canvas learning management system, Quercus offers a number of advantages for students and faculty. It boasts a more intuitive, user-friendly interface and an operating system that functions more like a smartphone. More importantly, it paves the way for more flexible and engaging approaches to teaching and learning.
Where did the name come from? It's the Latin name for the oak tree genus and it was submitted by three U of T students – Saski Gjelsvik, Kenneth Holyoke, and Syed Rafi Tanzim – as part of a naming contest held by U of T's Academic Toolbox Steering Committee. "In standard Toronto English pronunciation, 'quercus' sounds like 'qwhere-kis," the steering committee said when the winner was first announced.
The oak tree, of course, sits atop U of T's historic crest and is referenced through the university's online Acorn registration system. Quercus is also connected to the university's motto: velut arbor aevo, or "may it grow as a tree through the ages" – all of which is pretty inspiring, regardless of how you pronounce it. 
Library spaces for families, reflection
Robarts Library is constantly finding new ways to make its architecturally stunning space work better for the people who use it. 
Beginning this year, students, staff and faculty now have access to a newly renovated reflection room on the eighth floor. It's meant to be used for religious, spiritual and secular practices – including prayer, meditation, yoga and mindfulness – and comes equipped with yoga mats, prayer mats and meditation cushions and benches. There are even noise-cancelling headphones and iPods loaded with mindfulness meditations available on two-hour loan at the Course Reserves desk on the fourth floor.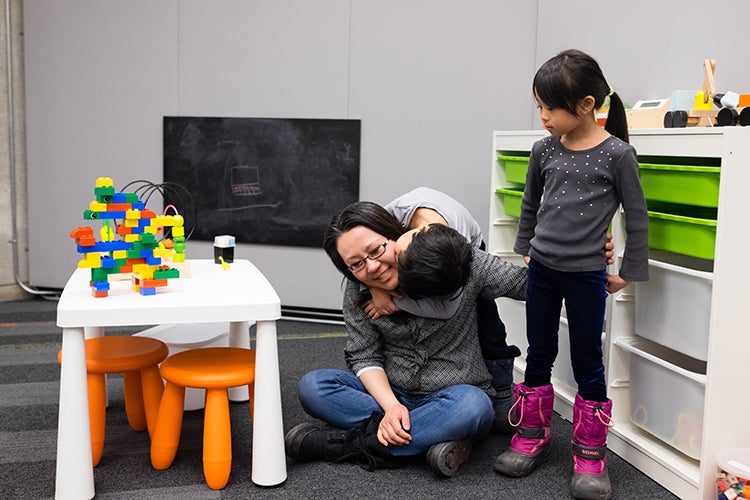 Chelsea Chen, who's pursuing an English teaching certificate, visits the new family study space with her kids, London and Chloe (photo by Geoffrey Vendeville)
Robarts is also home to a family study space – believed to be the first of its kind in Canada. The room, which opened earlier this year on the ninth floor, is designed to make life easier for student parents or faculty and staff with young children. For kids, the sound-proofed room comes stocked with toys like building blocks and plastic dinosaurs, as well as a screen for watching videos. For their parents, there are work stations, child-sized furniture and nearby washrooms with nursing and baby-changing facilities. 
The room is available to parents with children under the age of 12. Details on how to register for a key fob can be found
here
.
Free concerts
U of T's Faculty of Music has made all of its concerts and events free for students with a valid TCard. 
The free admission policy, quietly tested last year, will be in place for the entire 2018-2019 season – which just so happens to coincide with the Faculty's 100th anniversary.
From jazz and opera to the U of T Symphony Orchestra, there are dozens of events to choose from each term. Special visitors this year include Grammy Award-winning opera singer Jessye Norman and Toshio Hosokawa, one of Japan's pre-eminent composers. 
Students simply show up to an event and, as long as there's sufficient space, are granted access at the door. No advance tickets needed. 
Three campuses, one athletic facilities website
Attending U of T is about more than just hitting the books. And, this year, students – as well as staff and faculty – will find it easier than ever to add sports and recreation activities to their busy schedules. 
A new tri-campus 
recreation.utoronto.ca
 website, rolled out this summer, finally brings facilities and programs at U of T's downtown Toronto campus, U of T Mississauga and U of T Scarborough under the same digital roof. Members now have one place to book tennis and squash courts, register for classes and renew their memberships. 
The streamlined, easy-to-use system also includes access to Hart House's fitness and creative programming, allowing users to sign up for everything from swimming lessons to photography workshops.  

The Toronto Pan Am Sports Centre at U of T Scarborough (photo by Ken Jones)
"With this system, we're aiming to modernize the way our members access opportunities for sport, physical activity and cultural programming," 
says Amanda D'Arcy
, the manager of customer and membership services at U of T's Faculty of Kinesiology & Physical Education. 
"The increased self-service options, focus on accessibility and mobile device support will make it easier for our members and community to participate in the diverse range of programs we offer at U of T."
While U of T staff and faculty can log into the new website their UTORid, all community members – including alumni – will need to create a new account for the website. Staff and faculty will also need TCards to access athletic facilities.  
Teach yourself
If you suddenly find yourself in desperate need of a new set of skills – from building a spreadsheet to scoring a film – U of T has got you covered, and then some. 
All students, staff and faculty 
now have access
 to Lynda.com, an online resource owned by LinkedIn that offers access to more than 1,400 self-paced courses. Log-in with your UTORid and choose from a large selection of courses in fields like business, software, IT and design.
Most courses are either taught by industry experts or veteran teachers. To take a few examples: Arianna Huffington, co-founder and editor-in-chief of the Huffington Post, will teach you how to be "a more honest, kind and direct communicator"; Fred Kofman, a leadership adviser at Google and former MIT professor, will go over conflict management; and Grammy Award-winning guitarist Steve Vai's sound engineer, Greg Wurth, will explain the fundamentals of pro-audio equipment. 
Time to take a crash course in everything.
UTC