Quebec mosque shooting, U.S. travel ban bring uncertainty to Canada's Muslim communities, says U of T expert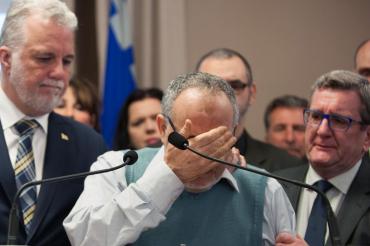 As police search for answers after a horrific shooting in a Quebec City mosque that killed six people and left many injured, Canada's Muslim community grapples with loss and fear of similar attacks.
The site of the shooting, the Centre Culturel Islamique de Quebec, is no stranger to hateful acts. This past summer, the mosque was delivered a pig's head from an anonymous sender and has been vandalized with hateful graffiti.
These incidents shouldn't be looked at in isolation, says Neda Maghbouleh, an assistant professor of sociology at U of T Mississauga.  Her research focuses on race, discrimination and immigration, particularly regarding people of Middle Eastern descent.
"We've had plenty of examples even since the U.S. election of a feedback loop or reverberations that we're even feeling locally in Toronto – whether it's racist signs that are hung up in parks where our children play or leaflets and pamphlets that are being sent to people's private homes or different kinds of expressions be they simply rhetorical or actual forms of violence like women having their hijab pulled off," says Maghbouleh.
It is too early to know whether the alleged gunman will be charged with a terrorism-related crime, says Kent Roach, professor and Prichard Wilson Chair in Law and Public Policy at U of T's Faculty of Law.
"I would expect that the suspect would be charged with murder. It is possible that they might be charged with various terrorism crimes though that would generally require proof of some acts of assistance or participation in a terrorist group involving at least more than one person," he says.
In the hours after the killings, social media saw speculation the suspect would be charged with a hate crime, but Roach points out that Canada does not have hate crimes. Hate against an identifiable group is "a codified aggravating factor at sentence" but not a separate crime.
Across Canada, communities gathered at vigils Monday night to remember those killed with prayers and moments of silence, and to call for peace, inclusion and an end to prejudice. Members of the Ryerson and U of T communities combined their events, gathering at the steps of University College.
The shooting added to the uncertainty felt by Canada's Muslim communities after President Donald Trump signed an executive order banning citizens from seven Muslim-majority countries from entering the United States.    
As a permanent resident in Canada and an American citizen whose parents were born in Iran, Maghbouleh is seeing first-hand how Trump's immigration policies can affect families all over the world.
"My parents live in Portland, Oregon. My daughter's third birthday is in about a month, and we're trying to figure out if they're going to get stopped at the border trying to come to her birthday party in the east end of Toronto because their documents say they were born in Tehran, Iran."
She likens the travel ban to the Chinese Exclusion Act that prohibited Chinese immigration to the U.S. and Canada over 100 years ago.
"This stuff feels very resonant to me as a professor living in the city and through my friends whose family history is tied to those seven countries that are banned. Not a single family is unaffected by this ban. I've never personally experienced anything like this," she says.
"I have so many students in my classroom who have come from that region of the world who are Afghan or Iranian or Arab. I've seen the effects of this ban, and the complete chaos it created for Torontonians who have medical conferences to attend in the U.S. or who have family members who are there and we now can't see each other."