Putting yourself out there: U of T scholarship recipients share their tips for success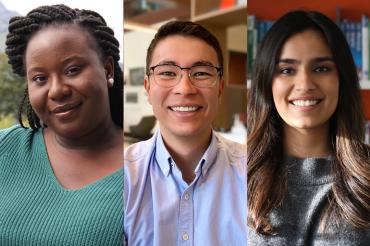 Applying for a scholarship is challenging, but it can be well worth the effort.
But how, exactly, should one go about it? And what sorts of things do selection committees look for?
U of T News spoke with Rhodes Scholar Nicole Mfoafo-M'Carthy, Schwarzman Scholar Fletcher Han, Gates Cambridge Scholar Mishika Mehrotra, and Robert McGill, a U of T professor of English who sits on the Rhodes Scholarship committee, to get their insights and tips on scholarship applications.
Not surprisingly, they say academic achievement, leadership qualities and extracurricular activities all figure prominently in a successful scholarship application.
But there are other elements to consider, too.
Here is their advice on what it takes to secure a scholarship, how to make the scholarship application process easier and why it's worth completing – regardless of the outcome.
---
'You absolutely can't win if you don't apply'
Mfoafo-M'Carthy's advice to students who are hesitant about putting their application forward is to not sell yourself short.
"You absolutely can't win if you don't apply," she said. "Do your best in presenting an application you are proud of and then recognize that the ultimate decision is out of your hands. Keep in mind, you have gifts to offer."
Mfoafo-M'Carthy was one of the 11 Canadians selected last year to receive the Rhodes Scholarship, which covers expenses for a post-graduate degree at the University of Oxford. Over the past 21 years, there have been 26 students from U of T who have received the prestigious award.
Mehrotra, an alumna of U of T Mississauga who is completing her PhD in the department of psychology at the University of Cambridge, says she did not believe she was going to receive the Gates Cambridge Scholarship, which is awarded to future leaders committed to improving the lives of others.
"We all have a tendency to downplay our achievements and feel like people who go to top institutions with competitive scholarships are doing something that is unattainable, but that's not the case," she says.
"You can show your involvement in your local community and talk about future plans of how you want to use your degree to improve people's lives."
Mfoafo-M'Carthy completed her application when she was handling the workload of a full-time medical student.
But she says it was worth it because it helped her gain clarity.
"Life moves by so quickly," she says. "We rarely have  moments that invite us to slow down and think about who we are, how far we've come and where we want to go."
Be true to yourself
The scholarship recipients say there is great value in being genuine and honest about who you are on a scholarship application.
"It's important to just tell your story and embrace every aspect of who you are," says Han, who is completing his masters in global affairs at Tsinghua University in Beijing.
He is the first student from U of T's Faculty of Applied Science & Engineering to receive the Schwarzman Scholarship, which is awarded by Schwarzman College at Tsinghua University to students with exemplary leadership and the ability to bridge international differences.
Mfoafo-M'Carthy agrees.
"Being honest and genuine, that really shines through – not only in scholarship applications, but in any type of process, interview or situation where you have a limited time or word count to express yourself," she says.
For five years, McGill has sat on the Rhodes Scholarship committee, reviewing applications and conducting mock interviews for students who are selected for the opportunity.
He says that having a "great amount of self-awareness" in a personal statement stands out to him – and that there is great advantage to being a good writer when it comes to the scholarship application.
"I would suggest to anyone considering applying to work on their writing skills," he says.
'Transformational leadership' stands out
For students who are considering applying to scholarships, it's helpful to beef up your experience with leadership opportunities.
McGill says that three valuable qualities that stand out to him in a scholar are "scholastic accomplishment, extra-curricular achievements and potential for leadership."
"I think the successful candidates manage to look for and take on opportunities, commit themselves to them and take up leadership roles that emerge through those activities," he says.
Han, too, says transformational leadership is a quality that stands out on an application.  
"Challenging the status quo in a very practical and respectful manner is important," says Han. "So is having that leadership to inspire people to follow you towards a better future."
He encourages students to start a club if they think there's a gap at their school.
"Definitely look at the opportunities that are available, but don't be afraid to rally people and start your own club," he says. "Having that entrepreneurship spirit is huge for any scholarship.
"Clubs are an opportunity for you to learn."
Mehrotra, meanwhile, says that the definition of leadership potential is broad on the Gates Cambridge application so it shouldn't deter students who don't think they've done something "on a grand scale."
"It's a matter of restructuring and reframing your own experiences to make it fit with the specific criteria they have," she says.
Be open to a global perspective
Han, who was born in New Zealand, says one of the things that drew him to the Schwarzman Scholarship is the opportunity to travel and strengthen his global outlook.
He learned about Tsinghua University during a trip with his girlfriend in China. Han says he's never gotten the opportunity to explore that part of his identity.
"This is an incredible opportunity to connect with like-minded people, international young leaders and leaders from across the world," he says. "If you want to learn more about other societies and cultures and just get a better understanding of the world, I think this is great for you. Global curiosity is key." 
Mfoafo-M'Carthy wanted an experience that not only challenged her academically, but also culturally.
"Learning in a whole new country, being exposed to different ideas and perspectives … that global experience is a big factor for me," she says.
Each recipient also say they are excited about the opportunity to connect with fellow scholars from around the world.
"It's such a lively and diverse community of current scholars and alumni that we get to interact with," says Mehrotra. "They are extremely passionate about their research, and they are very committed to making a difference in the world so it's an incredible learning opportunity.
"You aren't just given money to carry out your work, but you're offered social support and development opportunities because they really want you to succeed."
Why the lengthy application process is worth it – no matter what happens
Completing the application process can be an opportunity to pause for self-reflection, evaluate your goals and decide what you'd really like to accomplish in the future.
"It's important that we recognize that there is so much value in the application process outside of winning," says Mfoafo-M'Carthy. "The process of writing an application is your argument to convince a committee of why you're worthy of this award.
"The process causes you to reflect on your journey and to identify and articulate the goals you have."
McGill who has had the unique experience of being on both sides – he was a Rhodes Scholar in 1999 – takes a similar view.
"While the application does require work, it's a great opportunity for self-reflection," he says. "It's asks you to think about the story of your life, who you are, what you have done – and what you might like to accomplish, especially in terms of looking beyond yourself to help other people and make the world a better place." 
Taking the long view is key
It's also important to not "neglect the small awards on the way to the big ones," according to Mfoafo-M'Carthy.
She says she has applied for several scholarships during her undergrad.
"Applying for scholarships is tedious work and there were a lot of rejections along the way, but the small ones prepared me for the Rhodes Scholarship."
UTC