Progress report on Indigenous initiatives shows U of T 'moving in the right direction'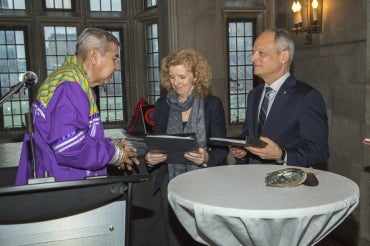 Funding to hire Indigenous faculty and staff. A new Indigenous Mentoring Day to help job-seekers learn about working at the university. A new Office of Indigenous Initiatives to co-ordinate and oversee efforts at reconciliation across the University of Toronto's three campuses. 
These are just three of the many ways the university has responded to the calls to action from U of T's Truth and Reconciliation Steering Committee over the past few years – all highlighted in U of T's inaugural annual progress report on the subject.
The progress report, released this week, looks at everything from faculty and staff recruitment to curriculum development and found "great strides in focusing our efforts at U of T" – but stressed the work is far from over.
"We have new Indigenous faces, staff and faculty across the university – we have had growth," said Jonathan Hamilton-Diabo, the university's director of the Office of Indigenous Initiatives.
"Because this is a long-term process and commitment, we always knew things weren't going to happen overnight. But we're definitely moving in the right direction."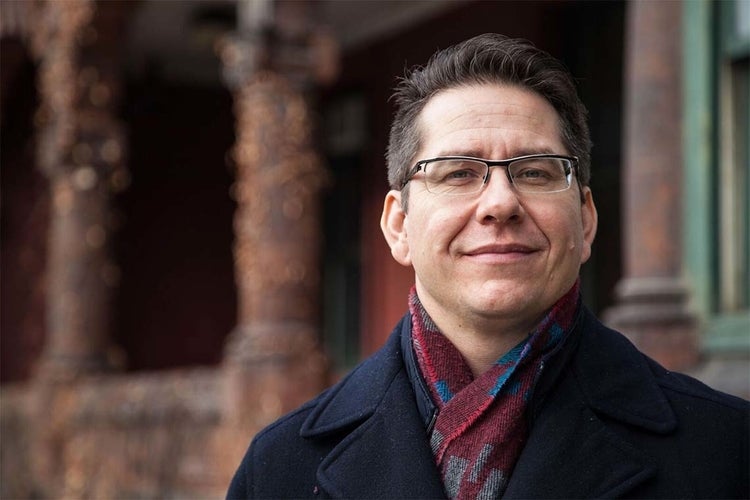 Jonathan Hamilton-Diabo, director of the Office of Indigenous Initiatives (photo by Lisa Lightbourn)
The Office of Indigenous Initiatives, which compiled the report, is in itself part of U of T's efforts to work towards reconciliation. Hamilton-Diabo was appointed its first director last spring. He grew up in the Kahnawà:ke Mohawk Nation, outside Montreal, and has been at U of T for nearly two decades as a student, staff member and educator. His office consulted leaders of faculties and divisions across the university to get a complete picture of Indigenous initiatives in recent years.
On the recruitment front, the report noted the Office of the Vice-President and Provost has made it a priority to fund the recruitment of new Indigenous staff and faculty. Thirty new faculty members from underrepresented groups joined the university in 2016-2017, more than half of whom were Indigenous scholars. In 2017-2018, more funding was set aside for the hiring of 20 new Indigenous faculty and 20 new Indigenous staff. The office has again prioritized funding to recruit 20 Black and Indigenous faculty positions in the current academic year.
"I am moved and inspired by efforts across the university to engage with Indigenous communities and address the historical and current inequities facing Indigenous Peoples in Canada," said Cheryl Regehr, U of T's vice-president and provost.
"We must continue to act upon the steering committee's calls to action and work collaboratively on the path to reconciliation."
Kelly Hannah-Moffat, the university's vice-president of human resources and equity, said the principles of equity, diversity and inclusion are at the core of U of T's mission – and that Indigenous initiatives are a critical component.
 "We want to continue engaging with Indigenous communities so the university fulfills its responsibility to offer everyone a place where they can thrive," Hannah-Moffat said.
"We still have a long way to go to address injustices and barriers facing Indigenous communities in Canada, but I am glad to see signs of improvement highlighted by the report."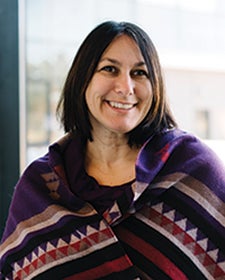 Among the new Indigenous faces on campus are Juanita Muise (left), the Indigenous engagement co-ordinator in the department of student life at U of T Scarborough. Muise, who is Mi'kmaq, started last summer. She acts as a bridge between U of T Scarborough and Indigenous Peoples off campus, and helps students who want to re-connect with their culture. 
"I love the position that I'm in because I get to share some of my culture and really help people connect and pass it down, pass it on," she told the U of T student paper, The Varsity, last fall.
At U of T Mississauga, Robin R. R. Gray joined the university as an assistant professor of sociology. Gray is Ts'msyen from Lax Kw'alaams, B.C. and Mikisew Cree from Fort Chipewyan, Alta. Her current research focuses on the repatriation of Ts'msyen songs from archives. The daughter of a residential school survivor, Gray has also studied the intergenerational effects caused by Canada's residential school system in urban Indigenous youth. 
The growing Indigenous presence on campus spans a range of disciplines. Jason Bazylak (right), a member of the Métis Nation-Saskatchewan, was among the first in his family to attend university.
After beginning his career in manufacturing engineering, he moved into academia and is now an associate professor, teaching stream, in the Faculty of Applied Science & Engineering. He is also the dean's adviser on Indigenous initiatives, and has researched barriers facing Indigenous students in the field.
"We want to change the culture of engineering to be welcoming of Indigenous faculty, staff and students," Bazylak told U of T News last year.
Last winter, the university held its first Indigenous Mentoring Day. The job-shadowing event matched people who identify as Indigenous with employers at the university, giving them an inside look at working at the university and encouraging them to apply.
There have been bricks and mortar changes on campus, too. The Waakebiness-Bryce Institute for Indigenous Health – supported by a $10 million donation from Michael and Amira Dan – re-conceptualized its space at the Dalla Lana School of Public Health to reflect an Indigenous aesthetic. It now has a lounge and meeting room for the Indigenous community. At the Faculty of Law, meanwhile, an art project connected to the Indigenous Law Students' Association features signs in several different Indigenous languages: Kwak'wala (Liq'wala dialect), Anishinaabemowin (Algonquin dialect), Oneida, Michif and Cree (Plains dialect).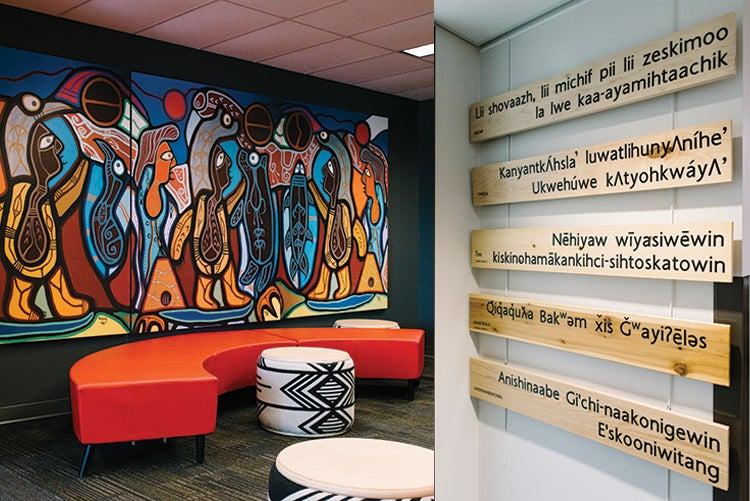 The lounge at the Waakebiness-Bryce Institute for Indigenous Health and signage in Indigenous languages at the Faculty of Law (photos courtesy of the Office of Indigenous Initiatives)
In terms of curriculum development, the report highlights a Master of Social Work in the Factor-Inwentash Faculty of Social Work focusing on Indigenous trauma and resiliency. Touted as the first of its kind in North America, the two-year program is informed by traditional wisdom and scientific evidence and equips graduates to work with communities affected by generational trauma. In the Faculty of Arts & Science, there are 97 courses that incorporate Indigenous content and perspectives, according to the progress report.
Cultural competency workshops are also being offered to faculty, staff and student groups across the university. The workshops' goal is to expose people to Indigenous cultures, histories and belief systems while giving participants a chance to reflect on possible implicit biases. By this summer, the Office of Indigenous Initiatives estimates that nearly 650 members of the U of T community will have completed the training.
Yet, despite these signs of progress, the report highlights several areas where more work is needed. That includes creating larger and more visible indigenous spaces as well as a resource centre like an Indigenous library. The university is also in the process of creating "culturally appropriate and safe policies" for traditional practices like smudging, the report says. And while there are more Indigenous faculty, staff and students on campus, Hamilton-Diabo noted they remain underrepresented in universities. 
"The report demonstrates that there's some progress," he said, adding there are no shortcuts on the path to reconciliation. "Sometimes it's hard to see that from day to day, especially at such a large university."
Inset photos courtesy of Stef+Ethan
UTC