Problem solver: why one U of T startup accelerator also works with larger corporations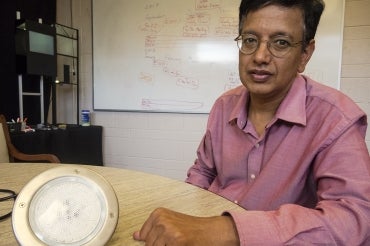 When Allanson International ran into issues with an LED lamp for commercial kitchens, the Toronto-based lighting and signage firm not only turned to its in-house R&D team for help – it sought out the extensive multidisciplinary expertise available through one of the University of Toronto's entrepreneurship hubs.
In addition to launching startups, the Impact Centre, one of several entrepreneurship and commercialization hubs at U of T, functions as a for-hire research and development lab by working with corporations that need help developing, prototyping and testing new products.
 Allanson's problem: a new LED fixture designed for restaurant vent hoods had a nasty habit of cracking. 
"They came to us with a lighting problem, but I quickly realized this was in fact a heat transfer problem," says Venkat Venkataramanan, who is the Impact Centre's scientific director and the founder of Lumentra, a company that provides testing and measuring services for the lighting industry.
So Venkataramanan reached out to Professor Thomas Coyle in the Faculty of Applied Science & Engineering. Coyle, in turn, secured a grant, hired a student research assistant and a few months later isolated the issue to the interface between the light's metal and glass components. 
"As soon as we identified the problem, it was very easy for the company to solve," Venkataramanan says, noting that few companies can match the depth and breadth of research expertise found at a university like U of T.
That was six years ago. The Impact Centre has since worked with Allanson, which generates about $30 million in sales annually, to develop an LED replacement for fluorescent back-lit displays and is currently co-operating with the firm to develop a retrofit LED light for kitchen canopies.
Over the past year, the Impact Centre has also worked with nearly two dozen other companies in industries ranging from transportation to clean tech, although Venkataramanan says he's unable to disclose details because of confidentiality agreements. 
"They have capabilities that we don't have," explains Faiek Dabiet, Allanson's chief technology officer when asked why the company first opted to tap into U of T's expertise instead of relying on its own research and development lab. "They have experts in different fields who have very deep knowledge of the subjects. 
"In industry, we sometimes need to look at the theoretical part of it to make sure we're not missing something."
The commercial arrangements are beneficial for the university, too. Venkataramanan says U of T's researchers benefit from the opportunity to work on real-world problems, thereby helping to guide their investigations. Budding entrepreneurs, meanwhile, benefit from being exposed to the industries that they're looking to tap into with new products and services. 
The relationships can also lead to jobs for students. 
Dabiet, for one, says Allanson hired an engineering graduate through the program three years ago. "He's a very successful engineer right now in our organization," he says.
The Entrepreneurship Hatchery – another one of U of T's entrepreneurship hubs – also leans on corporate partners to help fuel the creative energy of startups. But instead of inking R&D deals, Adjunct Professor Joseph Orozco, the Hatchery's executive director, says the accelerator associated with the faculty of applied science and engineering encourages companies to simply provide entrepreneurs with problems that need solving.
If the startups are successful, Orozco says the goal is to make the corporate partners their first customers.
Dabiet predicts such corporate-academic partnerships will become increasingly critical to drive innovation and grow the Canadian economy. 
"Look at what's happening in the rest of the world," he says. "Being educated in Europe, I saw the benefits of collaboration to the industry as well to the local communities."
UTC