Pregnancy and mental health: U of T expert offers tips, resources during COVID-19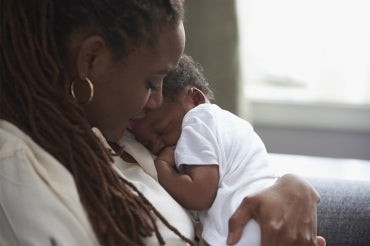 An estimated 15 to 20 per cent of expectant and new mothers experience mental health issues such as anxiety or postpartum depression – and the global pandemic has only served to heighten stress.
That's according to Ariel Dalfen, a perinatal mental health expert and assistant professor in the University of Toronto department psychiatry in the Temerty Faculty of Medicine. Over the past 12 years, Dalfen headed the perinatal mental health program and telemedicine program at Mount Sinai Hospital. With the largest program of its kind in Canada, the hospital provides assessment and treatment to women through pregnancy planning, pregnancy and up to a year postpartum.
Dalfen recently stepped down from her role at the hospital, but she continues her psychiatric practice with the program and her advocacy for mental health and access to perinatal mental health care.
She recently spoke with writer Blake Eligh about supports for expectant and new mothers and offered tips to manage the stress and isolation of a pandemic pregnancy.
---
The COVID-19 pandemic has been stressful for everyone. What are expectant and new parents dealing with right now?
This situation hits people in so many ways. In the spring, intensive care units experienced a wave of pregnant patients with severe COVID-19 symptoms. People are extremely anxious and nervous about the new variants. They're not going out because they're worried about getting COVID-19. We also see people coping with severe illness or the loss of loved ones.
Many pulled their other children from school or daycare, which adds to everyday challenges like trying to work from home. A recent study in The Lancet highlighted job losses and income among the biggest stressors for parents right now.
How do these stressors impact perinatal mental health?
The pandemic has added extra stress, with huge implications for women. They may be cut off from in-person visits with family or community support workers who come to their homes, or be unable to attend support groups for new mothers. New moms rely on these supports and may experience increased physical, logistical and emotional burdens as a result.
We also see more sadness or anxiety. This could lead to a worsening of existing mental health issues or a recurrence of previous mental health problems. For some, we see an increase in problematic ways of coping such as increased substance abuse or disordered eating.
When do common worries cross over into something that might require mental health supports? Are there signs to watch for?
People may notice they can't turn off their mind or they aren't sleeping. When health and well-being are significantly impacted, it's important to reach out for help, because it could be more than just normal anxiety.
What's the first step in seeking support?
Just speaking about it is an important first step. People often find when they start to speak out, they find that others are in the same boat and struggling, too.
Family doctors are often a good point of contact to get an initial assessment and can help provide a connection to a therapist or a referral to see a psychiatrist. Other care team members, such as an obstetrician or midwife, can also help women connect with social workers, mental health care providers and therapists.
What supports are available when it's safer to be apart?
Our population has traditionally had a lot of barriers to in-person care. Specialized perinatal mental health services are concentrated in downtown Toronto, so factors like traffic, parking fees, getting time off work or having to find childcare can make it hard for people to get to in-person appointments even if they live in the Greater Toronto Area. Access can also be complicated by medical or mobility considerations related to pregnancy.
Through Mount Sinai's perinatal mental health telemedicine program, we offer specialized care to women across the province so they can get help when and where they need it. Since the world shut down in March 2020, we've been able to continue to offer timely individual care to people in the comfort of their own environments through telemedicine and to expand the program to include group care, as well.
There are many other good online resources, like the Pandemic Pregnancy Guide on Instagram, Mind Beacon, AbilitiCBT and COVID-19 mental health information from the Centre for Addiction and Mental Health.
What can women do to manage their own stress right now?
First, it's normal to feel stress because the world feels like a stressful place. Pretending it doesn't exist won't make it go away, so it's important to acknowledge and validate that anxiety.
Turn off the news or social media so you're not continuously bombarded by COVID-19 news. I know that's easier said than done, but it is so helpful.
Find time to be with people. Whether virtually or safely in person, talking to friends and having time to just laugh and relax can help turn our minds to something else.
I also encourage people to talk to their partners, if they have one, or to family members and friends. It can feel better to know you're not alone – even if there aren't concrete things people can do to help.
What is your advice for women worried about variants, vaccines and going out in public?
First, everyone needs to follow local advice and guidance from public health experts. Then, within those rules, people can determine what they need to do to keep themselves and their families safe. For example, some parents choose to keep their children in daycare services, while others feel it isn't right for them.
Clinics like the UHN clinic on the St. George campus offer vaccinations to pregnant women. The early data is reassuring, and health-care providers who care for pregnant individuals encourage patients to get vaccinated as soon as possible. This is a reassuring step to reduce COVID illness and transmission.
How can family and friends lend support?
Stigma sometimes makes people nervous to talk about mental health issues, but most of us wouldn't think twice about telling someone they should get help for a physical injury. It's important to raise concerns about mental health changes you may notice in others in a clear, caring and supportive way.
Open the door to conversation. Starting with a fact-based observation or question like, "I notice you don't seem like yourself lately." Or "How are you sleeping these days?" It can help demonstrate that you care and want to be helpful and supportive.
Medicine