Clockwise from top left: U of T Mississauga's stone bridge, U of T Scarborough's Valley Land Trail, Gerstein Heritage Reading Room and the Trinity College quad (photos by Randy Landicho, Nick Iwanyshyn, Diamond Schmidt Architects, Diana Tyszko)
The University of Toronto's labs, libraries and classrooms are stirring back to life, preparing to safely welcome students, faculty, staff and librarians back to campus this fall.
More than 15,000 students are entering the first year of their programs across the three campuses. In addition, many second-year students, who spent much of last year studying virtually due to public-health restrictions, will be looking forward to setting foot on campus for the first time. 
Others, including upper-year students, are no doubt looking forward to revisiting their old haunts once it is safe to do so – from Diabolo's café beside University College's Junior Common Room to the 500-metre nature trail in U of T Scarborough's backyard. 
Here are just a few of the places we've missed over the past 19 months. 
---
Philosopher's Walk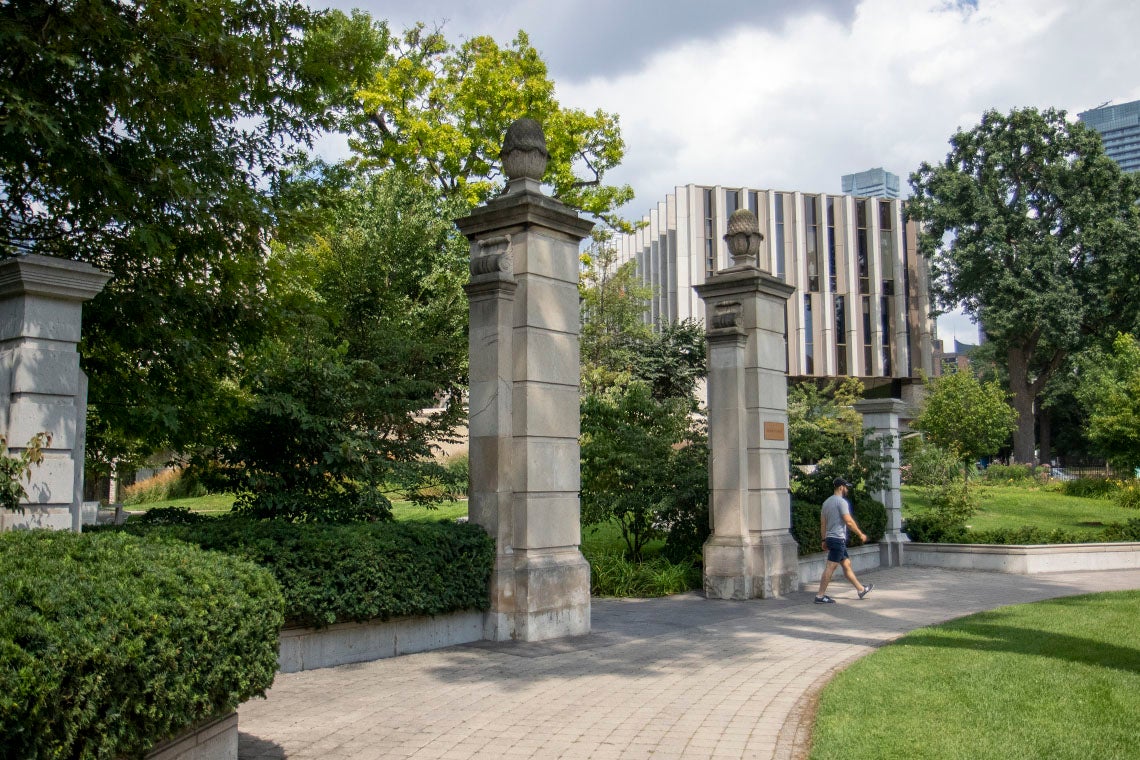 (Photo by David Lee)
The elegant Bennett Gates on Hoskin Avenue mark the southern entrance of Philosopher's Walk, a footpath that runs north-south along the ravine of subterranean Taddle Creek behind the Royal Ontario Museum and Royal Conservatory of Music.
The walk, one of many green oases on campus, provides students with respite from the hustle and bustle of downtown Toronto, whether they're taking a shortcut to their next class or pondering the meaning of life. 
U of T Mississauga's stone bridge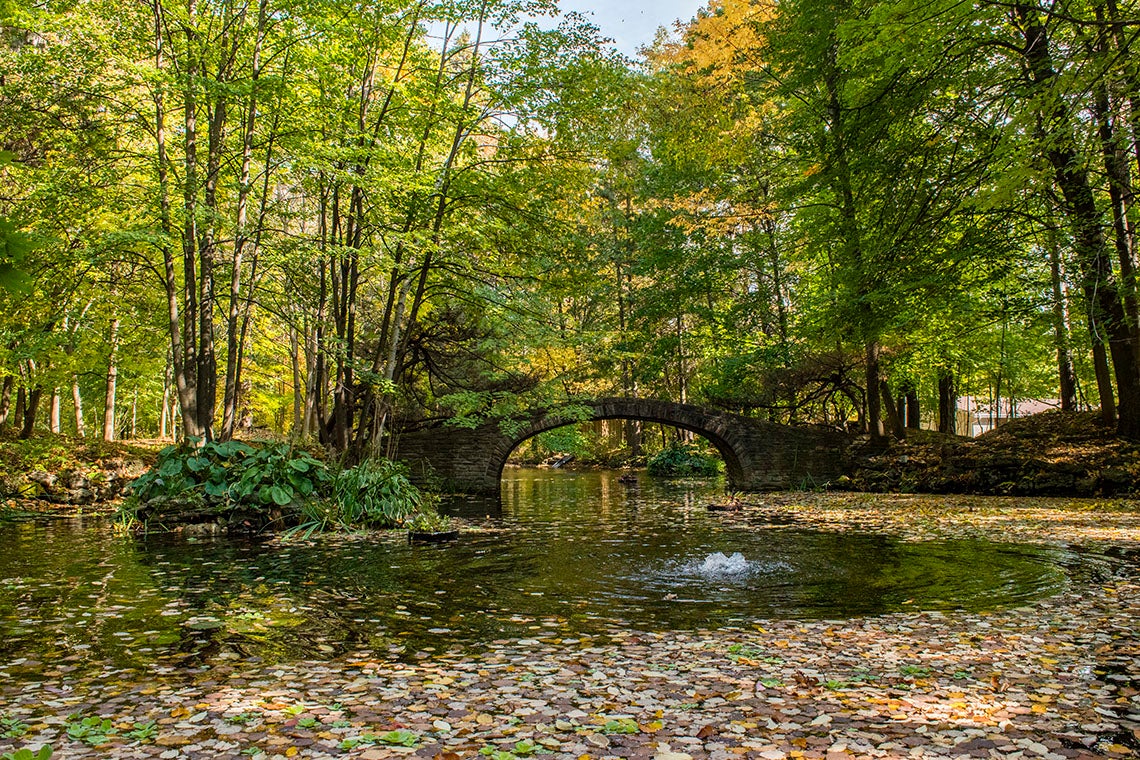 (Photo by Randy Landicho)
Overlooking an ornamental pond, U of T Mississauga's picturesque stone bridge looks like a scene from an Impressionist painting.
It's believed that Reginald Watkins, a wealthy businessman and bachelor from Hamilton, Ont. who once owned much of the property now belonging to U of T Mississauga, built the bridge and artificial pond in the early 20th century. The concrete-bottomed pond has been the home of many aquatic species, including, for a time, a pair of snapping turtles. 
Gerstein Heritage Reading Room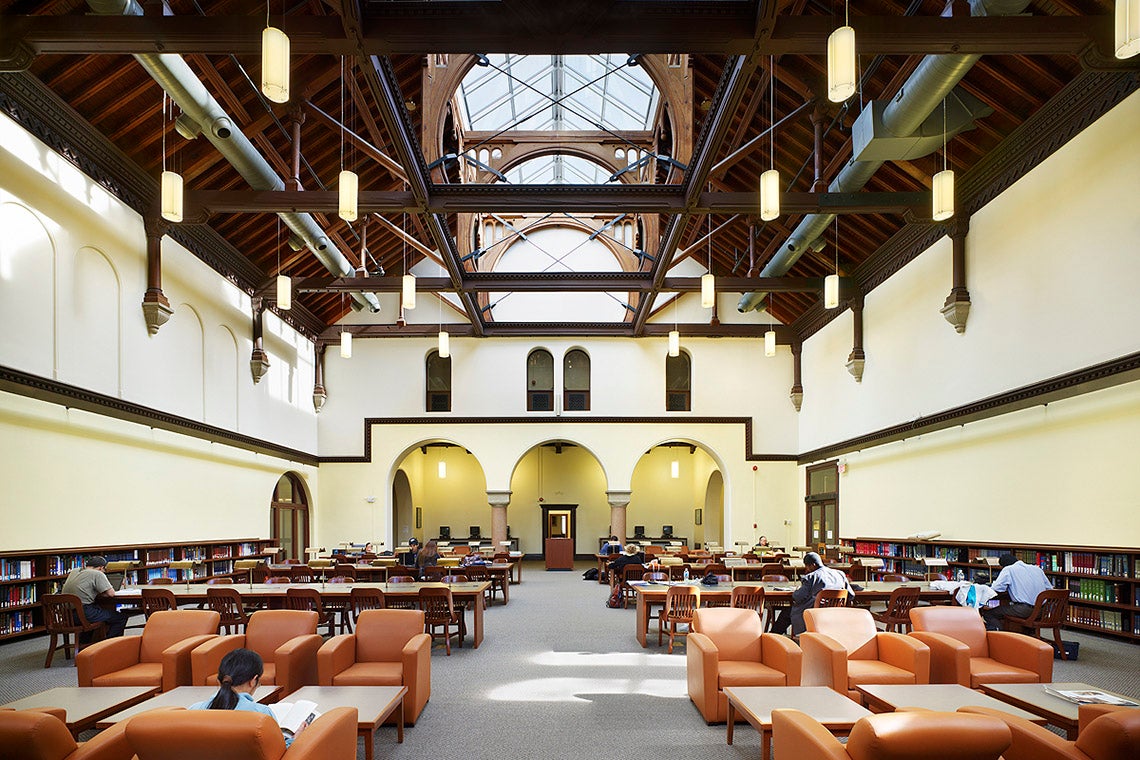 (Photo by Diamond Schmitt Architects)
A 2008 renovation to the heritage wing of the Gerstein Science Information Centre that aimed to restore the reading room to its state in 1892 revealed neo-gothic, hand-carved wooden trusses and a skylight that had been hidden for nearly a century.
Students looking for a quiet place to hit the books can find comfy leather chairs and ample desk space in the reading room, which is encircled by black-and-white photographs of famous alumni.
The Valley Land Trail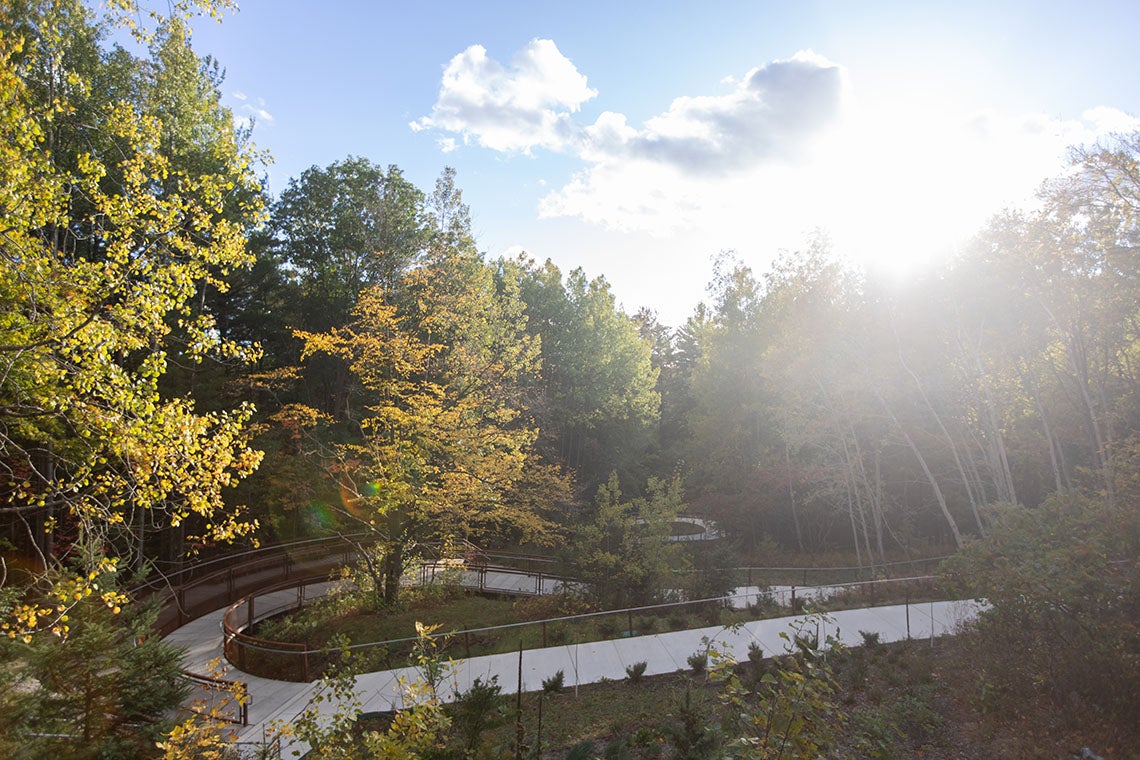 (Photo by Nick Iwanyshyn)
The 500-metre trail linking U of T Scarborough to the Highland Creek Ravine has become a premier destination on campus since it opened two years ago.
In an interview with CTV News, Wisdom Tettey, vice-president and principal of U of T Scarborough, said the path, which is accessible year-round and equipped with wheelchair charging stations, reflects the university's commitment to inclusivity.
At the same time, Tettey said, it is meant to encourage students to take in the beauty of the campus's surroundings and foster an appreciation for nature.
University College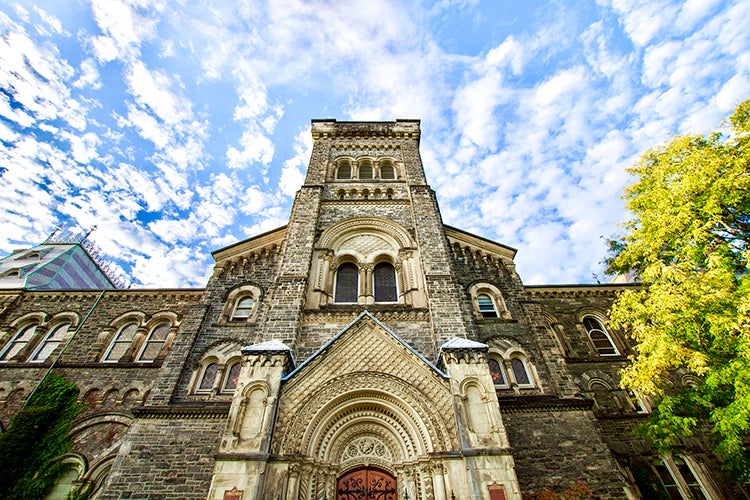 (Photo by Diana Tyszko)
One of the most Instagram-worthy backdrops on the St. George campus is University College, U of T's founding college. 
The Romanesque Revival-style building took inspiration from the University of Oxford and the University of Cambridge, with construction beginning in 1856 and wrapping up three years later – a time when Toronto was a town of just 30,000 people.
Improvements to UC continue to this day, with the college having recently undergone a major restoration project that involved returning the college's library to its original location. Beyond the front doors, meanwhile, U of T is in the midst of work on the Landmark project, which aims to make the historic core of St. George campus greener, more accessible and more pedestrian friendly.
Bamboo Garden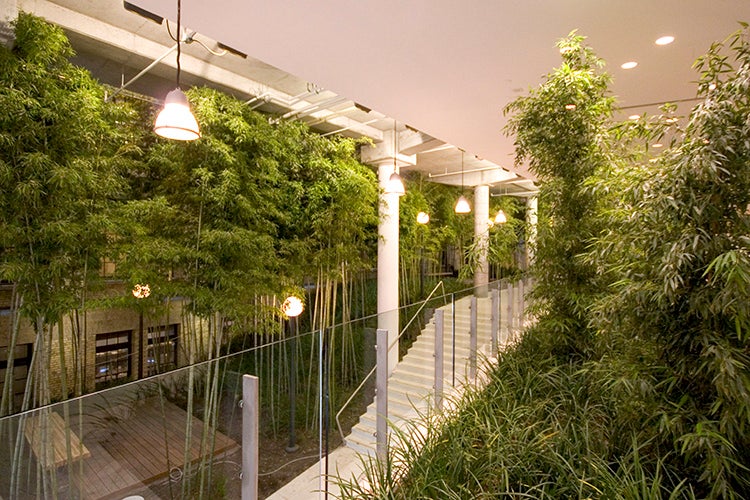 (Photo by University of Toronto)
The bamboo garden at the Donnelly Centre for Cellular and Biomolecular Research on College Street is often included in lists of U of T's hidden gems. The indoor garden is an ideal spot to relax and unwind before class at the heart of the downtown campus – particularly during the cold winter months when greenery can be hard to come by.
Trinity College quad
(Photo by Diana Tyszko)
The Trinity College quadrangle has a medieval knot pattern that sets it apart from the university's other enclosed courtyards.
A path through the handsome Henderson Tower leads to Philosopher's Walk. At the beginning of the fall semester the quad is usually abuzz with activity, from orientation events to students carrying mini-fridges into residence.
Those who look carefully overhead might catch a glimpse of bees circling the hives tended by the U of T Beekeeping Education Enthusiast Society (U of T B.E.E.S.). 
Hart House Farm
(Photo by Nick Iwanyshyn)
Many students are familiar with Hart House, the student centre that opened in 1919 and is home to a gym, track, six-lane pool, archery range and UC Follies, the student theatre troupe that once included Saturday Night Live producer and U of T graduate Lorne Michaels.
But there's more to Hart House than the building on the St. George campus. Hart House has owned a 150-acre farm on the Niagara Escarpment in the Caledon Hills that has been a country getaway for students since the mid-20th century. The farm produces maple syrup that people can buy at Hart House's front desk, or taste in the Gallery Grill's famous crème brûlée. 
It has also served as the site of one of Canada's first land-based learning courses, where students learned about Indigenous health.