PhD students in U of T computer science honoured with memorial scholarship fund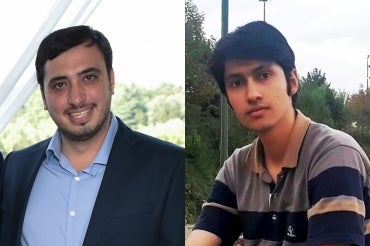 The University of Toronto's department of computer science in the Faculty of Arts & Science has announced  plans to establish the Beiruti and Saleheh Memorial Fund – an endowed graduate student scholarship in memory of Mohammad Amin Beiruti and Mohammad Saleheh, two computer science PhD students who tragically lost their lives in the crash of Ukraine International Airlines Flight 752.
The scholarship will be awarded to outstanding international graduate students in the computer science department. The department will provide a one-to-one match on all scholarship donations up to $50,000.
"We are deeply saddened by the loss of two vibrant members of our computer science community," said Marsha Chechik, interim chair of the department of computer science. "By establishing this fund we hope to honour the impact Mohammad Amin Beiruti and Mohammad Saleheh made on the department and support future international graduate students pursing education in computer science."
All 176 passengers on board were killed in the crash of Flight 752 on Jan. 8 in Iran. Fifty-seven Canadians were among the victims. Beiruti and Salaheh were among the eight members of the U of T community who died.
A separate scholarship fund has been set up by U of T to honour all eight community members who were killed aboard Flight 752.
Beiruti was an innovator with a natural ability for deep thinking. He joined U of T as a computer science PhD student in 2017. His research in systems and networking focused on designing the next generation of networks under the supervision of Professor Yashar Ganjali.
Salaheh was admitted to U of T's computer science PhD program in 2018. He was an outstanding scientist and a top-rate engineer who had a deep understanding of the theoretical aspects of computer science. During his short time at U of T, he developed strong collaborations with scientists from Samsung AI research and AT&T research. His dedication and hard work resulted in multiple published papers at top conferences.
Further information for international graduate students interested in applying for this scholarship will be announced at a later date.
Arts & Science