Ontario premier tours U of T Mississauga, talks about tuition, Islamophobia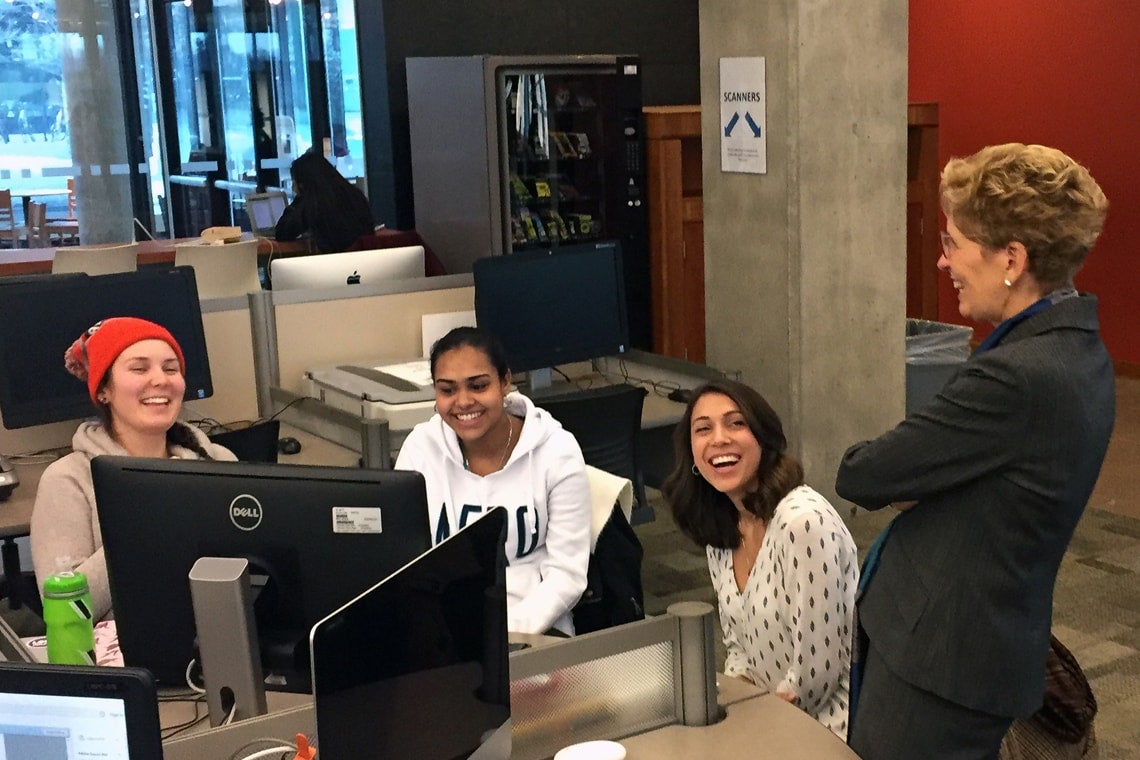 Ontario Premier Kathleen Wynne visited U of T Mississauga Tuesday, meeting with students and talking about removing financial barriers to higher education.
"I'm touring campuses because it's important to me to hear about the challenges that you're facing," said Wynne. "I'm in provincial politics because I think education is the most important thing that we do…[students] are also important to the current and future economy."
Wynne was welcomed to U of T Mississauga by Ulrich Krull, interim vice-president and principal, Nour Alideeb, president of the campus' student union, and Alex Paquette, co-president of the campus' association of graduate students.
The premier began her visit in the Hazel McCallion Academic Learning Centre, stopping to chat with students in the RBC Learning Commons.
Giordana De Leo, Kimberly Jagdeo and Emma Russell were studying French together and were shocked to suddenly find the premier standing next to them.
"She asked us what we were doing and talked about the importance of knowing French in your career," said Russell.
Wynne then headed to the Innovation Complex, where she met with members of the U of T Mississauga's Muslim Students Association. The discussion, broadcast live on Facebook, touched on several topics but focused primarily on the economy, the Ontario Student Assistance Program and Islamophobia. The meeting took on extra significance in the wake of the deadly Quebec mosque shooting on Jan. 29.
"We have to remember that we are not immune to racism in our community. You know that, you have all dealt with that," said Wynne. "If we want to be a more inclusive society, we have to understand our own biases."
Ontario Minister of Children and Youth Services Michael Coteau was travelling with Wynne and is head of the government's Anti-Racism Directorate.
"People have to acknowledge that racism exists," said Coteau. "We need to do a better job of capturing statistics on hate crimes. There's a saying: 'No data, no problem, no solution.'"
On the topic of tuition, Wynne outlined the changes to OSAP that will make higher education tuition free for students from families with a household income of $50,000 or less.
"We want you to graduate without debt," she told students.
Wynne also met briefly with members of the Ontario Young Liberals party before sitting down for an interview with the Medium student newspaper.
Her visit was part of a week-long tour of colleges and universities around the province, where she is meeting with students, faculty and staff on other issues such as mental health and the post-graduation job market.
UTM