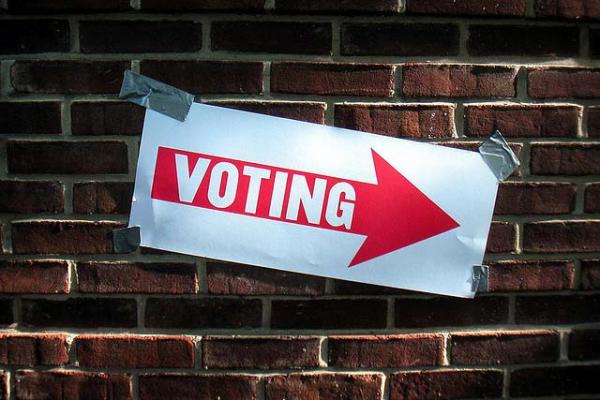 Not sure which mayoral candidate aligns with your values? Vote Compass can help
Startup from political science PhD empowering voters from here to Australia
During all the drama and flair of an election, it can be hard for voters to separate their feelings about candidates' personalities from the substance of their platforms and promises.
And in a hotly contested race such as the one leading up to Toronto's mayoral election, where dramatic changes in the city's course are close at hand, citizens are questioning – perhaps more deeply than usual –  who should get their vote.
The answer could be just a few clicks away.
Vote Compass is an online resource that takes users through a series of questions and scenarios to compare their beliefs and values with those voiced by mayoral candidates in the course of the race. The organization behind it is Vox Pop Labs, a social enterprise from political science PhD candidate Clifton van der Linden, developed with help from the Creative Destruction Lab. (Read more about Vote Compass)
Since 2011, it has partnered with media organizations including CBC News to help voters get more information on parties that best align with their beliefs in lead-up to federal and provincial elections. It's also been used by the Australian Broadcasting Corporation.
But now, Vote Compass is running its first-ever version designed specifically for a mayoral election. (Read more about Vote Compass' edition for the Toronto mayoral race)
Van der Linden spoke with U of T News about his company's development and why the city's voters should take a few minutes to give Vote Compass a try.
What was the 'eureka' moment that launched Vote Compass?
I was a visiting scholar at a university in Amsterdam when the Dutch parliament fell in 2010. Over dinner, some friends showed me a number of online applications that claimed to help make Dutch citizens identify their alignment with the various political parties contesting the election. The applications were all quite crude, but I found the premise intriguing. It struck me that I could leverage my experience as a software developer and journalist with my ongoing training in political science to develop a more sophisticated version for the Canadian federal election slated to take place the following year.
I sought participation of the foremost Canadian scholars in electoral politics and respected colleagues in the department of political science doctoral program, all of whom were enthusiastic about the prospect for promoting electoral literacy and encouraging citizen engagement in election campaigns. I then approached CBC News about partnering with it – they seemed the perfect fit given their commitment to inform, educate and entertain Canadians. The CBC was remarkably receptive and quite obviously committed both to robust democratic engagement as well as continued innovation in the digital media space.
What's new or unique about the Toronto version?
The Toronto edition is our first mayoral election edition of Vote Compass, so the interface and approach are both candidate-centric instead of party-centric. We tried to make things more accessible than they have been in the past, and made the results easier to interpret.
We have also continued to build on our pioneering approach to social media integration. Since it was first launched with CBC News back in 2011, we have been working to use Vote Compass to catalyze a new type of discussion between politicians and the public. In more recent iterations we expanded the conversation from one that takes place between citizens and candidates to one that includes citizens and their fellow citizens. This began with some basic social media sharing functionality that allowed people to share their result with their Facebook friends or Twitter followers. 
But in this latest edition we developed a much deeper integration where you compare your results not only with the parties, but with your friends on Facebook directly within Vote Compass. Our hope is that this encourages the breadth and depth of the discussion about the Toronto election campaign.
Why should people use it?
Citizens tend be less knowledgeable about municipal elections than they are about provincial and federal elections, which is in part due to the absence of parties at the municipal level in Ontario. The current Toronto mayoral election may be something of an outlier case in that generalization, but even so the policy positions of the mayoral candidates are certainly not the focal point of much of the horserace coverage of mainstream media.
Vote Compass is designed specifically to highlight the differences in public policy proposals by the candidates, and this is certainly at least as necessary at the municipal level as it is at any other level of government. So people should use it as an entry point into an analysis of the way one's views on how Toronto should be governed align with the positions of the candidates who are vying to govern it. For some people, it will simply confirm their existing sense of how their politics square with each of the candidates in the race; for others it may prompt a moment of self-reflection. Both instances are valuable.
How did U of T support the development of Vote Compass?
The critical supports from U of T came from Professor Matthew Hoffmann (then-chair of the department of social sciences at the University of Toronto Scarborough), who championed UTSC's sponsorship of the federal election edition of Vote Compass, and foremost from the Creative Destruction Lab at the Rotman School of Management.
I was recruited as part of the lab's inaugural cohort and their mentorship saw Vote Compass develop from a project into Vox Pop Labs, a social enterprise that offers innovative analytics products and services. I also participated in The Next Founders, which is an offshoot of The Next 36 offered at Rotman School.
What's next for Vote Compass and Vox Pop Labs?
After its tremendous success in Australia last year, the Australian Broadcasting Corporation has commissioned Vote Compass for the coming state elections in Victoria, New South Wales, and Queensland. In addition, the CBC has commissioned Vote Compass for next year's Canadian federal election. We are in conversations with media organizations around the world about adopting Vote Compass as part of their election coverage.
Vox Pop Labs is also releasing a new product line in early November, which was cultivated through collaboration with Star Media Group. It is one of several new product lines that will be introduced in the next 12 months.
We already employ eight graduate students from the University of Toronto and are set to continue to recruit more top talent in the coming months.
Any advice for young entrepreneurs in the humanities or social sciences?
I'm quite bullish about opportunities for alumni from the humanities or social sciences in the tech and data sectors. Our training can substantially extend the limits of those with backgrounds in science and engineering and capture market opportunities that are presently untapped. We are often our own worst enemy in exploiting these opportunities because of a perception that these sectors are the exclusive domains of science and engineering graduates. I would advise young entrepreneurs in the humanities and social sciences interested in pursuing a venture in the tech sector to master the fundamentals of application development (not as daunting as it may seem) so as to be able to communicate intelligibly and effectively with your development partners, but also to leverage their disciplinary training to ask questions and pursue trajectories that may not occur to their counterparts in science and engineering.