Non-profit brings clean drinking water to communities in Sudan
Kabier Izzeldin wasn't surprised when a child asked for his half-empty water bottle in Sudan. What he didn't expect: the child immediately shared the water with other children. 
"That was the moment I realized there's issues that we don't really take in until we pay attention to them," says Izzeldin, a University of Toronto Scarborough alumnus who is from Sudan. "And I started thinking about how I could be part of a solution." 
Izzeldin began asking locals what they wish for – most said clean drinking water, which almost 60 per cent of the population in Sudan cannot access. So, in 2020, Izzeldin established a federally incorporated non-profit that has now built wells in 12 rural communities in Darfur, a region in west Sudan. Dubbed The Wishing Well Company, the non-profit offers a way to use a well to fulfill someone else's wish. 
Izzeldin began and has run his non-profit on his own, though he consults with communities to choose locations for wells and exclusively hires locals to build them.
"Unemployment in the region is a very big issue," says Izzeldin, a former amateur basketball player who graduated from U of T Scarborough in 2021 with a bachelor of science degree. "I could have turned to companies, but there's also very competent individuals that specialize in water facilitation and provision in the region. They have the skills required and just aren't hired."
In addition to taking direct donations, the non-profit has a crowdfunding platform built into its website. Anyone can start their own fundraising campaign and receive a custom marketing package for social media, along with photo and video updates on the well's construction. They then get a certificate and photo of the sign posted in front of their well, which fundraisers can name after a person of their choice.   
"What's really cool to me is that all the wells built so far were built under the names of individuals who passed away. It's a way for families to keep the impact of their loved ones going," said Izzeldin.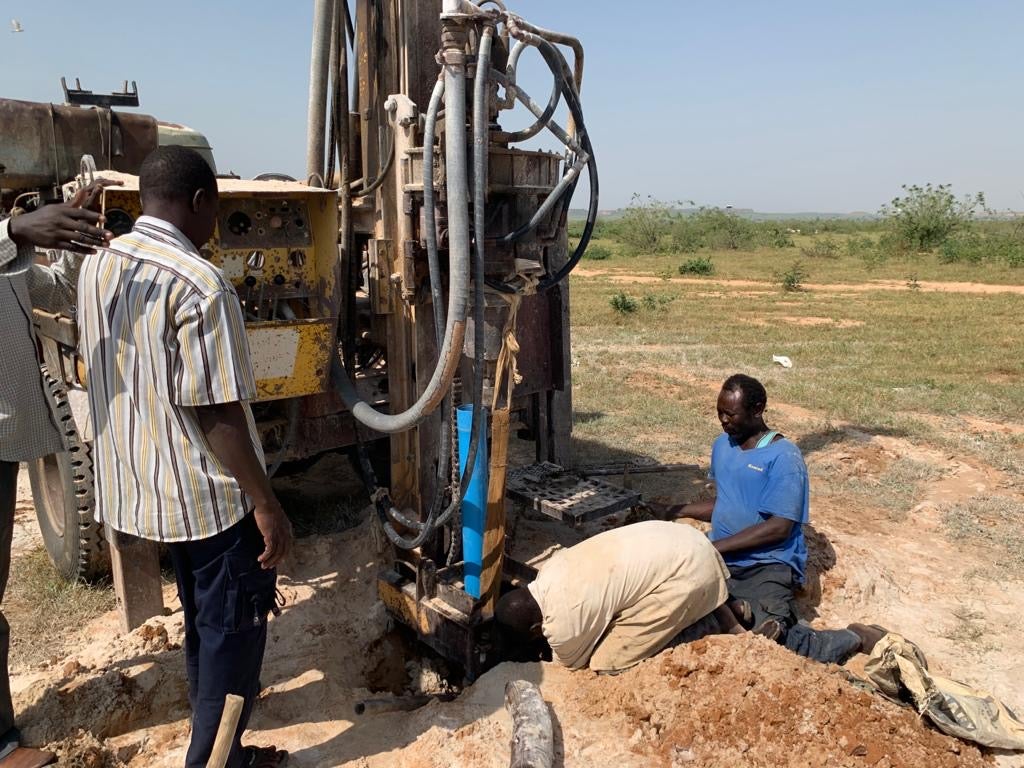 The Wishing Well Company installs hand-pump water wells that can last decades with proper maintenance (photo courtesy of The Wishing Well Company)
Because the water crisis is partly caused by climate change, Izzeldin also wanted to offer something to reduce reliance on non-reusable plastic. So, the company sells branded water bottles with a specialized lid for holding liquid flavouring; users can control whether they want to drink plain or flavoured water by switching a dial. 
The more Izzeldin researched water insecurity, the more he learned about its pervasive impacts. Darfur is experiencing a 20-year civil war and several conflicts are fueled by competition over water. Drinking unclean water also causes preventable illnesses that are worsened by a dearth of health-care infrastructure. And where the only wells are far from villages, many children – particularly girls – are pulled from school to spend hours collecting water for their families.
"Once we ensured that water sources were established nearby to keep children in school, we wanted to remove further obstacles that came in the way of pursuing higher education," Izzeldin says. "The vision was that children deserve to dream freely, regardless of the circumstances they grew up in."
That vision prompted the non-profit to launch a foundation last September to provide full academic scholarships for African youth facing financial barriers that has already funded schooling for one dental student and one medical student. 
The foundation is also committed to establishing health-care facilities in rural communities. Its current campaign aims to build a medical centre in Abdoun, Sudan named after the late Omar Elhassan, a young man remembered for his generosity. 
Izzeldin has continued asking locals what they wish for, and now films their responses as an ongoing video series for The Wishing Well Company's social media accounts. "We're trying to give a voice to the neglected populations within these rural areas that are not really covered by popular news," Izzeldin says. "We can't forget that these people exist."
While filming, he met an Elder who was responsible for bringing water to several villages and became blind after contracting an infection from unclean water. Izzeldin says the story inspired him to pursue medical school, and that he hopes to become a doctor who travels throughout remote regions in Africa to provide care.
Izzeldin wants to build a team and expand his organization's work throughout Africa. Applications will soon be posted on the company's Instagram account. 
"It's something that we all should do when we are put in a position of privilege. We should be helping."
UTSC