Nicole Kaniki is U of T's first director of equity, diversity and inclusion in research and innovation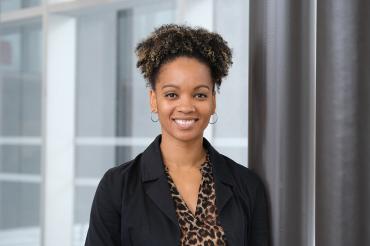 With a passion for social justice and track record of building bridges, Nicole Kaniki is joining the University of Toronto as its first director of equity, diversity and inclusion (EDI) in research and innovation.
In the newly created role, Kaniki will examine, advocate and advance EDI in all aspects of U of T research, innovation and entrepreneurship. That includes serving as an adviser and resource to researchers at all levels, leading workshops, developing training programs and contributing to U of T's EDI goals more broadly.
The former special adviser on anti-racism to the president of Western University says an EDI lens is vital to all stages of the research process – from coming up with a research question to thinking about who is affected by those questions and who is asking them in the first place. 
"It really is something that's important to the research ecosystem from beginning to end," she says. 
Kaniki arrives at U of T as the Division of the Vice-President, Research and Innovation seeks to build on the progress it has made toward fostering equity, diversity and inclusion across the university.
In 2018, a tri-campus working group outlined the way forward by making 49 recommendations surrounding the issue of EDI in research, including asking the university to aim for diverse candidate pools for internal research awards and encouraging researchers to fill out a diversity survey. The university also appointed a diversity strategist the same year to help implement the changes. An EDI Research and Innovation website lists resources, news and events, and tracks the institution's progress in addressing the recommendations of the EDI in Research and Innovation working group.
More recently, U of T endorsed the Dimensions charter, part of a federal pilot program to "foster increased research excellence, innovation and creativity within the post-secondary sector across all disciplines, through greater equity, diversity and inclusion."
Working with stakeholders across the three campuses, Kaniki will focus on institutional commitments to the Dimensions program, integration of EDI principles in large strategic research initiatives and entrepreneurship activities and work at a strategic level to promote EDI in research and innovation within divisional portfolios.
She also plans to help carry out the 56 recommendations of a task force struck by the university to tackle anti-Black racism and promote Black inclusion and excellence, as well those issued by a U of T steering committee's response to the Truth and Reconciliation Commission of Canada. 
Christine Allen, U of T's associate vice-president and vice-provost, strategic initiatives, says the inequities highlighted by the COVID-19 pandemic underline the work that needs to be done to counteract historic and ongoing injustices.
"Now more than ever we need to push ahead to implement lasting change," Allen says. "Dr. Kaniki will be part of us pushing ahead as an institution, so it's not just about getting back to normal after the pandemic – but about creating a new and better normal."
Kaniki holds a master's degree in kinesiology and PhD in research methodology and quantitative methods. However, she says she opted to return to graduate school in 2019 to earn a master's degree in women's studies and feminist research because she wanted to learn more about feminist, critical race, disability and queer theories.
"My goal was really to have not only my passion in social justice, but also a grounded knowledge base as well in the understanding of the social frameworks that contribute toward equity, diversity and inclusion," she says.
While working in Western's research division, Kaniki was responsible for the management of tri-agency granting programs, including the Canada Research Chairs program. She was also the equity, diversity and inclusion specialist at BrainsCAN, a $66-million cognitive and behavioural science research initiative.
As a member of Western's Anti-Racism Working Group and, later, adviser on anti-racism to President Alan Shephard, Kaniki spearheaded several initiatives that fostered equity, diversity and inclusion at the university. She helped create the office of the associate vice-president of equity, diversity and inclusion, and lay the groundwork for an equity advisory council of experts in EDI and research to provide support and accountability. 
Kaniki's work at Western coincided with the onset of the pandemic, which further exposed inequities and led to what she describes as a "global reckoning of operational equity" at public and private sector institutions around the world. 
At U of T, she plans to help build the university's relationship with under-represented communities.
"Because of the othering that happens with under-represented groups, there's often a lack of a relationship between these groups and the institution," she says. "At Western, I acted as a bridge to build that relationship with the community and senior and administrative leadership – to build that relationship on a foundation of trust."
Kaniki says Black and Indigenous entrepreneurship is one example of an area she is keen to champion, noting that U of T already has a Black Founders Network in development. "We have so many opportunities here to empower Black entrepreneurs through community engagement and partnerships," she says.
Kaniki says she is "cautiously optimistic" that the events of the past year will hasten long-overdue progress in equity, diversity and inclusion.
"It's definitely a turning point. But we've had many turning points in history and many where the point has turned, and then turned back." 
That said, she says universities appear to be heeding the call for change, and that she hopes to accelerate the significant progress made by U of T and help set an example for post-secondary institutions around the globe.
On a personal level, she adds that she's also looking forward to working with one of her idols: U of T Scarborough's Maydianne Andrade, a professor of evolutionary biology, vice-dean, faculty affairs, equity and success and a co-founder of the Canadian Black Scientists Network. 
"I must say I'm admitting a research-girl crush here. I love science and I love EDI, and she's really shown how you can do both."
UTC