A new chapter: Here's how Toronto, U of T libraries are embracing change in the digital world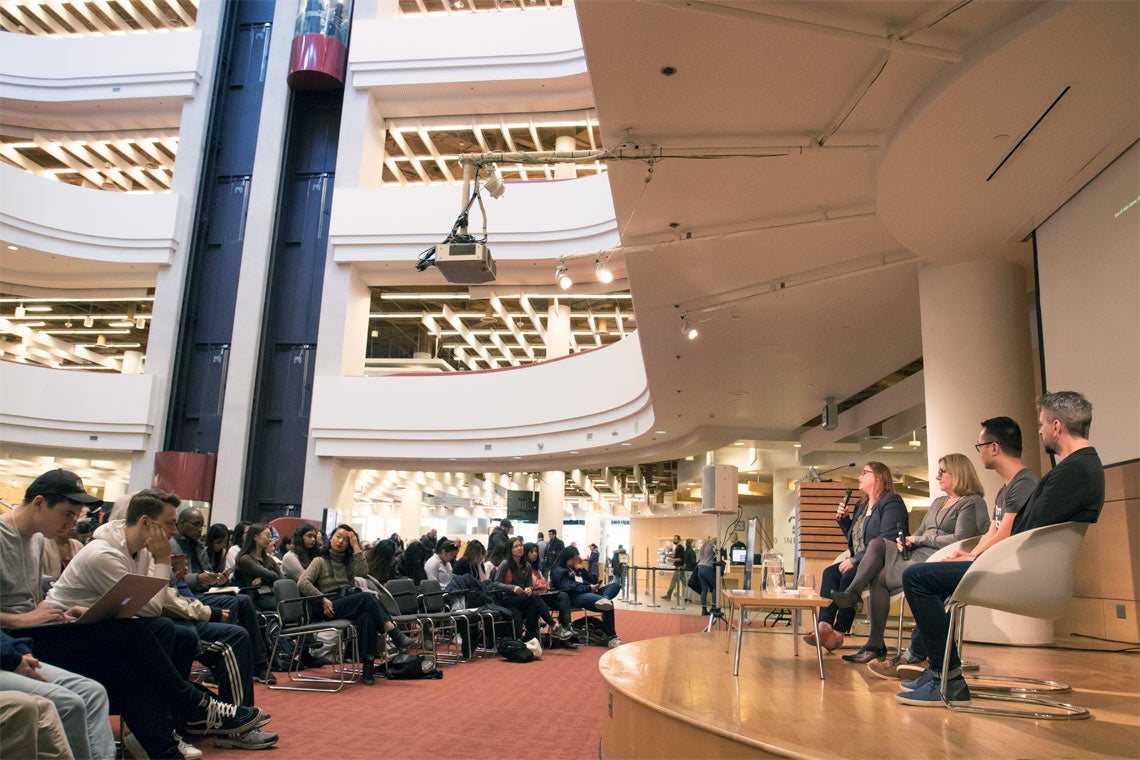 When Paolo Granata moved to Toronto from Bologna, Italy to begin teaching at the University of Toronto two years ago, one of the first things he did was go with his wife and kids to his local public library.
"The library card was a symbolic way to feel part of a broader cultural climate, to be part of a community, to belong, to be active players in the city," said Granata, who is the coordinator of the book and media studies program at St. Michael's College in the Faculty of Arts and Science.
Granata's experience echoes that of newcomers across the city who are able to learn about their new home through the massive selection of free resources available to them at Toronto's public libraries.
As most people who work at the library will tell you, the library isn't – and perhaps never was – just about the books. And as technology continues to evolve, public libraries have too – adapting, almost as fast as the technology itself – to meet the changing needs of the people who use them.
That was the biggest takeaway from a joint U of T and Toronto Public Library event held at the Toronto Reference Library on Tuesday called Libraries as Media Spaces: Technology, Debate, Equity. The event combined U of T's McLuhan Salons series and TPL's newly-launched On Civil Society programming.
It featured talks by City Librarian and alumna Vickery Bowles, TPL's Manager of Cultural and Special Event Programming Gregory McCormick, Innovation Manager Ab Velasco, Manager, Service Development – Special Collections Mary Rae Shantz, Toronto Reference Library Manager Gillian Byrne and Marshall McLuhan's son Michael.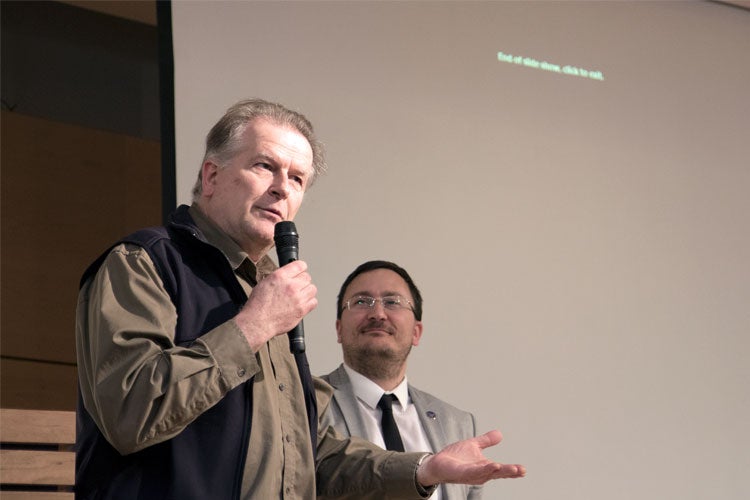 "I'm not trying to be a dinosaur but may print live forever," said Michael McLuhan (photo by Romi Levine)
Famed U of T professor and media theorist McLuhan was already thinking ahead when he wrote about people's changing relationship with libraries in the late 1970s along with Robert K. Logan, professor emeritus in the department of physics, who attended the U of T-TPL event. The text was turned into a book in 2016 called the Future of the Library.
Granata brought his "readers and readerships" class to Tuesday's event to honour McLuhan's legacy of using the "city as a classroom," he said.
"We strongly believe, in this class, libraries play a fundamental role in conceiving reading as a social experience – as a way to foster cultural participation, encourage civic engagement, and a way to foster urban sustainable development," said Granata. "In a hyper-connected age, to counterbalance online activities that rule our lives, we also need physical places where we can get together."
The role of libraries as community spaces reaches far beyond brick and mortar, said Bowles.
"When people talk about libraries as irrelevant or large warehouses of old books, clearly there's a disconnect between the way many people think about libraries of the past and the ways libraries have actually developed and operate in present day," she said. "We have many more ways to connect to our patrons and reveal our library services… Now, in fact, two of our main customer service channels are not surprisingly Facebook and Twitter."
Many of the libraries' archival and rare materials are available online as digital copies, which Shantz encourages users to take and use for their own projects.
"There's more than one story to tell and more than one way to tell the story," she said. "What we're challenged to do now as the public library is to take these resources and sprinkle them out in as many places so you can find them, be it Facebook, Twitter, Pinterest and reuse them and rebuild your own story out of them."
Toronto's library system also offers tech-minded services such as 3D printing and VR equipment, said Velasco.
"Not only can people come to the libraries to consume information, they can actively participate and create information such as media in our spaces," he said.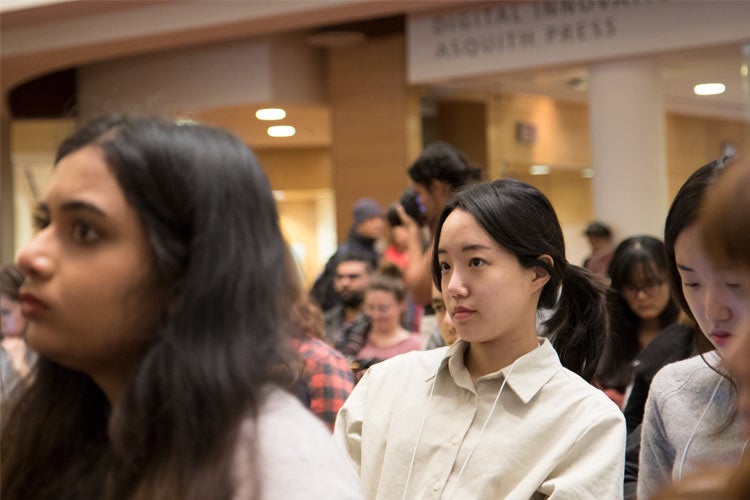 TPL managers spoke to a packed crowd of U of T students and community members (photo by Romi Levine)
Toronto Public Library isn't the only system embracing change – so is U of T Libraries, said Deputy Chief Librarian Julie Hannaford.
"We're changing in so many ways," she said. "You can't stay static in terms of academic libraries because not only are we keeping up with trends and changes within our profession, but we're also grappling with changes in terms of higher education as well."
U of T Libraries provides faculty, staff and students with massive amounts of data and digitized materials – allowing them to take deep dives into various topics, said Hannaford. It also hosts events that, just like TPL, promote dialogue and debate like a week-long event that tackled science in a post-truth era and a law research-a-thon exploring the legal implications of the U.S. travel ban and how it could affect Canada.
"Libraries are not doomed by any means," said Michael McLuhan. "It's not only a place where social discourse can happen – it gives us all access, it levels the playing field, it enables us to deal with each other on the same level. Anybody can become an expert."
UTC