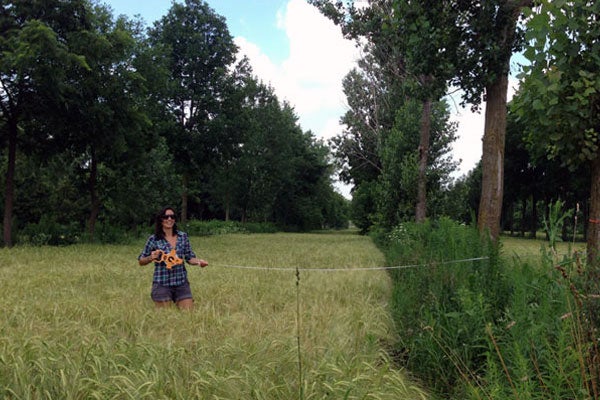 New Canada Research Chairs to make agriculture more sustainable, investigate emerging democracies
Gustavo Bobonis of the Department of Economics and Marney Isaac of the Department of Physical and Environmental Sciences at U of T Scarborough have been awarded new Canada Research Chairs.
They join nine existing chairholders who have had their chairs renewed thanks to funding from the Government of Canada totalling $10.9 million. Their appointments bring the University of Toronto's total number of chairs to 248, the largest in the country.
As the CRC in Agroecosystems and Development, Isaac will turn her attention to making agricultural environments more sustainable. Current agricultural processes result in a host of environmental problems including overuse of fertilizers, soil erosion and deforestation. But certain interventions in agriculture can provide environmental and social benefits called "ecosystem services" – carbon storage and biodiversity for example.

Taking a unique multi-disciplinary approach that draws from fields as diverse as soil science and sociology, Isaac – who is cross-appointed to the Centre for Critical Development Studies – is interested in making agricultural landscapes more productive while maximizing the positive impact of ecosystem services.

"One area of interest in my research group is increasing biodiversity in agricultural systems," says Isaac. "By integrating trees, for example, you can reduce erosion and affect nutrient transport." But trees may also result in competition with crops. "We study how to minimize such negative interactions and maximize positive ones."
As the CRC in Political Economy of Development, Bobonis is studying an apparent paradox in democracy: many developing countries have adopted democratic forms of government, yet there is increasing perception among citizens that this shift has not actually translated into better government.
One theory is that voter patronage systems might be to blame. In such systems, politicians trade favours or gifts in exchange for votes. Bobonis (pictured right) is investigating whether voter patronage is more likely to take place among poor households. The theory is that the poor highly value what they're going to get in exchange for their vote—access to water, for example. The result is politicians in power who actually benefit from the fact that some households lack access to public goods.
Bobonis will conduct large-scale experiments in northeastern Brazil and southern Mexico to investigate the relationship between democracy, patronage and socioeconomic status. The Brazil experiment involves providing rainwater-fed cisterns to families in remote rural areas where the dry season is a major challenge. He will then assess whether the cisterns change the way these households vote.
"I feel honoured to have been selected for the chair," says Bobonis. "I believe it reflects a resurgence in the perceived importance of political forces in determining why countries and groups remain poor. The position will provide me with a unique opportunity to take risks in developing ideas and projects that I would not have been able to without this type of funding."
"Congratulations to Professors Isaac and Bobonis and to all those who have had their chairs renewed," said Professor Paul Young, U of T's vice-president (research and innovation). "Their work is helping us understand our natural and social world, and I'm delighted it was recognized with the prestigious CRC designation. The university is grateful to the Government of Canada for its sustained support of the CRC program, which allows us to attract and retain the world's best researchers."
The following researchers had their chairs renewed:      
Eleanor Fish, Department of Immunology and the University Health Network, CRC in Women's Health & Immunobiology
Ran Hirschl, Department of Political Science, CRC in Constitutionalism, Democracy and Development
Gordon Keller, Department of Medical Biophysics and the University Health Network, CRC in Embryonic Stem Cell Biology
Harald Pfeiffer, the Canadian Institute for Theoretical Astrophysics, CRC in Numerical Relativity and Gravitational Wave Astrophysics
Nancy Reid, Department of Statistics, CRC in Statistical Theory and Applications
Katreena Scott, Department of Applied Psychology and Human Development, Ontario Institute for Studies in Education, CRC in Family Violence Prevention and Intervention
Barbara Sherwood Lollar, Department of Earth Sciences, CRC in Isotope Geochemistry of the Earth and the Environment
Yu Sun, Department of Mechanical & Industrial Engineering, CRC in Micro and Nano Engineering Systems
Jack Tu, Department of Medicine and Sunnybrook Health Sciences Centre, CRC in Health Services Research.