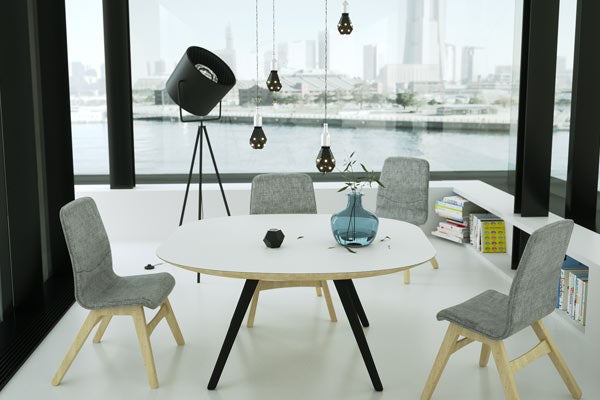 Nanoleaf launches new product for Apple home system
Siri lets users wirelessly control alumni's award-winning super-efficient LED bulbs
Nanoleaf, the fast-growing startup from University of Toronto alumni, launched a new product Oct. 27 tied to Apple's HomeKit line.
"We've received Apple's approval to join the HomeKit ecosystem," said Nanoleaf spokesperson Leslie Chen. 
The Nanoleaf Smarter Kit combines "the world's most energy efficient smart bulb" and a stylish, connected hub with Apple's Siri-enabled HomeKit, Chen said. This will allow users to wirelessly control the startup's award-winning LED bulb designs by simply using their voice. 
(Read more about Nanoleaf and the new Nanoleaf Smarter Kit)
"With the emergence of smart home products, lighting is entering a whole new territory," said Chen, one of a growing number of recent U of T grads recruited to Nanoleaf. 
"Imagine sitting in the living room and being able to control all of the lights in your home with just a few words," she said. "Pretty revolutionary to say the least!"
Chen said the Ivy is an app-controlled bulb that users can turn on, off and dim using their Apple phone, tablet or smart watch. The Nanoleaf Smarter Kit is set for release in selected Best Buy locations in early November, she added, with more details still to come.
The green tech startup founded by Engineering alumni Gimmy Chu, Christian Yan and Tom Rodinger has grown from a massively successful Kickstarter project in early 2013, based on the strength of their stylish "world's most energy efficient" bulb, to a bustling company with approximately 40 employees spread between its Toronto and Shenzhen, China, offices.
The venture recently scored funding from 'Asia's richest philanthropist,' debuted products at fairs in New York, Shanghai and Tokyo and won a reddot design award for 2015.
Chen says the next big step for Nanoleaf will be releasing a product they believe will change the way people think about lighting.
"Light is not merely illumination. Light is atmosphere, it wakes you up after a night of sleep, it keeps us safe and content, just as much today as two million years ago," said Chu, CEO of Nanoleaf. "We want to make products that will transform simple lighting solutions into meaningful experiences."
Chen says the gains of Nanoleaf rely on the team members they continue to recruit from U of T.
"The U of T presence is still very strong at Nanoleaf, and I believe it always will be," said Chen. "When we were looking for interns to join our team, the first place we looked was at U of T."
Watch for U of T News stories profiling Nanoleaf's three undergrad interns, Jeanny Yao, Frank Gu and Josh Hwang in the coming week.
"Nanoleaf will always be very closely connected with U of T: our three founders are all alumni and without the school, they would have never met in the first place," said Chen.
"It will always be part of our identity and I think that's why U of T grads are a good fit for us."
(Video courtesy Nanoleaf's Smarter Kit Indiegogo)