Fun with filters: U of T alumna's designs draw millions of social media users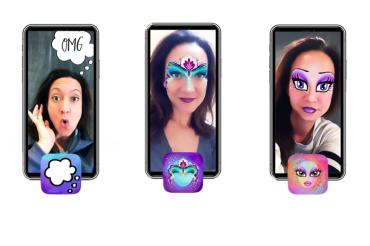 With millions of users for her Facebook frames and Instagram filter designs, University of Toronto alumna Lianne Tokey has earned her place among an elite group of developers creating augmented reality filter effects for social media.
Tokey, who graduated with Bachelor of Arts degree in 1998, credits her introduction to digital design to her experience as an undergraduate art and art history student at Erindale College (now U of T Mississauga). Drawn by the mix of academic and studio work, she enrolled in a precursor to U of T Mississauga's current joint art and art history program with Sheridan College. 
It was a move that would set the stage for a successful career in digital design.
"The program gave me the opportunity to try so many different approaches to creating art and in that, I was able to find what really resonated with me," Tokey says.
She was particularly drawn to sculpture – "I love working in 3D" – and graphic design. "As soon as I was introduced to Photoshop, light bulbs went off. Combined with my passion for sculpture, I knew instantly that it was where I wanted to build my skills."
Over the next two decades, Tokey worked as a graphic designer and web developer, building her skills in digital design and founding a digital stationary business. "I learned more about basic programming and development to bring my artwork to an interactive level," she says. "I always kept one eye out for things that were of interest to me and how I could continue to create."
In 2017, Tokey made her first foray into social media design when she created an independent Facebook profile frame for Canada's 150th anniversary celebrations and launched it over the Canada Day long weekend. She was stunned and delighted when her frame went viral, garnering more than half a million users in the first 24 hours. By the end of the holiday weekend, Tokey estimates that two per cent of Canadian Facebook users had picked up her work.
Tokey was hooked. She created more frames, which have been used more than 720 million times on the social media platform. "I never could have imagined that," she says, noting her simplest frame – a basic white heart – is the most popular.
"It's universal, and it can be used across the world."
In 2018, Tokey branched out to create augmented reality filters for use on Instagram. Her first filter, a thought bubble, was approved in 2019 and led to her work with the Instagram Beta Effects Group. Since then, the Oakville designer has created more than 20 filters and built her Instagram audience to 116,000 followers, including many influencers in Brazil and Russia.
Tokey, who draws her design inspiration from nature, taps into emerging trends on social media. When YouTube makeup star James Charles challenged viewers to create a "Bratz Face" that replicated the exaggerated makeup of the popular dolls, Tokey responded with her "Dollface" Instagram filter. "'Dollface' took off very quickly," she says. "In the first day, the filter had one million impressions and has since gone into hundreds of millions."
The phenomenon landed Tokey's work in the Spanish edition of Cosmopolitan magazine. "You have to be very responsive to trends because the window of opportunity is very short," she says.
Her Carnival of Brazil themed "Rainha Azul" filter is also popular. "There are a huge number of influencers in Brazil and they are a massive part of my audience," she says. "Brazil's influencers are very involved in the stories of Instagram, and using the filters, which really helps to grow the audience there."
Tokey wants to be "a positive influence" on the digital landscape. "Social media sometimes gets a bad rap, but I really want to change how people are interacting with the social tools," she says, adding she was intrigued to see her blue speech bubble filter for Bell Canada's "Bell Let's Talk Day" mental health campaign take off globally with her followers.
"So many people messaged me privately saying, 'Thank you for giving us an opportunity to share what we're feeling or what's in our minds or within our hearts. Mental health is an issue that affects people globally. There's a shared collective experience, and the point of conversation starts with the filter.'"
She continues to keep an eye on trends and collaborates with fellow effects creators and corporate partners through an Instagram beta group she joined in January. She is also developing online workshops to share knowledge and spark interest among a new generation of designers.
As for the tools of her trade, Tokey has moved on from her early Photoshop days and now creates her work with Procreate design software on her iPad Pro. "The tools have changed so much, but it's still the same foundation," she says. "The art and art history program was so valuable to me. As an artist, it's important to have the opportunity to try many different ways of expressing your creativity. Oftentimes you don't realize what you love until you actually are experiencing it hands-on. I had that opportunity in that program."
See Tokey's filters on her website, or follow her at @liannetokey on Instagram 
UTM